UPDATE 2! Details on The Last Jedi Footage Shown at Disney's Shareholders Meeting.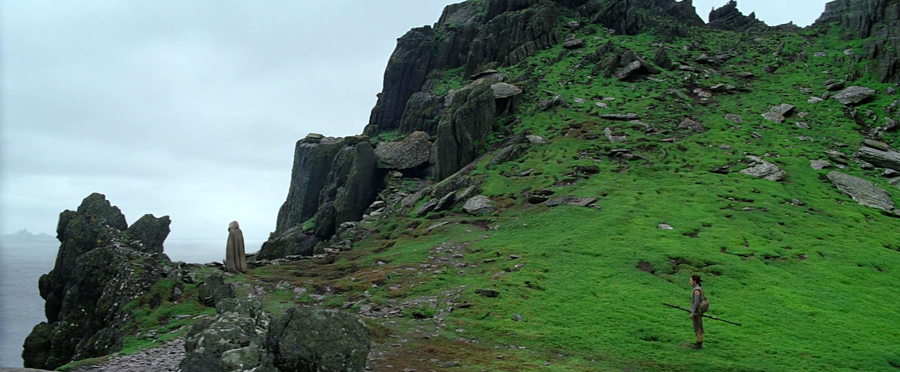 Today, during Disney's shareholders meeting, footage from The Last Jedi was shown. Thanks to LA Times reported Daniel Miller we get a few tidbits about some of the brief shots shown during the event, including Luke's first words to Rey after he accepts the lightsaber.
Some really interesting bits, thanks to Daniel Miller:
"Star Wars: The Last Jedi" clip is being screened. But it's a joke, sort of! We just got a few seconds of Rey handing Luke a lightsaber.

— Daniel Miller (@DanielNMiller) March 8, 2017
We just saw more "Star Wars: The Last Jedi" footage. In it, Luke asks Rey, "Who are you?" Then we see her deftly handle a lightsaber.

— Daniel Miller (@DanielNMiller) March 8, 2017
Also making appearances in "The Last Jedi" footage: Chewbacca, General Leia Organa and Finn.

— Daniel Miller (@DanielNMiller) March 8, 2017
One last thing on the "Last Jedi" footage: We saw all sorts of settings — mountains, oceans, forests, deserts. Look suitably epic, exotic.

— Daniel Miller (@DanielNMiller) March 8, 2017
More on "The Last Jedi" clip: We saw a shot of an X-wing wobbling mid-air, under attack inside a giant ship. Looked like a wounded bird.

— Daniel Miller (@DanielNMiller) March 8, 2017
More on "The Last Jedi" clip, since ppl are asking: General Leia Organa was onscreen for just a second in military garb and didn't speak.

— Daniel Miller (@DanielNMiller) March 8, 2017
So if Rey was Luke's daughter, he would have felt her, right? Is this the end of the "Rey is a Skywalker" saga? It seems so. Still, Luke's line contradicts with The Force Awakens script, but we really don't know the context of the scene so it could be anything, including Luke messing with her.
Also the exact same players mentioned from the footage are the same we were hearing to appear in TLJ teaser a month ago:
Remember this tweet? The exact 4 characters appeared in TLJ footage shown today. Still not sure if this will be the teaser though.#StarWars https://t.co/FYc1tcdBQs

— SWNN (@StarWarsNewsNet) March 8, 2017
We can't confirm though if this footage is the same the the regular fans will see when the trailer arrives. Time will tell.
What do you think?
UPDATE!
Additional details about the footage shown have become apparent on TFN's Jedi Council Forums. If the poster is to be believed, then a clearer picture about the movie arises:
This is what was shown (these aren't in order, but the Luke scene is early in the reel):

Luke in a hut on Ahch-To asking Rey "Who Are You?"
Finn in a First Order uniform on the bridge of a Star Destroyer (or other big ship).
General Leia.
Several shots showing Rey spinning her lightsaber in practice.
Captain Phasma.
Chewie roaring.
Poe in his X-Wing cockpit yelling "It's now or never" to BB-8.
Ships flying in space.
An X-Wing coming in for a crash landing.
While these details don't really present a clear narrative for the plot of the film, it does tell us quite a bit. The first thing it suggests is that "Who are you?" are NOT Luke's first words to Rey, as it's already established that Luke and Rey first met at the top of a cliff on the island. While it's not impossible to imagine that Luke would wordlessly direct Rey over to enter his humble abode before talking with her, it's incredibly unlikely to happen and would require a lot of awkwardness on the part of the cast in order to actually play out, and that's not time spent very efficiently. Secondly, it confirms the prior report about Finn donning a First Order uniform to go undercover. Third (and lastly), it mentions the presence of Captain Phasma, BB-8, and Poe Dameron – something that Mr. Miller did not include in his initial report.
Another report from SLC Fanboys corroborates the above, but also adds some additional information. The first footage shown is a scene of Luke wordlessly taking his father's lightsaber from Rey using both of his hands, followed by a wide shot of him looking up from the lightsaber in his palms to Rey. The scene of Leia has her turning toward the camera with a hologram of the Resistance (New Republic?) fleet behind her, which is followed by another shot of a few Resistance starships flying by the freighters Leia was looking at moments earlier. Finally, they explicitly mention that Snoke and Kylo Ren are absent from the sizzle reel shown, as previously implied by the above description. If this information is indeed true, then it appears as though we have a lot to look forward to next month (presuming that all of this is part of the teaser).
UPDATE 2!
A day later, the LA Times reporter Daniel Miller recalled another shot from the footage shown at the shareholders' meeting:
Finally, "The Last Jedi" footage included a shot of Rey, clearly under duress, surrounded by many small orbs of light that hung in the air.

— Daniel Miller (@DanielNMiller) March 9, 2017
It's very strange that no one from the people who saw the footage, mentioned this scene, which seems very important and memorable.
As FuriousFanboys pointed out, these mysterious orbs were already used in The Clone Wars and Rebels.
In Rebels, Yoda used the orbs to guide Ezra through the Jedi Temple on Lothal.
Also /Film has a few more details about the footage:
Finn dressed as a First Order Officer on the bridge of a First Order ship. Actress Kelly Marie Tran was standing to Finn's left, also dressed in a First Order uniform.
Rey's hand, in slow motion, with all five fingertips touching the ground and pebbles and dirt hovering around her hand.
There was also a wide shot of the island, with Rey out on the point of a ridge practicing with her lightsaber as Luke is farther up the ridge, looking down towards her.