SW Daily Buzz: Concept Images for Rogue One Costumes; New Rebels Clip and More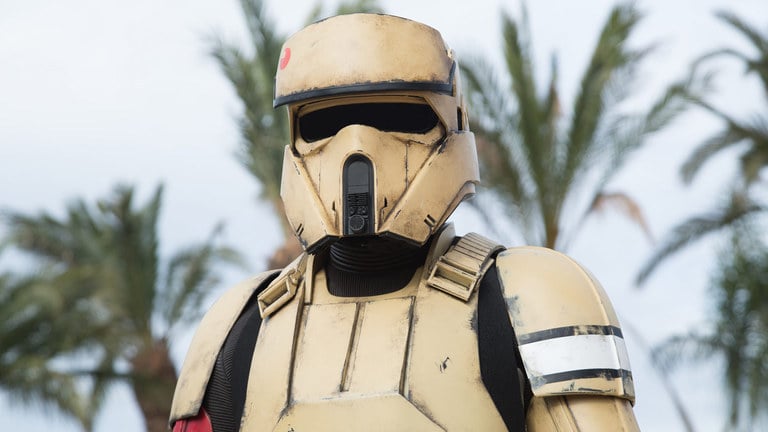 On today's Buzz we have: new clip from the next episode of Star Wars: Rebels, new Rogue One featurette narrated by director Gareth Edwards on the importance of the UK in the filmmaking process, Felicity Jones has a message to you, probably the best fan made AT-ACT and more.
First we start with a new preview clip from the last Rebels episode for 2016, which will air tomorrow at 8:30 p.m. ET/PT on Disney XD. After this the show will take a short hiatus, to give some space for Rogue One.
From StarWars' Youtube:
In this clip from the Star Wars Rebels episode "Visions and Voices," Maul shows Ezra a collection of artifacts from his past…
Star Wars: Rebels Season 3 will continue on January 7, 2017 with a 2 part episode titled "Ghosts of Geonosis".
Gareth Edwards reveals why Rogue One is "Made Great in Britain" in this new featurette with no new footage from the movie. Still, it's a pretty cool video with some insights from the director.
From StarWarsUK:
Rogue One: A Star Wars Story Director Gareth Edwards reveals why the UK remains at the heart of global filmmaking. The short film is part of the Star Wars: Made GREAT in Britain campaign, a collaboration between Disney, Lucasfilm and the UK Government's GREAT campaign, celebrating the British inspiration, creativity and innovation involved in the Star Wars saga.
Felicity Jones has a message for you.
The official Star Wars UK site has just posted another new video promoting the Star Wars helmet generator:
Thank you all for joining the SWNN squadron creating a custom helmet. It's really fun.
We're currently in the lead thanks to YOU! But we're being closely followed. Join the SWNN squadron and help us defeat the Rogues 🙂
First glimpse at some Rogue One costumes concept art by artist Glyn Dillon, found on EW's "Ultimate Guide to Rogue One". The same will be available in the book "The Art of Rogue One".
Glyn Dillon @starwars #RogueOne costume concept art in @EW's Ultimate Guide and soon in @ABRAMSbooks Art of Rogue One book, out 12/16 pic.twitter.com/qbqtM6uQwz

— Phil Szostak (@PhilSzostak) December 9, 2016
Another great interview with Ben Mendelsohn this time for The Guardian!
Few actors have his degree of iron control over their faces; no one says more facially by doing less. His vocal dexterity is also remarkable. His talk is effervescent and brutally blunt by turns, punctuated by sharp barks of laughter and a goodly sprinkling of "fucks", as he ranges widely – here in a tone appropriate to a biker bar at closing time, here in one more suited to bone-dry academia – on esoteric themes that appeal to him in the moment. Talking with him is a journey and a joy.
#RogueOne #StarWars Ben Mendolsohn featured in an article in The Guardian https://t.co/vV6d9EzFdx pic.twitter.com/kp5GuhfHym

— SW Rogue One (SWNN) (@SW_ROGUE_ONE) December 9, 2016
This is just too cool:
Wait till you see inside https://t.co/b8bURGsjTE #eBayRogueOne pic.twitter.com/U1yNTDch6S

— colin furze (@colin_furze) December 8, 2016
Read the full press release on this:
In time for the launch of Rogue One: A Star Wars Story, eBay, the ultimate Christmas destination, is making one young Star Wars fan's dream come true. 

eBay has challenged YouTuber Colin Furze to build a giant AT-ACT, sourcing everything from eBay. To complete the challenge, the four legged Imperial Walker will be filled with some of the greatest presents anyone could wish for this Christmas, all bought new from eBay. The final structure will stand at 5.5 metres high using materials from over 20 sellers on eBay and filled with the latest gadget and toys all available from eBay. 

Colin Furze is a popular British garage inventor with over 3.9 million fans watching his creative builds on his YouTube channel. Previous projects have included a homemade 360 swing, and hand-built jet bicycle. eBay has filmed the entire journey from idea, to build, to reveal of the one of a kind AT-ACT with clips appearing across Colin's and eBay's social channels. 

The complete giant AT-ACT appears in the garden of the young Star Wars fan, to surprise him and make his Christmas dreams come true. And he doesn't know that it's bursting with presents from eBay until he climbs into the giant structure.
If you live in London you might be lucky enough to win one of these cool helmets. Here's how:
Now it's your turn to grab a helmet and join the rebellion. Head to @ODEONCinemas Leicester Square for #RogueOne #VR this weekend. ✨✨🚀 pic.twitter.com/LKA9fNta9F

— RealD UK 🕶 (@RealD3DUK) December 8, 2016
A fantastic Rogue One fan art:
Fresh and hot from the oven!!! #StarWars #RogueOne fan art #illustration done! Hope you guys like it! #digitalart #painting #JynErso pic.twitter.com/dTANdOFAmh

— Jennifer Teh (@JenniferTehYL) December 2, 2016
Contributed by @SW_ROGUE_ONE