Eddie Redmayne Had a Hilariously Terrible Audition for Kylo Ren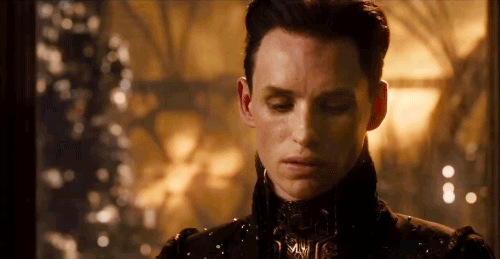 By Janey Tracy from Outer Places:
Two years ago, Eddie Redmayne revealed that he had a "catastrophically bad" audition for The Force Awakens, and many assumed that he was up for General Hux (probably because of the accent). But as it turns out, he was in the running for Kylo Ren, which ultimately went to Adam Driver, and he characterized his audition as "hilarious"–as in hilariously terrible.
In an interview with Uproxx, Redmayne confirmed that he was auditioning for Kylo Ren, and said that he resorted to a "ridiculous voice":
So, I was going for, I think, for Adam Driver. They gave me like a Star Trek scene – or like something from Pride and Prejudice. It was one of those films. With films that top secret, they don't give you the actual lines. So they give you a scene from Pride and Prejudice, but then they tell you you're auditioning for the baddie. If you're me, you then put some ridiculous voice on.
For anyone who's seen Jupiter Ascending, it's easy to imagine Redmayne going ridiculously over-the-top in a petulant villain role. He went into even more detail, and it seems like he went for broke by putting on his best Darth Vader heavy breathing:
That was really a hilarious moment. Because it was Nina Gold, who I have to thank a lot because she's cast me in several films. And she was just sitting there and I was trying again and again with different versions of my kind of "koohh paaaah" [Darth Vader breathing sound] voice. And after like ten shots she's like, "You got anything else?" I was like, "No."
Redmayne is an amazing actor, but if Jupiter Ascending is any indication, he might want to skip to prestige dramas and avoid chewing the scenery as genre villains. But then again, his crazy screaming totally reminds us of Kylo Ren's tantrum, so maybe it would have been a match made in heaven.
This article originally appeared on Outer Places.