Composer Michael Giacchino Talks Scoring Rogue One!
Back in September we received the troubling news that composer Alexandre Desplat was dropping from scoring Rogue One due to scheduling issues. While this was indeed unfortunate news, the skies brightened a bit with the announcement that Michael Giacchino will interrupt his break between scoring Doctor Strange and Spiderman: Homecoming, and do his best trying to match the legend John Williams in just 4 months. Entertainment Weekly has another great story today speaking with the composer and his work on the first spin-off movie – the first movie to have a composer whose name is not John Williams…
Excerpts from the Q&A with Entertainment Weekly:
Q: So you were a late addition to the Rogue One crew…

A: Yes, literally the last thing I expected I'd be doing this month would be this. I mean we were literally planning a vacation when I got the call asking if I could come and talk to them about it. At the time, it left me with literally four and a half weeks to write. So it was one of those decisions where you're like, okay, well… And I was talking to my brother about it. He goes, "Oh, come on. You've been writing this score since you were 10! You can do this."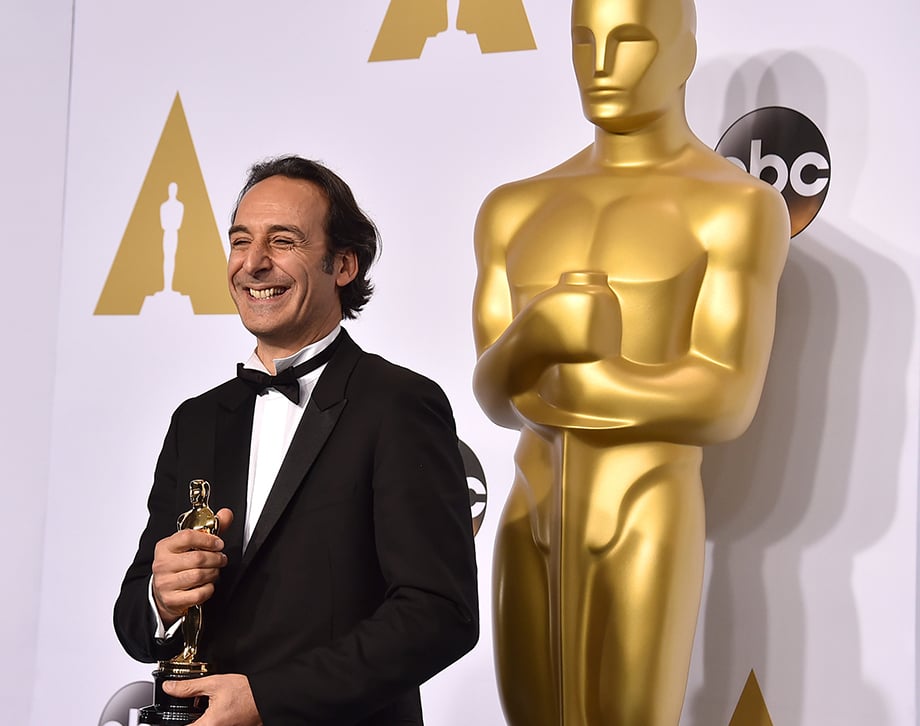 Q: Can you explain why there was a hand-off from Alexandre?

A: I'll tell you, I actually don't know an awful lot about that. [The filmmakers] were like, "Do you want to know what happened?" And my response was, "You know what, when this is all over we can sit and talk and have a drink and you can tell me whatever you want. I'd love to hear the story. But for right now I feel like I'd rather just pretend nothing happened and everything is good and I'm just going to come onto this." And they were like, "Fair enough, fair enough." So honestly, I don't know anything about it other than what was purportedly, you know, "schedule issues."
Q: Did you listen to any of what he had already written?

A: I was like, "No, I don't want to. I want nothing, nothing. Let's just do it." … I've been excited to see this movie very much for the past year or so. And I thought, "Oh wow, Alexandre will probably do a really cool score for that." And I was honestly looking forward to just seeing that and [hearing] whatever he did. I had never – not even an idea – that I would ever be involved in it. It all happened so fast.

Q: When you spoke with director Gareth Edwards, Tony Gilroy, who was brought on for reshoots, and Lucasfilm president Kathleen Kennedy about the music, what specifically do they ask for? What are the conversations like?

A: What you actually end up talking about is just the emotions. The less you talk about music and the more you talk about emotions, the easier I can understand what I need to do. After seeing the film, I told them what I felt about the movie, what I felt it could use, and what it needed. And we were all on the same page about those things.
Q: Without giving away plot, what were your impressions of it?

A: It is a film that is in many ways a really great World War II movie, and I loved that about it. But it also has this huge, huge heart at the center of it, and that was the one thing I just didn't want to discount. Yes, it's an action movie, and it's a Star Wars film, and it has all the things that you would come to expect and love about that, but I didn't want to forget that it was also an incredibly emotional movie as well. That was what really pulled me in. I love working on projects that have an emotional center to them – and not manufactured emotion either, even though, you know, [laughs] it's a weird thing to say because literally that's all we're doing, manufacturing emotion.

Q: Did you have a favorite theme?

A: I really enjoyed working with Jyn's theme, and tying that into the movie, and having it slowly develop. And it's sort of a very emotional sweeping thing, which was really nice to do. Now, I feel like there is this interesting sort of thing going on in film scoring where it's all about restraint. And at times I totally agree with that, but at other times it's just nice to unleash everything and just let 110 players go for it.

Q: Did you incorporate many elements of John Williams' score?

A: I think absolutely there are a couple of times when you want to hit upon something that was from the past. For me, even as a fan, it was about going, "Oh, this particular idea would be great if we did it here. I would want to see that if I were watching a Star Wars movie." As a kid who grew up with John's music and who was catapulted in this direction because of what he did, I had a very specific idea of what I wanted to use and how I wanted to use it. That being said, I'd say the score is 95 percent original but with little moments [of Williams' classic score] here or there to accent. If I were sitting in that seat and I heard that, it would totally raise the hairs on my neck.
Q: Did you get to do your take on the Imperial March?

A: [Laughs] Maaaaaaybe.

Q: Can you describe the opening title theme? Do you use elements of his work there?

A: It's done slightly differently here because it's not one of the saga films, it's not one of the trilogies. It's sort of its own thing and the whole idea from the very beginning was these should be standalone movies. So it's going to be a slightly different way to get things kicked off.
For the full interview make sure to go to Entertainment Weekly.