Ashley Eckstein Tells Her Vision for a Live-Action Ahsoka Movie and More!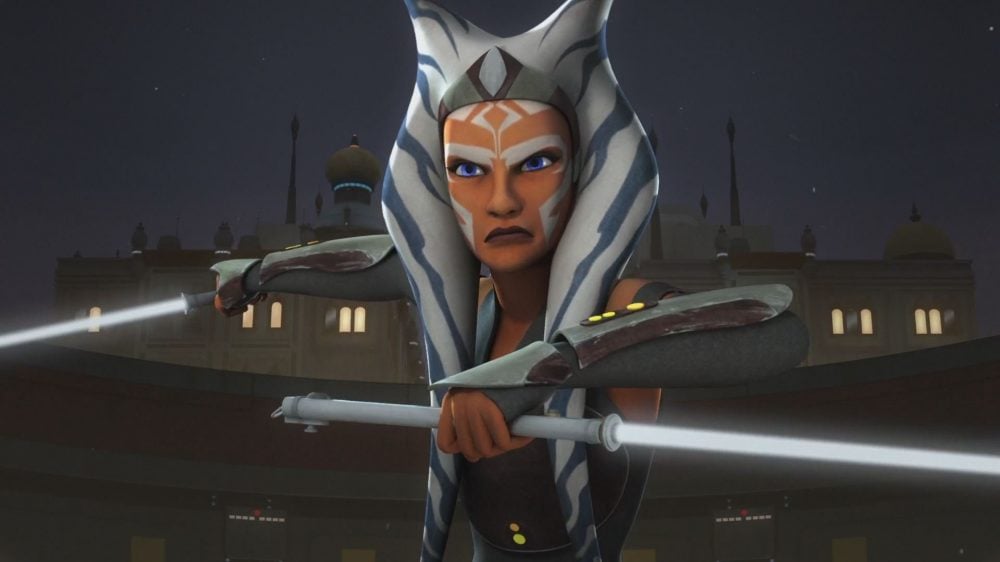 From Outer Places:
Star Wars: Ahsoka came out last week, and it fills in a lot of the gaps between Clone Wars and Rebels for our favorite female Jedi (so far). But with Saw Gerrera making the jump to live-action with Rogue One, will we ever see any of Ahsoka's adventures on the big screen? We caught up with Ashley Eckstein at NYCC, and although she doesn't have any news of Ahsoka joining the live-action films anytime soon, she has her own ideas about what that would look like.
Then, we talked about her Marvel line for girls, representation in sci-fi, the new Ahsoka novel (for which she narrated the audiobook), her personal influence on the character, and the possibility of seeing the character in live-action. She also admitted to thinking "What would Ahsoka do" (WWAD) in her daily life, which, so do we all.
Here's the full interview:
OP: Can you tell us a little bit more about the new Marvel line from Her Universe?
AE: I'm so excited to debut our new Women of Marvel line here at New York Comic Con, and then it'll be available exclusively at Hot Topic after this. We've been inspired by these iconic characters. I mean, Agent Carter, Captain Marvel, Scarlet Witch, Spider-Gwen–I've been wanting to design for these characters for a while, as a true fashion collection. Agent Carter, for example, everyone wanted the blue suit, so we turned the suit into a blue dress.
And this Spider-Gwen jacket I'm wearing [see cover photo] was actually designed by Lindsay Hamilton in our 2015 Her Universe Fashion Show at Comic Con. And Hot Topic loved it so much, they were like, "We would love to sell that, right now." So they bought the design from Lindsay. It's just inspired by such empowering characters, and I'm just so excited to bring a fashion interpretation to them.
OP: That's so great! And they come in all sizes, right?
AE: Yes, extra small through XXXL, and then plus sizes zero through five.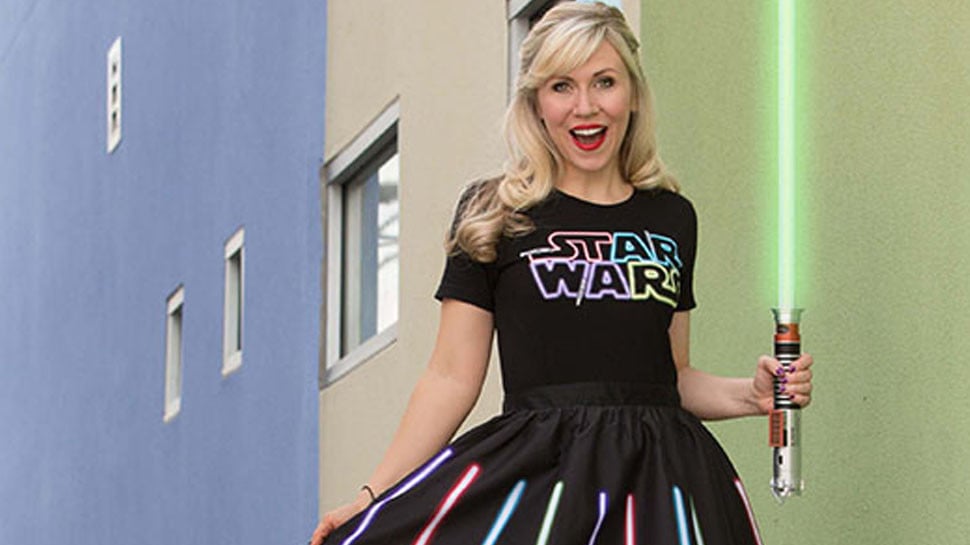 OP: I love that Her Universe is all about female representation. Could you talk a little bit more about where you think the state of representation is in sci-fi, and where you think we could improve?
AE: You know, the state of representation in sci-fi has come so far. When we launched [Her Universe] in June 2010, and my character, Ahsoka Tano, was really one of the first. She was kind of a trailblazer at the time, as a strong female character that was a lead in a franchise. And of course there were others, Princess Leia being the iconic one, but I really feel that it started to pave the way for more strong female characters. I think Ahsoka helped prove that you can have a lead female character, she can sell toys, she can sell merchandise, and both genders love her.
What we've tried to say is that this world, sci-fi, fantasy, comics, is not just for men, it's not just for women, it's for everyone. And the characters and the stories are for everyone. And I think now is such an exciting time because you have characters like Rey, Jyn, you have characters like Katniss, and families are going and enjoying these stories and together, I feel like slowly–not slowly, but now quickly!–we're getting past gender. So there's still a long ways to go, I feel like, there's still so much more that can be done, but we've come a long way.
OP: I agree, and Ahsoka was the first female Jedi that was a lead in the Star Wars universe. Do you think her popularity helped pave the way for characters like Rey in the Star Wars franchise?
AE: I definitely think Ahsoka's popularity helped pave the way, because the stereotype was that female characters wouldn't sell toys. That little boys wouldn't want to watch them. And Ahsoka debunked all of those stereotypes. Not only did boys and girls want to buy her toys, but they also love her character. And when a strong character is written right, whether it's male or female, both genders love it. What's not to celebrate?
So I think it's such an exciting time where there's such strong characters in general. And then you look here at New York Comic Con, and it's like 50/50. There's male and female and families together. So it really is an exciting time.
OP: Absolutely. And speaking of Ahsoka, you just narrated the Star Wars: Ahsoka audiobook, right?
AE: Yeah, I was so honored to narrate the audio book for Ahsoka. It's the first audio book I've ever done, so fans should bear with me. I can't promise a perfect audiobook, but in my estimation maybe 60% of the book is Ahsoka's voice. Ahsoka's lines, or kind of like narration. The other 40% is other characters, so I changed my tone a little bit. Hopefully, it's okay. [Laughs]
But it's a great book. E.K. Johnston wrote a fantastic book, with Dave Filoni, with the story group, they guided her on Ahsoka's story. We get bits and pieces from when she left Clone Wars, and how she became Fulcrum in Rebels. And you get to find out how she gets her new lightsabers, and all sorts of things. It's a really great story.
OP: I know you can't spoil anything, but is there anything else you can tell us about what we'll learn about her history between Clone Wars and Rebels?
AE: You know, there's just a lot of little nuggets all throughout the book that connect the dots. And a lot of character development. That's one thing that makes me feel so fortunate with Ahsoka, that we've had so long to develop her character. We had six seasons of Clone Wars, two seasons of Rebels, video games, comic books, and now a book. We've had so much character development with her, and you're going to get that in this book as well. A lot of emotion, a lot of backstories. So expect just a lot of connecting the dots.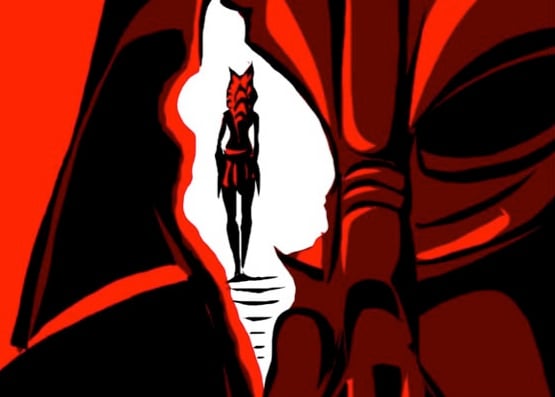 OP: I know you get asked all the time if you think Ahsoka lives, but Dave Filoni actually hinted that we'll see more of her. Do you personally think we'll see more of Ahsoka?
AE: Well, you know as much as I do at this point. So obviously Dave announced on the panel at Celebration Europe, which was very exciting to me, that we'll see Ahsoka again in some way on Rebels. I haven't recorded that yet, so your guess is as good as mine. In my opinion, I think Ahsoka lives, that's my opinion. So, I'm looking forward to it, I haven't recorded it yet, but from Dave Filoni's mouth, we'll see her again at some point.
OP: If she does come back, what storylines would you like to see explored?
AE: Oh goodness, well I'd love to know whether she's alive or not. [Laughs] That's question #1. But I think that Ahsoka, now that she knows the truth about Anakin, I think she's just seeking answers, maybe how it happened, why it happened, if she can help him, if she can save him. It's all about knowledge, and knowledge is power. And in my opinion, is she going back into the Sith temple to gain knowledge to help him? I don't know.
OP: You mentioned, I think it was at Star Wars Celebration as well, that her survival had something to do with the Daughter?
AE: I do think there's some sort of connection, with the Convor Bird and Ahsoka. And that bird is the same colors as the daughter from Mortis. So I don't know the connection, but I think there's some sort of connection there.
OP: A few of the animated characters are starting to make their way into live-action, like Saw Gerrera. Do you think there's a chance that Ahsoka or some of the other Rebels characters will make their way into the live-action movies?
AE: Yeah, I think there's always a chance. I think it's such an exciting time because all the stories are connected now, so truly whether it's animation or live-action film or the books, it's like you can connect the dots from one to the other. So I hope we continue to see the characters cross over to live-action, and of course, if Ahsoka were to cross over, that would be so exciting.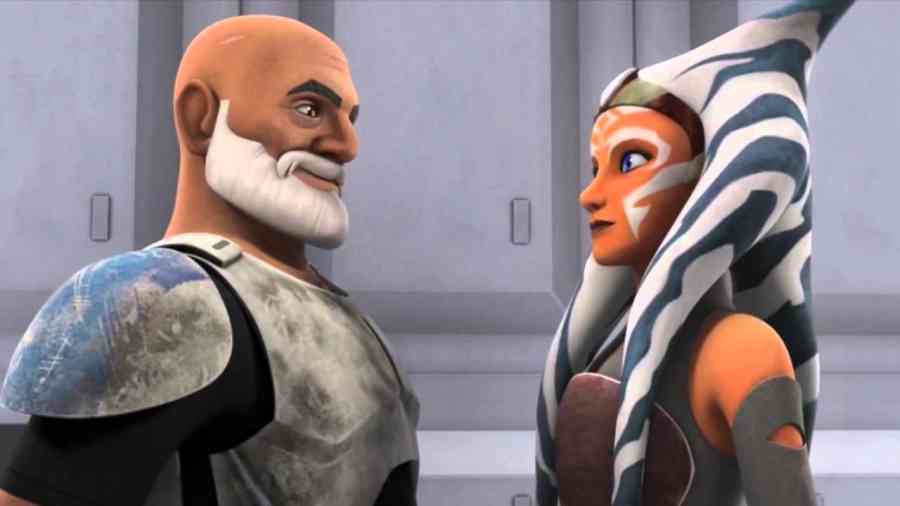 OP: As a hypothetical , if she did get her own movie, do you have any wishes for which plotlines you'd like to see, or which timeline you'd like it to take place in?
AE: Oh goodness, well there are so many! I mean, if she lives, the future, what she does in the future. But then there's also the past, like Order 66, when Anakin gave Ahsoka and Rex her own troop to go on the mission, what Dave [Filoni] unveiled at Celebration. There's so many stories that could be told. I would just be grateful if she got any sort of thing in live-action, but yeah, I think there's a lot there that's still left to tell.
OP: I've heard that some of the Star Wars Rebels actors had the chance to influence their characters. Did you have a hand in creating the character of Ahsoka?
AE: Well, from the beginning, Dave made me a part of the process of creating Ahsoka. Because she was a brand-new character, no one knew who she was. And so from day one, I got to bring a lot of my own personality to her. So I didn't create the words that she said, Dave and his writing team, they do such a great job with the scripts. But he let me bring a lot of my own personality to it. But the kind of humor, sarcasm, he kind of just let me run with that. So I would say her overall attitude, I was able to help create.
OP: And if there were anything (if anything) that you could change about Ahsoka, what would it be?
AE: Oh goodness. I wouldn't change a thing. I think Ahsoka is just so well-written, so well-created. I think she represents the Light side of the Force, I think she represents good. And I look up to Ahsoka. I oftentimes think "What would Ahsoka do?" I honestly wouldn't change a thing, I'm so proud to be associated with her.
This article originally appeared on Outer Places