Mark Hamill Loses His Contractually Obligated Beard, Shares a Memory from The Force Awakens Table Read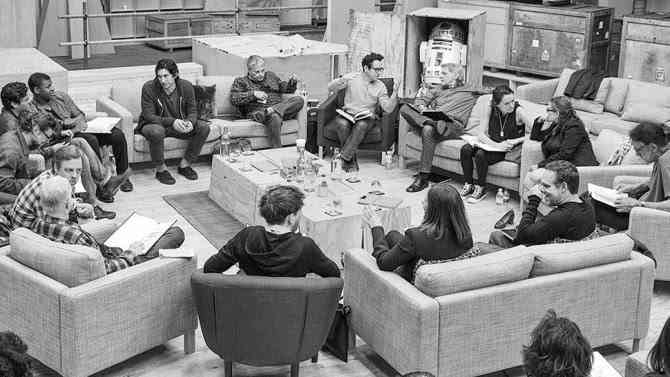 Mark Hamill might not have had any speaking lines in The Force Awakens, but it appears he had a much larger part than anyone else during the table read (as it was revealed on TFA blu-ray special features). Together with the confirmation on this Mark also posted on Twitter an image showing that the times of his "contractually obligated" beard are finally over…
In May 2014, Star Wars fans found the photo above accompanying the much-anticipated press release that announced the cast for the next installment of the Star Wars franchise. The photograph depicted the first table read that included film's new cast in a read along with original Star Wars film legends Harrison Ford, Carrie Fisher, and Mark Hamill.
Yesterday, Hamill spoke out about his 'The Force Awakens' script read and confirmed that even though his film character didn't have any dialog at all, he actually had more to say than anyone else during rehearsals.
A fan going by the name of (Alex Gasperi) on Twitter asked Hamill whether or not it was awkward sitting at the script read for Star Wars: The Force Awakens? Hamill, being the nice guy that he is, answered that tweet:
JJ unexpectedly asked me to read #Ep7 script aloud so (ironically) I spoke more than anyone! #NotSoSilentSkywalker https://t.co/aJouGRZJ65

— Mark Hamill (@HamillHimself) July 3, 2016
Although, Hamill had no dialog in "The Force Awakens", the actor is expected to play a bigger role in Star Wars: Episode VIII, as the Resistance continues to battle the evil First Order led by Supreme Leader Snoke and Kylo Ren. Rest assured that Episode VIII director Rian Johnson hopes that J.J. Abrams' ending of the film, that included no Luke Skywalker dialog, will end up paying-off BIG…
Also, Mark shared a new photo on Twitter where he was holding a book up entitled "Darth Vader and Son". In the photo, it looks like Hamill may be back without something that was 'contractually obligated'. Has anyone noticed that he's hiding his face/beard?
Me & #HaMILLIE LOVE Jeffrey Brown's great #DarthVaderAndSon Deluxe Box Set! Lost name of who sent it #THANKS #DMMe pic.twitter.com/aRTztloWrt

— Mark Hamill (@HamillHimself) July 3, 2016
You can definitely see that the beard is gone. As Mark revealed 2 days ago, Episode VIII is expected to wrap principal photography on July 22. That's 18 days away. This could mean two things. Either Mark has already wrapped filming, or he may appear in Episode VIII at some point without the beard. If you remember something similar happened during TFA. Mark shaved his beard 3 days before the end of principal photography. This time though the period is much bigger.
This also rises another question. What if there are reshoots? And there most certainly will be. Of course the time for reshoots is too far away and Mark can always grow his beard up again. So, yes, the beard watch continues. 🙂
What do you think? Will it be cool to see Luke appearing at the end of Episode VIII without the beard in all his glory as Master Jedi? Or maybe Mark has just finished his scenes 18 days before the end of principal photography? Tell us what you think in the comments below.