SWNN Review: Marvel's Star Wars Han Solo #1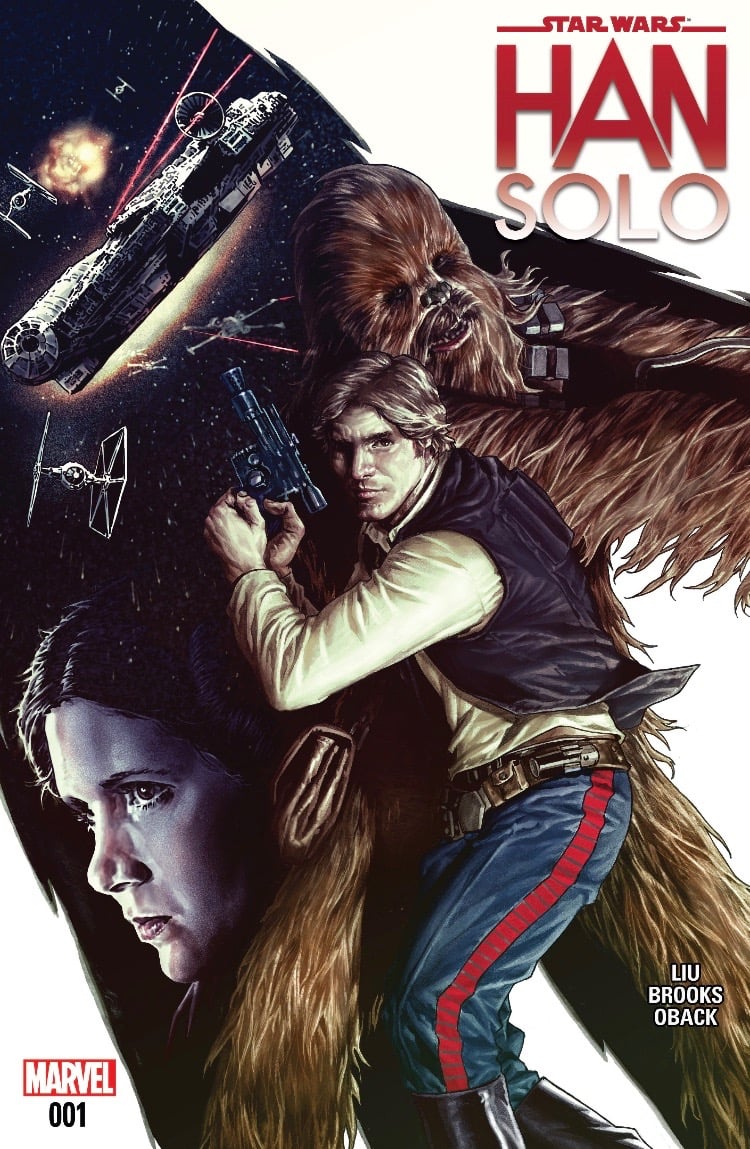 I know what you're thinking, because I thought it too.  Do we really need more Han Solo?  He was the most prominent of the big three in The Force Awakens and will be given his own feature film down the line, so a comic series dedicated to the beloved smuggler sounded to me like overkill.  Considering that this galaxy far, far away is a very big one and there are plenty of new faces we fans would love to get to know better, I thought the resources of Marvel would better serve the fans telling other stories.  I'm happy to tell you that I was VERY wrong.  This first issue is great!  SPOILERS AHEAD…
Han was always the reluctant good guy, and we find him at the beginning of this series trying to reconnect with his inner smuggler.  The Rebel Alliance, despite it's inherent name and cause, seems to be a little too "square" for Solo, so he's returning to the thing he always feels he's done best.  This opening scene has Han perched up at a bar, trying to come-off cool as can be, as his narration of what he's been up to in the underworld reads like the beginning of a 10-cent crime novel.  It's very cool, only we find out Han is not so much the living legend of a smuggler he regards himself as.  Turns out after you assist in destroying a Death Star, coupled with a bounty by Jabba the Hutt, it doesn't matter how cool you think you are; you find yourself watching your back more than usual, and it's hard to compensate when you feel like every turn you could take may be the wrong one.  Han's nervous, but he can barely admit it to himself.
It doesn't take long for Solo to find trouble.  He spots a suspicious face that heading in his direction and very soon he's in the midst of discussion.  Again, Han has yet to reconcile with himself that the charming smuggler may have always been the true mask he wore to protect the hero inside of him.  Writer Marjorie Liu has given us some new depth in his character, at least at this point in Han's life.  As I read this issue, I thought more and more of the tense energy Harrison Ford gave Solo in The Empire Strikes Back.  Han Solo has always been a hero, even before he agreed to give a kid and old man a ride to Alderaan and got much more than he expected.  If Luke had not come along, something else would have, it's just that Solo is having a hard time accepting his role in a galaxy pulled in two very clear directions of good and bad.
It turns out Leia works with these presumed bounty hunters, who are actually agents in the Rebel Alliance, and she's tasked them with reaching out to Han.  They need a ship, a fast ship, and the Millennium Falcon has established quite a reputation for itself.  The proposal is that Han let the two agents use the Millennium Falcon, but once he finds out there is a reward attached to the success of the mission, Han refuses to lend out his ship.  Solo plays to the tune of "no one else flies my ship", and he still doesn't acknowledge that he is going to carry out this mission because he actually cares.  As soon as Han returns to the Rebel Fleet, he lays into Leia about the nerve she has attempting to rent out his ship (righteous indignation, ad nauseam), keeping up the facade.
The Rebel Alliance has a serious problem.  The Empire has infiltrated their ranks with a spy.  The Rebellion has suffered huge losses in an informant network they established within the Empire.  That network was compromised by, what Leia and General Airen Cracken (the gentleman above) believe to be a mole.  Anytime they attempted to rendezvous with one of their informants using a Rebel ship, that informant never made it.  Leia and General Cracken believe if they use a ship that is off the books, it will eventually flush out the Imperial mole.
The plan is to enter Han into a race called the Dragon Void Run.  Sounds ominous, eh?  The race will serve as cover for Han to stop off on the three planets of their three remaining informants and bring them in.  Leia and Cracken are the only Rebel officers aware of the mission.  They hope to retrieve their informants and also see if the Empire catches on to their plan.  Essentially, if Han is not successful in bringing the informants back, he's bait to the Empire so the Reble Alliance can begin to search for the mole.  I love this spy stuff!
Han and Chewbacca (yes, our Wookie life-debted friend is along for the ride) arrive at the beginning of the race.  We can see there is nothing low-profile about the starting line of the Dragon Void Run.  This giant space station is host to all of the best pilots in the galaxy, hoping for the glory of finishing the infamous race.
Among the mingling Han engages in with the other pilots there to test their mettle, we are introduced to Loo Re Anno, the oldest and greatest racing pilot in the galaxy. She leaves as quickly as she enters, but I think we are going to see much more of her, due to the stunning introduction.  All of the pilots act as if they were in the presence of someone so talented it is almost mythical.  Whether she will be friend or foe to Solo…your guess is as good as mine.  It is worth mentioning that we are introduced to no villains in this issue, which runs against the grain for the Star Wars comic series we've read so far.  Keep an eye out for Loo Re Anno in future issues.
Well, you didn't think the race was going to be easy, did you?  Han and Chewie encounter a little bump in the road, but I will leave that for you to read.  Also, I should note that there are a ton of great moments I left out of this review.  You should read them for yourself.  I have a very good feeling about this series.
This is writer Marjorie Liu's first entry into the Star Wars comics.  She has serious pedigree in the comic world.  It shines here.  I have a lot of faith Liu is going to deliver a very special series.  The first person narrative of Solo adds a lot to the story.  As I said in my introduction, I was not looking forward to this.  My glass was very much half-empty when I sat down to read this, but Liu has begun a compelling story, and I just want to get my hands on the next issue.
The artwork in this book is exquisite.  Artist Mark Brooks and colorist Sonia Oback did such an amazing job bringing this story to life.  Each frame is filled with so much.  The interactions between Han and Leia seem fresh.  We've seen their back-and-forth so many times, but it doesn't feel old in this book, as it has for me in some of the past comics.  Everything feels very big here, but at the same time, so intimate because every detail is fleshed out.  I can't wait for more of their frames.
If you can't already tell, I loved it!  I think you will too!  Never thought I would say this, but give me some more Han Solo!
This issue is available at your local comic book shop or digitally through comiXology.
Kyle Larson lives in Portland, Oregon. When he's not running trails, he's reading and writing.