Phil Tippett's HoloGrid: Monster Battle Game Closer to Becoming a Reality. Now You Can Help Too.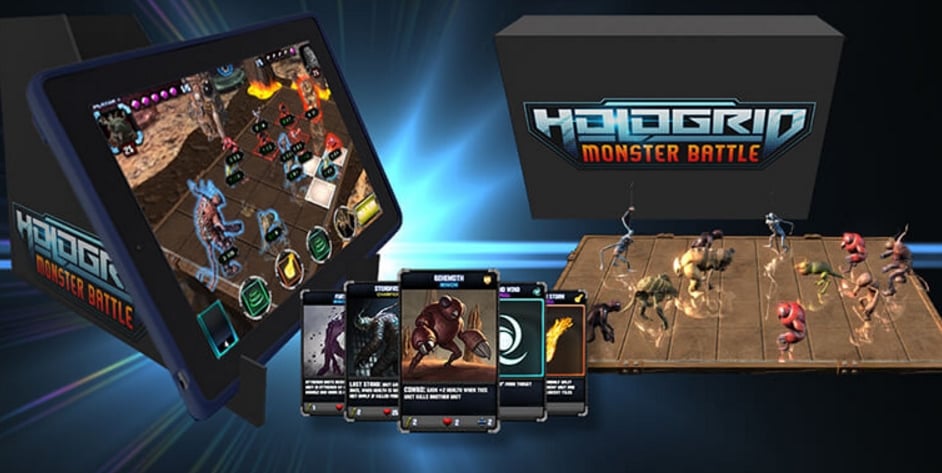 VFX legend Phil Tippett and Happy Giant has announced the launch of a Kickstarter fundraising campaign for the game HoloGrid: Monster Battle. The all-new hybrid board/CCG/digital gaming experience is inspired by the Holochess sequence from the original Star Wars film. Soon you will be able to take your first step into a new world of Augmented Reality gaming. Read on for more.
Let's be honest, there's a lot to love about Star Wars: The Force Awakens, the space adventure sequel brought to you by Director J.J Abrams after nearly a decade away from the big screen. There's also a lot to love about the Original Trilogy of films as well, and Abrams' new film draws many of the elements from them as well as recapturing its look and feel. One of the throwback scenes that caught the attention of many long time Star Wars fans was the return of the legendary Holochess board game (Dejarik) aboard the Millennium Falcon.
The Holochess stop-motion sequences in both films were created by 2-time Academy Award winning Visual Effects Supervisor and Director Phil Tippett. J.J. Abrams thought it would be fun to have a callback for fans, and added a new stop-motion sequence as a little Easter egg. For those unfamiliar with the scene, when Finn is aboard the Millennium Falcon, he accidentally hits a button that turns on the Dejarik Holochess board. He stares at it for a moment, attracting Chewbacca's attention, before turning it off. The moment has no real impact on the plot but it was fun to see it brought back.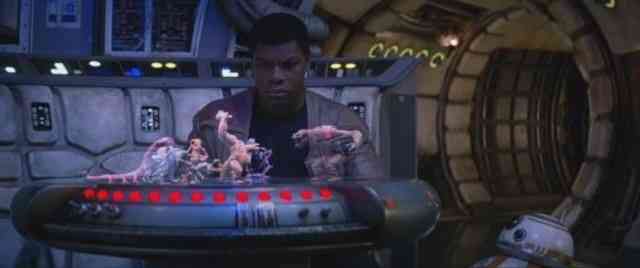 Of course, everyone would love to have a real-life Holochess at home. Well, you are in luck with the soon to be released HoloGrid: Monster Battle game that is being built for the next gen AR & VR platforms and mobile devices. The new platform will give players the feeling that the creatures are doing battle right in front of them.
"We're excited to be launching this Kickstarter with Phil Tippett and his studio, and bringing to life a game so many of us have always wanted to play" said Mike Levine, President of HappyGiant. "This is our first step into a new world of AR gaming, and while we are launching it on mobile initially so everyone can play it, our long term vision is to bring it to emerging AR and VR platforms."
Photogrammetry is also another highlight of the process being Tippett's real life physical creatures scanned into 3D digital assets for the game. This method is similar to the method that Tippett used to recreate the Holochess scene in 'The Force Awakens'.
"We'd been doing experiments with Photogrammetry, but more on museum level artifacts," said Levine. "At the same time we began exploring doing projects with Tippett, we had the idea, 'What if we tried this on some creatures?' The results blew us away. That's really where this idea was born." "And it's the exact same technique we used on 'The Force Awaken'. added Tippett
On May the 4th 2016, Phil Tippett & HappyGiant announced the launch of a Kickstarter campaign for HoloGrid: Monster Battle. The two collaborators are seeking $100,000 from backers for its launch. At the time of writing, 539 visitors have contributed over $30,746 with 27 days remaining to contribute to the campaign. You can help make this game reality by donating to Kickstarter HERE.
The new hybrid board game, CCG, and digital augmented reality game, recently was also named by MMOGames.com as the "Best Technology of PAXEast 2016".
"No other tech on the gaming floor combined so many cool, new ideas at once quite like this game. It managed to put together AR, CCG gaming and mobile gaming into a mixture that engages with its personality and depth of play.", said MMOGames.com "HoloGrid could have easily leaned on its AR tech to make it simply a neat toy, but it has built a very compelling game in the process. It has managed to toe that difficult line between being accessible while also offering a strong level of strategy. In addition, it has a strong base to build on for more variety of cards. If HoloGrid can secure the right attention and make its game affordable, then Happy Giant has possibly caught lightning in a bottle."
Tippett who is also known for his other work on the blockbusters Jurassic Park and Robocop had this to say about the HoloGrid: Monster Battle game.
"For years I've been making monsters for Directors to play with, and now for the first time, I'm making monsters for YOU to play with," said Tippett. "We're excited about the new fields of Augmented and Virtual Reality, and to be working with our friends at HappyGiant to create HoloGrid: Monster Battle."
About the HoloGrid: Monster Battle game!
The HoloGrid: Monster Battle's gameplay is very similar to Collectible Card Games (CCG's) such as Magic: The Gathering or Hearthstone, but uses physical playing cards to trigger Augmented Reality creatures and a gameboard. Players will be able to play head-to-head, either locally or remotely, and offline, non digital play is possible as well through a physical board that will come with the product. A "Hybrid" Board Game, Collectible Card Game (CCG), and Digital Game in one, it delivers to players a new type of gaming experience.
For more details on the project please visit www.hologridmonsterbattle.com
Check back for more Star Wars news here at SWNN.
May the Force be with you…