Update 4: The Rogue One Teaser Trailer Is Finally Here! Mon Mothma Actress' Name Confirmed + New Location + New details on Ben Mendelsohn's Character!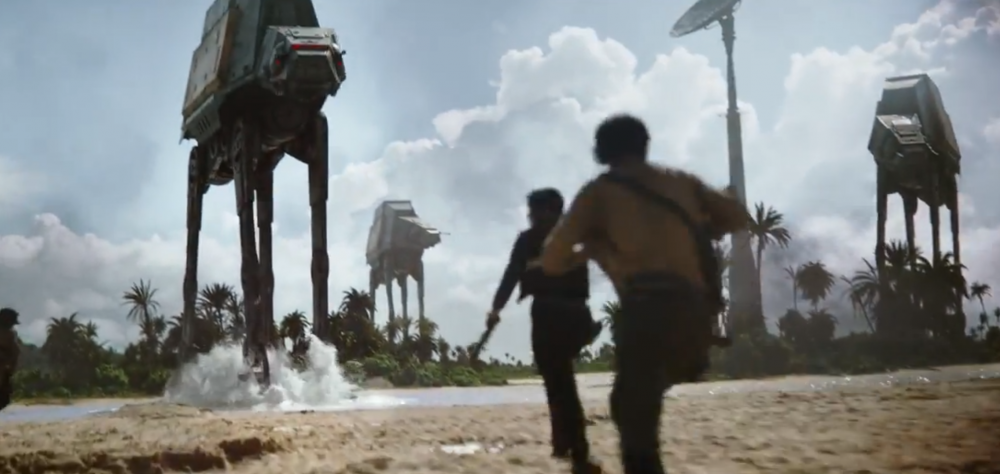 As expected the Rogue One promo campaign is starting to fire up after Star Wars: The Force Awakens was released on Blu-ray/DVD. And what a start it is! 7 months before Gareth Edwards' movie hits theaters, we finally have the first full teaser trailer, and it is awesome. Check it out…
UPDATE!
And here are some screenshots from the trailer (captions by Hard Case):
The opening shot of Felicity Jones' character Jyn Erso in rebel custody at what is presumably the hidden base on Yavin IV…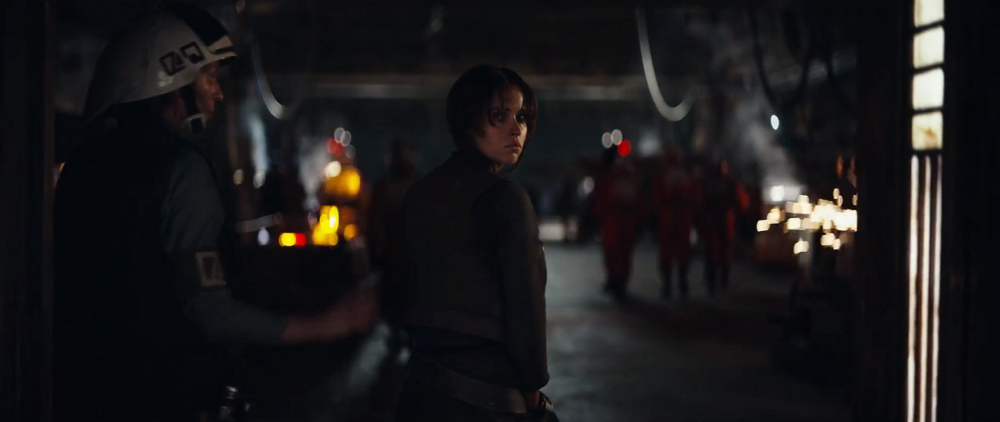 A wider shot of the base with the rebels as they should be…on the move and ready for a fight.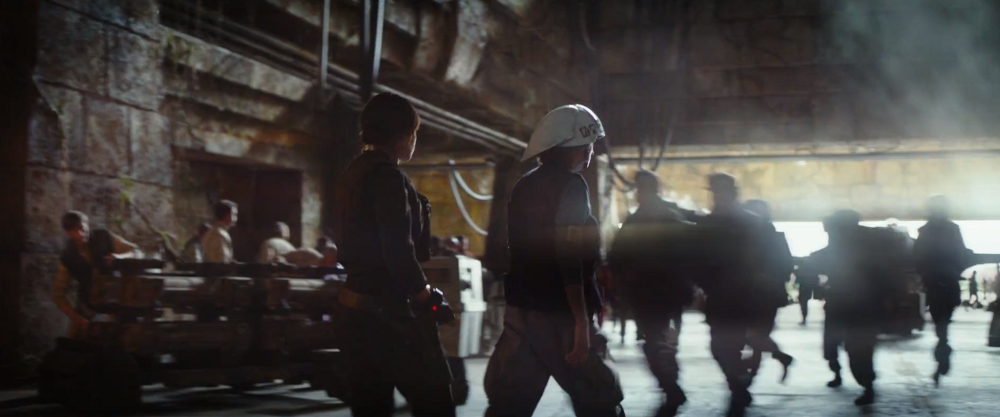 Now, there's a familiar face.  Welcome back, Mon Mothma.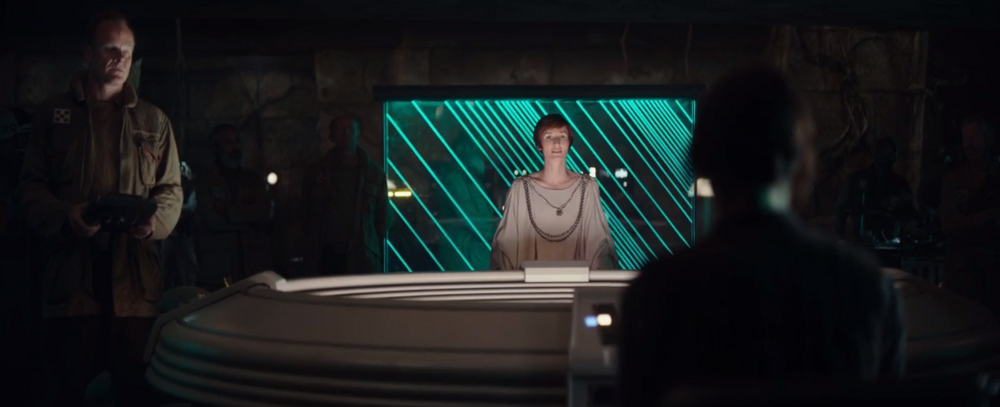 Jyn Erso having a chat with Mothma and a rebel officer in the war room.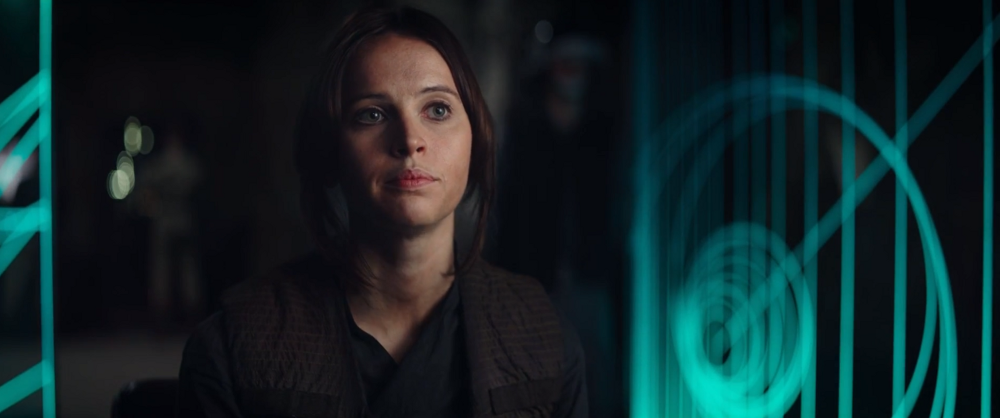 Jyn doing what she does…rebelling against the Empire.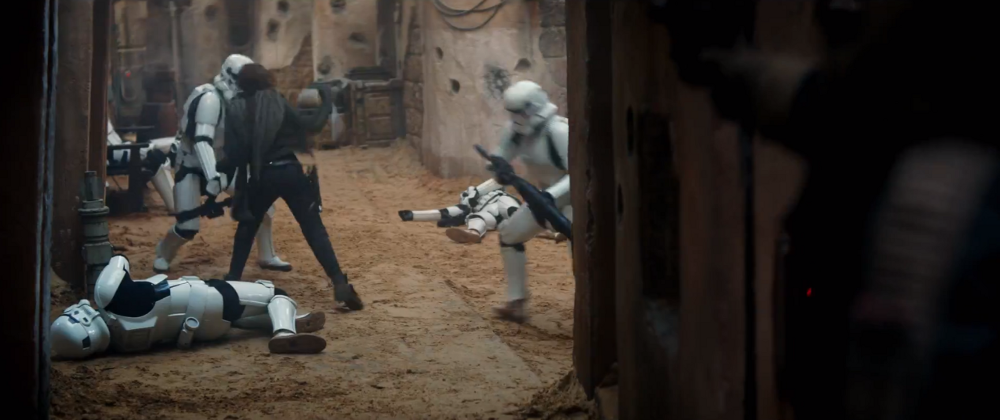 Man, she's really taking those boys down desert scavenger style isn't she?  Hmm…I wonder…Anyways, it's great to see the old school stormtroopers back in action in all their cannon fodder glory. Check out the city in the background.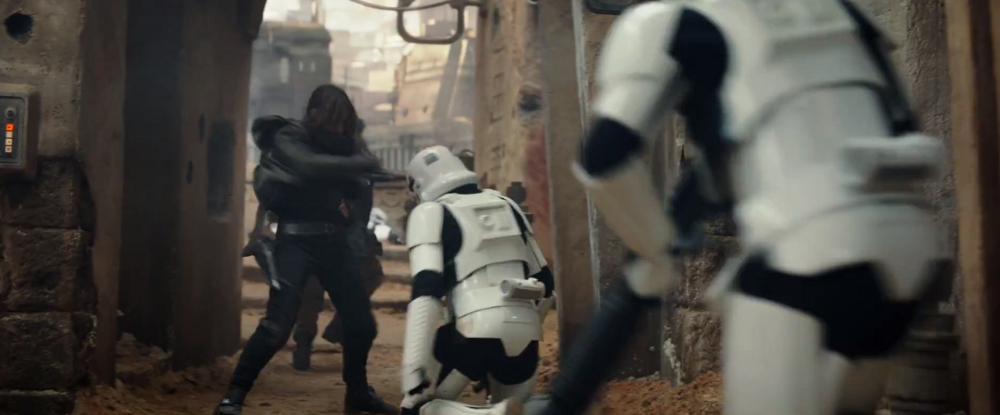 And of course, no rebellion era story would be complete without this classic monstrosity of a ship…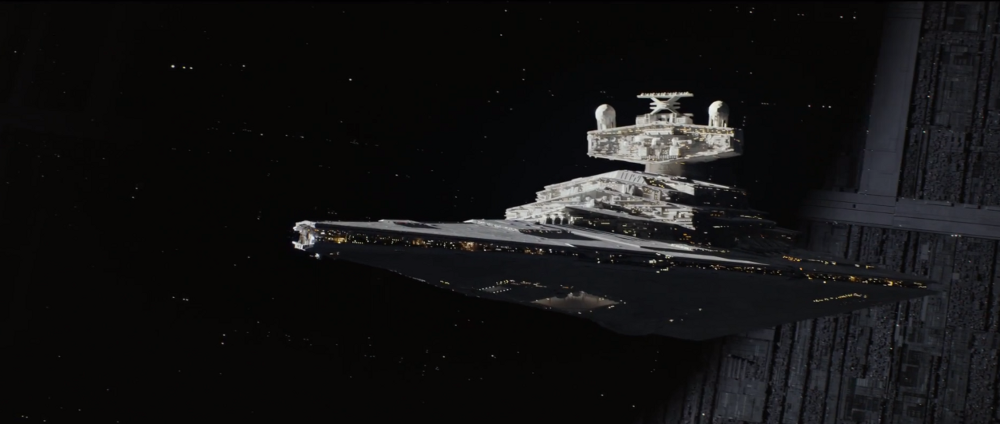 I wonder what kind of package Direct TV offers the Empire?  I bet they get a killer discount.
Diego Luna in the war room.  Why do I get the feeling he'll be the Poe Dameron of this movie?  Must be 'cause he just looks so cool standing there.
Another close-up shot of Felicity Jones…
Sound the alarm…and get to your ships!  Nice classic shot with some pilots in their rebel orange on the left…
Admiral…Magneto?…First shot of Ben Mendelsohn's character.  And I must say, he is looking awesome!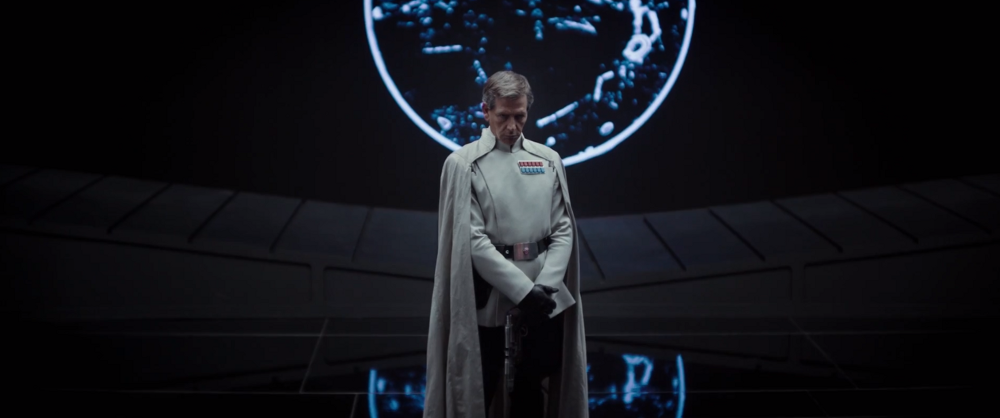 And now we get a glimpse at Forest Whitaker looking like a hardcore mercenary…
"This isn't the tank you're looking for…you can go about your business…move along."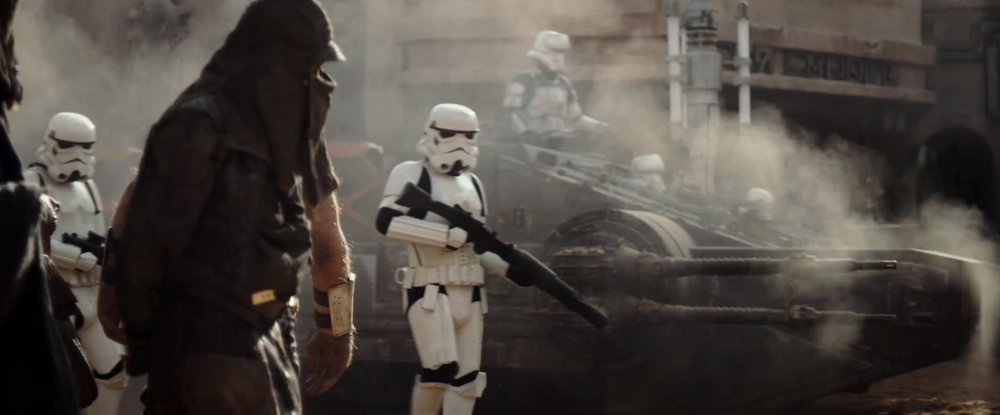 Rebels on the run in what looks like an imperial facility or starship.  Could the droid be Alan Tudyk's character?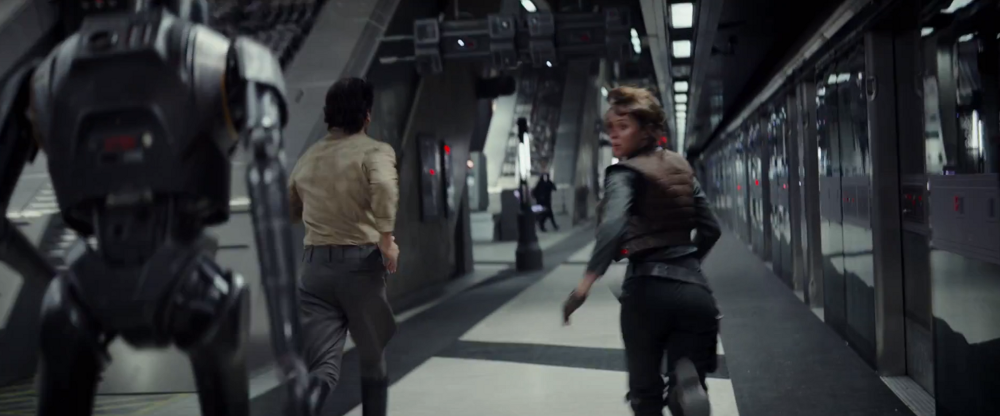 Donnie Yen showing us how The Raid cast could have been used in TFA…yes, please… Notice the black X-Wing in the background.
Shadow Troopers!  The old Expanded Universe getting some love…
Destruction of an Imperial vessel that looks very similar to the design of Kylo Ren's shuttle in TFA…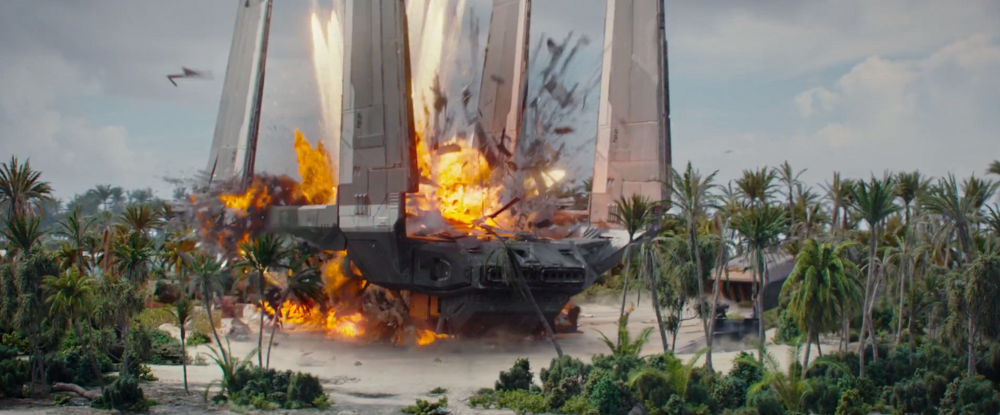 What an amazing visual…Mendelson taking a stroll across the aftermath of a tropical battlefield, and the first real glimpse of those floating stormtroopers that were spotted in those leaked set photos several months ago…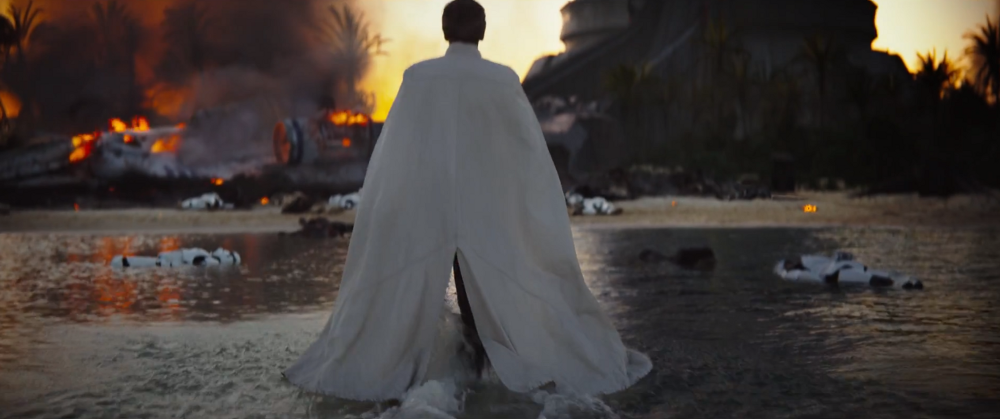 Imperial guards in the back…loyal subject kneeling to the ground…goood…goooood!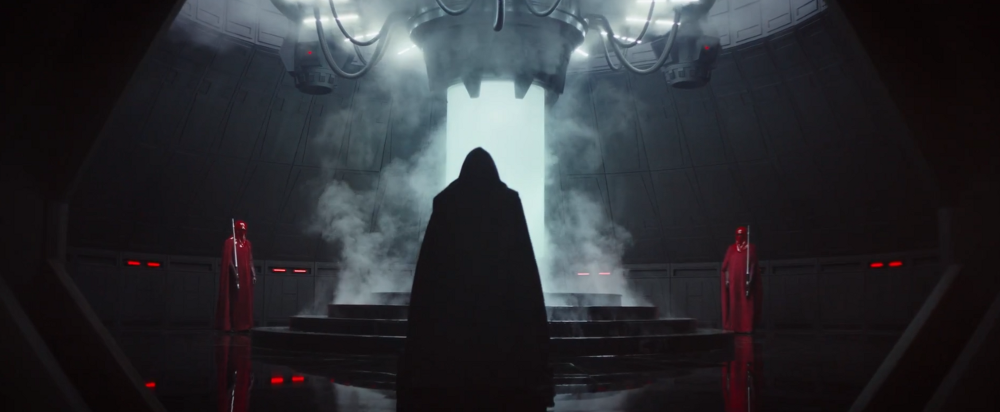 Wen Jiang about to bring the heat…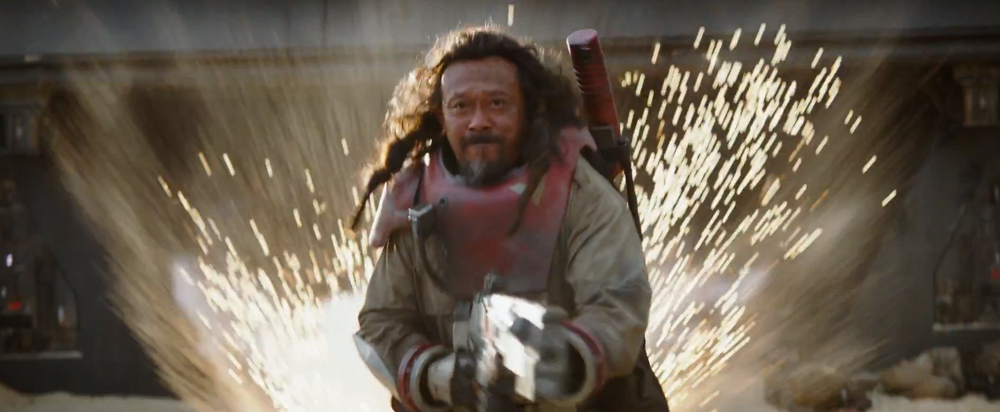 Felicity Jones looking amazing in her Imperial disguise…
And finally we have the logo…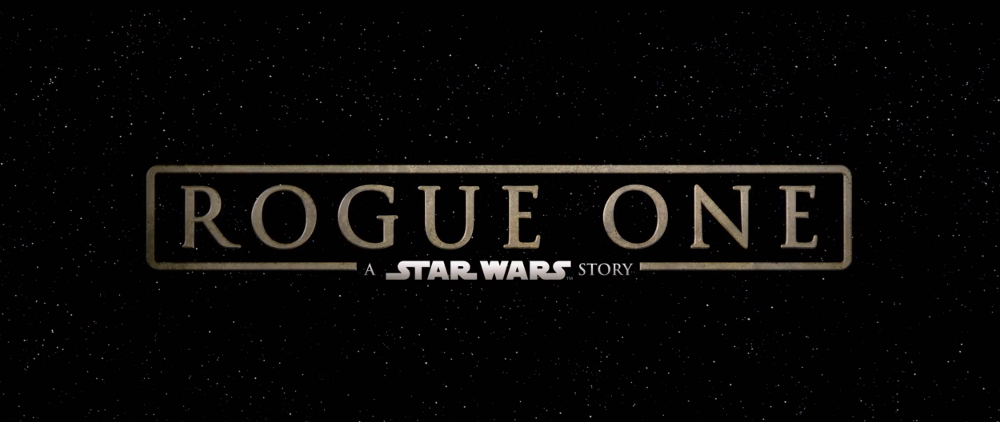 UPDATE 2!
Anthony Breznican from EW.com shares more revelations from the trailer. Read their report from the link in the tweet.
https://twitter.com/Breznican/status/718088257183985665
Her first appearance in Episode III got cut, won't happen this time.
UPDATE 3!
It's just been brought to my attention that they filmed Star Wars #RogueOne in Canary Wharf tube station. Say what! pic.twitter.com/C0AQ94tL8C

— MarcFC (@marcfc) April 7, 2016
And now we know where the X-Wing prop from those TMZ leaks ends up in the film.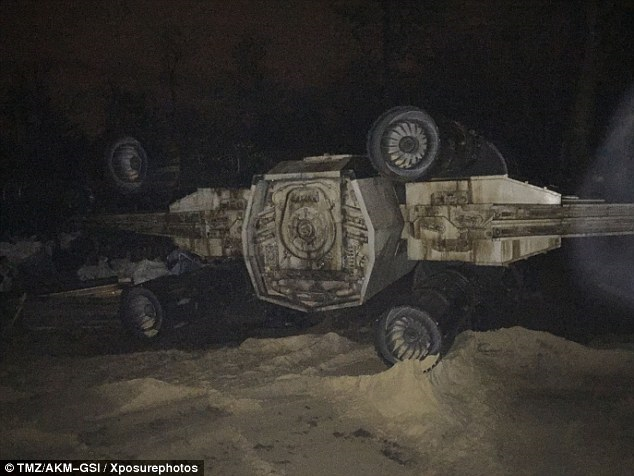 UPDATE 4!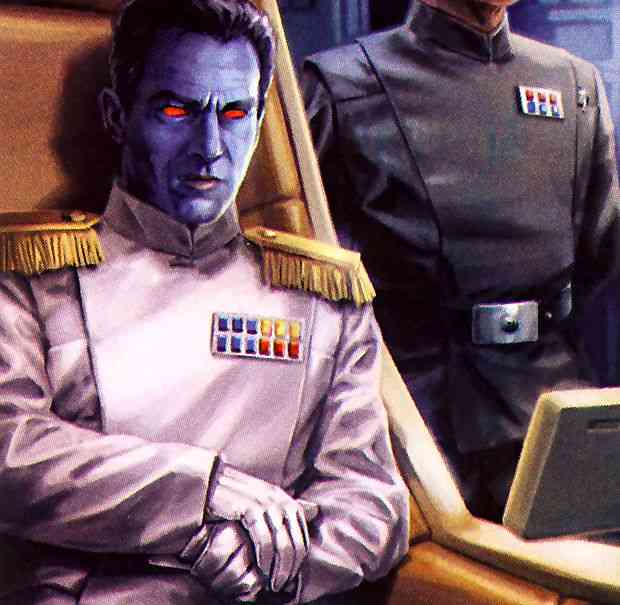 There has been a lot of speculation that Mendelsohn's character in the film is a Grand Admiral who is either the canon version of Thrawn or a similar character type.  However, it has been brought to our attention in the comments section below that the insignia on Mendelsohn's uniform seems to be that of a Fleet Admiral (6 red over 6 blue), not a Grand Admiral like Thrawn which is very different (click here to see an old listing of Imperial insignia).
Grand Admiral Insignia (Legends)
Fleet Admiral Insignia (Legends)
Although the Imperial rank insignia have not all been firmly established yet in canon, with the attention to detail they seem to be paying so far (even to Legends material), I have to wonder if Mendelsohn's character is in fact a Fleet Admiral instead of a Grand Admiral.
I also wanted to note that Wendig's Aftermath had a mysterious Fleet Admiral pulling the strings at the end of the book. I wonder if he and Mendelsohn's character are one and the same? What do you think?
Special thanks to Veritax for the heads up!