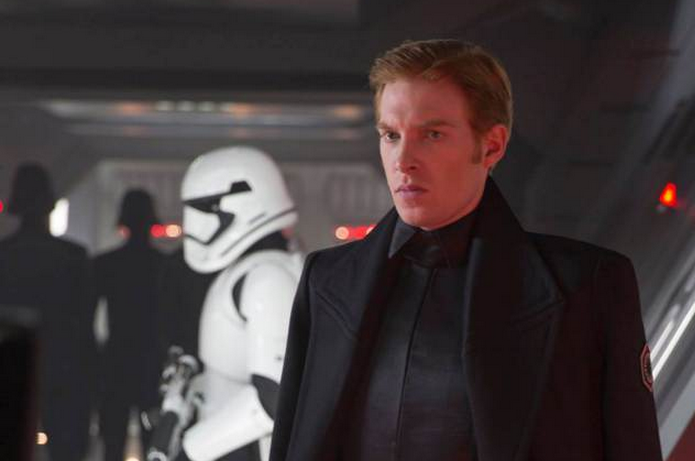 General Armitage Hux, the man responsible for ordering the Starkiller Base's strike on The New Republic which DECIMATED several planets, is back in The Last Jedi. After barely escaping the crumbling super weapon, Hux will certainly have more destruction in mind for what is left of the Republic and Resistance to the First Order. Domhnall Gleeson sat down with Steve Weintraub of Collider where he discussed Rian Johnson and The Last Jedi, as well as his take on Lucasfilm's decision to bring J.J. Abrams back to complete the trilogy with Episode IX.
One theme that has been evident in interviews with the cast is that The Last Jedi is new, fresh, and that many of them were surprised by their character arcs for the second installment in the trilogy. Domhnall Gleeson does not divert from that theme in his interview with Collider, as he mentions how after reading the script he felt the urge to speak with writer/director Rian Johnson in what sounds like a need for some sort of reassurance, perhaps due to an unexpected shift from what the actor expected for his character:
"When I read it I needed to talk to him, and I think that's always a good sign. I was like, 'Wow there's some stuff there which is kind of—not scary but different to what I expected,' and that's a really, really nice thing. I think that's a really positive thing, I think that's important for those films that we don't repeat ourselves. So I just wanted to talk to him, and when I talked to him he was so clear and so confident, not in a brash way but he knew the film he wanted to make, and it was a really lovely thing. Just [to] sit down with a filmmaker you really enjoy… but to see him, just the confidence of it and his excitement about what it could be and everything, it was really pleasing to see. Very calming. And I got really excited about being in it, and it was a really very, very cool experience working with him. I would love to work with him again, I really enjoyed it."
As we recently found out, The Last Jedi is completely finished. While Gleeson obviously knows the story, the plot, the twists, the end, he notes that he is still very eager to see the finished product to witness the realization of Johnson's vision for the film, tonally if nothing else.
"I'm just really interested to see the film now, as well. You never know what something's gonna be like. Even when you read the script, you don't know what the tone of something is gonna be. You can guess at it, but I can't wait to see it. I just wanna sit in a room full of people and watch that movie and see what it does to us."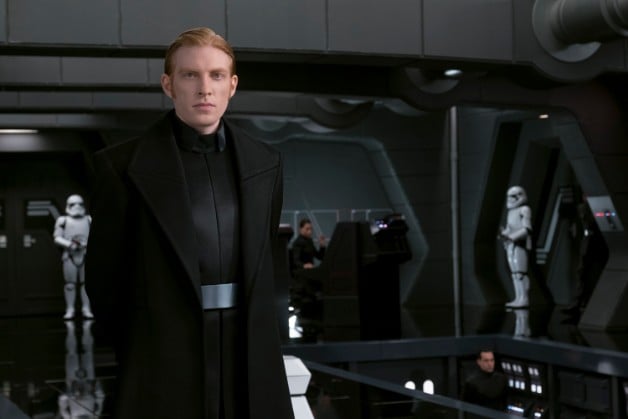 The discussion moved on to Episode IX, and the recent confirmation that J.J. Abrams has been brought back to "finish what he started." In as pro and coy of a manner as possible, Gleeson approves of the decision while stating he is not sure if he, or any of the current cast will be in the film.
"[I found out] like two seconds before, but nothing's revealed about which, if any of us, are in Episode IX or not. I think it's really cool that he's doing it, and I'm interested to see how he approaches it because he's a superb filmmaker. And it's closing out—they're doing it in trilogies aren't they?… See that's really cool, J.J. will do a fantastic job."
I say coy because he knows exactly whether or not he is in the next film but is being a pro to not spoil anything for The Last Jedi before its release. If he jumps right out and says he's excited to work with J.J. then we can safely assume Hux survives The Last Jedi. We saw similar tongue-in-cheek statements from Adam Driver recently saying something along the lines of, if they make another movie after The Last Jedi he'd be interested. I know people get annoyed with lack of confirmation or information, but you have to appreciate the humor involved there, especially when we know that they know exactly what is going on. As a matter of fact, perhaps we should thank them for protecting the secrets of the upcoming films so we as movie goers, in an age where nothing is sacred anymore, and everything is revealed, can enjoy it with a clean palate as much as possible.
"For my ally is the Force, and a powerful ally it is." 
You can find me confirming that I am not in Episode IX on twitter @JohnnyHoey and on the official SWNN podcast The Resistance Broadcast @RBatSWNN!
John Hoey is the Co-Lead Editor and Senior Writer for Star Wars News Net and the host of The Resistance Broadcast podcast
"For my ally is the Force, and a powerful ally it is."
Click HERE to check out and comment on this topic in our forum The Cantina