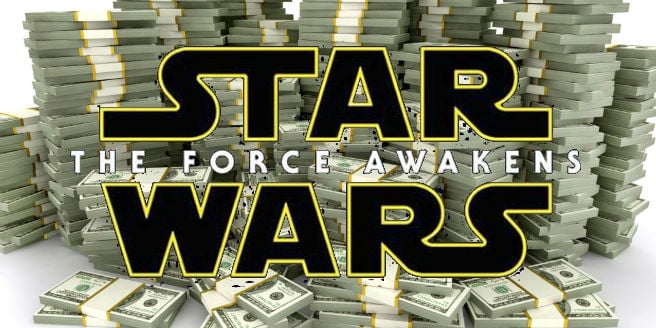 Star Wars Episode VII: The Force Awakens continues to obliterate American box office records as Deadline reports that AMC only have so many seats left available for the film's opening weekend as the show continues to sell out! Meanwhile, The Hollywood Reporter estimates that the film will put previous record-holders for the highest-grossing film of all time to shame.
First up on today's tale of financial conquest is some hard numbers that are certainly set in stone. AMC has claimed that they have room for a little more than 4 million seats open for their screenings of The Force Awakens – 3.5 million of which are for standard 2D and 3D showings, and the remaining 500,000+ for premium IMAX and Dolby formats. While 4 million might sound like a lot, to put it into perspective with that number, that means that over 1,600 of the screens in their 346 American/Canadian theaters are completely sold out. (If you haven't got a ticket yet, just keep in mind that most of the sold-out shows are for the Thursday/Friday premiere – along with the aforementioned premium format showings.)
The second point worth bringing up is more interesting – Barton Crockett, an analyst from FBR Capital Markets, has suggested that the highly-anticipated movie will break the bank by making around $730 million domestically and $1.9 billion internationally, adding up to a total of $2.63 billion worldwide. A more optimistic from Crockett states that the movie will end its worldwide run with a staggering $1 billion domestically and a $2.5 billion internationally, adding up to a total of $3.5 billion worldwide. The former estimate would put make the film the second-highest-grossing movie ever made (with the film's total gross just below 2009's Avatar), while the latter estimate would have it make as much profit as Avatar made in ticket sales alone, which would easily establish The Force Awakens as the highest-grossing film of all time.
Image Credit to Kate Doodles.
What would these estimates mean for the Star Wars franchise as a whole? Well, on a lower estimate, the poential gross of The Force Awakens would raise the Star Wars franchise into becoming the third-highest-grossing film franchise of all time (between James Bond and Harry Potter), and with a higher estimate, it would be second only to the Marvel Cinematic Universe as the most lucrative film franchise ever made. Crockett also noted that the ticket sales for The Force Awakens should also bode well for Rogue One: A Star Wars Story, even though that's a spin-off and not a traditional sequel. His estimate was that the first film in the Star Wars Anthology series could bring $1.6-2.4 billion based on this film's performance. The Force Friday merchandise push is also valuable in Crockett's eyes, which would increase Disney's merchandise sales from $2.05 billion to $5 billion within a year.
As it stands, it appears as though Disney has turned an already-profitable brand into a veritable cash cow powerhouse in the span of three years and a few weeks. Stay tuned to Star Wars News Net as we cover more financial news and the latest and greatest about the Galaxy Far, Far Away.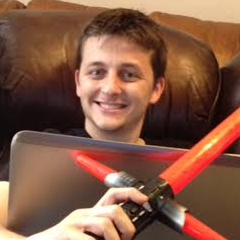 Grant has been a fan of Star Wars for as long as he can remember, having seen every movie on the big screen. When he's not hard at work with his college studies, he keeps himself busy by reporting on all kinds of Star Wars news for SWNN and general movie news on the sister site, Movie News Net. He served as a frequent commentator on SWNN's The Resistance Broadcast.