SWNN Review: Marvel's Chewbacca #2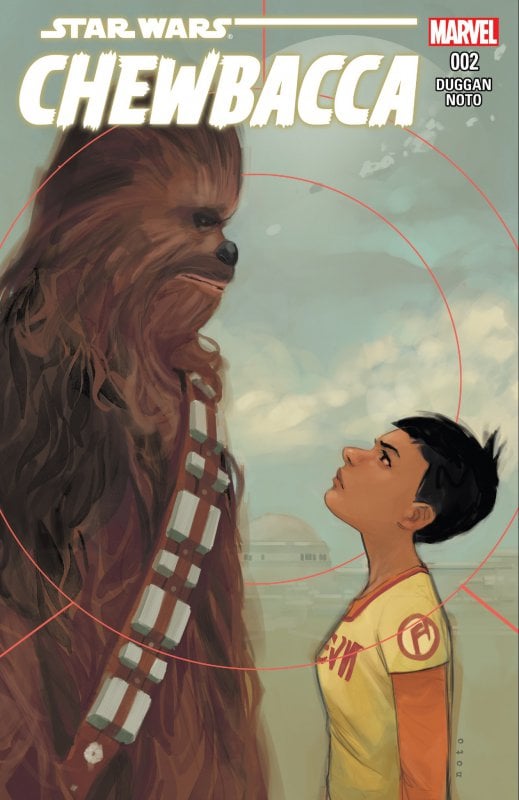 Today, I want to try and look at the glass half-full in the Chewbacca series. In case you missed last weeks review, yours truly was not crazy about the idea of a series based around a character who has no form of speech other than growling and roaring. I am still scratching my head as to why Marvel would do it, but I think I see where they are going with it now, and I get it…
The artwork by Phil Noto is very unique and I love the vintage era it takes me back too. It's just a few shades darker than water color and it reminds me of 1970's Saturday morning cartoons. These books are very well laid out and nice to look at. It's a fresh look for Star Wars and I hope they bring Noto back for more SW series. His skills deserve a story with a little more…I think you get the backhand of what I'm trying to say.

Chewbacca has agreed to help a young girl free her enslaved father and the rest of her people that are buried deep beneath the surface mining beetle larvae. This specific beetle larvae is very effective in Imperial blaster power cells. I think I got that right.

The plan is simple. The girl gets recaptured with a tracking device. She maps out the mine and Chewbacca climbs down a vent to go "Wookie" on the captors and free the people. What could go wrong? A claustrophobic Wookie, that's what.
Yes, every mighty Wookie has their flaw, and Chewbacca is no exception. He does not care for tight spaces like vent shafts leading to underground mines. It is not without good reason, though. We get a glimpse of what Chewbacca's time in the bondage of slavery was like, and let's just say his sleeping quarters have a lot to do with his phobia. Makes that cell in the bowels of Jabba's Palace seem a lot smaller now, eh?

This Jaum character is not nice at all. He doesn't seem particularly menacing, more like a Scooby Doo villain.

Evil doers, surface and subterranean, beware. Chewbacca has a droid and he will take you on in a knife, gun, or lightsaber fight with it and probably win. Yes, I'm making fun of this issue now, so I should probably stop.
Chewbacca does manage to make it into the mine and get the captives close to escape. Then this happens.
What I do like is that we are seeing first hand the suffering and oppression of people on a small world that isn't small enough to be missed by those who would exploit it to the Empire. We often hear about it, but I feel like this series is trying to show us that through the eyes of Chewbacca, a survivor of it himself. An 'A' for effort, but I still feel like this is missing the mark. It's certainly a step-up, but you aren't missing anything.
Kyle Larson lives in Portland, Oregon. When he's not running trails, he's reading and writing.