UPDATE 3! Both The Force Awakens Covers of Empire Magazine Revealed! New Kylo Ren Image!
Empire Magazine has just added a new image of Kylo Ren to their website, in anticipation of this Thursday's release of their special Star Wars: The Force Awakens issue.
It seems that in the next few days we can expect a few snippets of information based on Empire's statement:
It's been a long time coming but Empire's Star Wars: The Force Awakens issue will hit newsstands on Thursday next week with our first look behind the scenes of 2015's most important release. There are two exclusive, fold-out covers to choose from and the first of the pair is revealed below, featuring the villainous triumvirate of Adam Driver's Kylo Ren, Domhnall Gleeson's General Hux and Gwendoline Christie's Captain Phasma.

For a look at the second cover and more information on what's inside the issue, keep checking back over the next few days.

The October issue of Empire will be on sale from Thursday 27 August.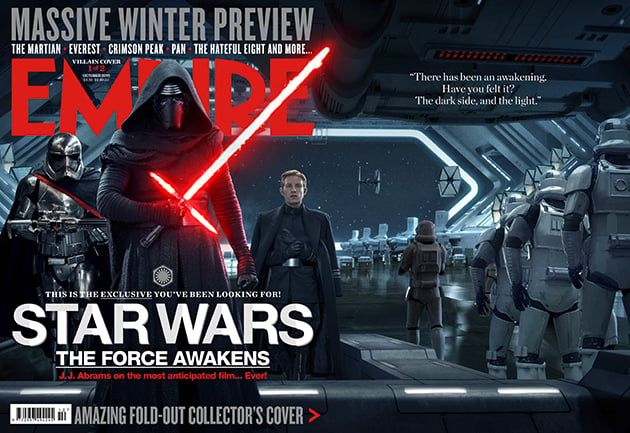 Looking forward to the second cover.
UPDATE 1!
As many of you have noticed the Stormtroopers featured on the cover are wearing the uniforms from the Original Trilogy. Since this is not a real photo, but a photoshopped image, this is most likely a mistake and not some grand conspiracy. 🙂
UPDATE 2!
Not sure why but it appears that the second cover is already on the web:
Dark side or the light? pic.twitter.com/jP8KIZD8r8

— Andy (@CanadianFanboy) August 21, 2015

As you can see this cover also has a mistake. The Millennium Falcon dish is the old round one. We know that now the Falcon is with a rectangular dish.
UPDATE 3!
A new image from Empire was just released, featuring Kylo Ren.
The image appears to come from the Gloucestershire/Puzzlewood/Forest of Dean shoot – the same location that is featured in one of the major LEGO sets.