Editorial: The Life and Times of Han Solo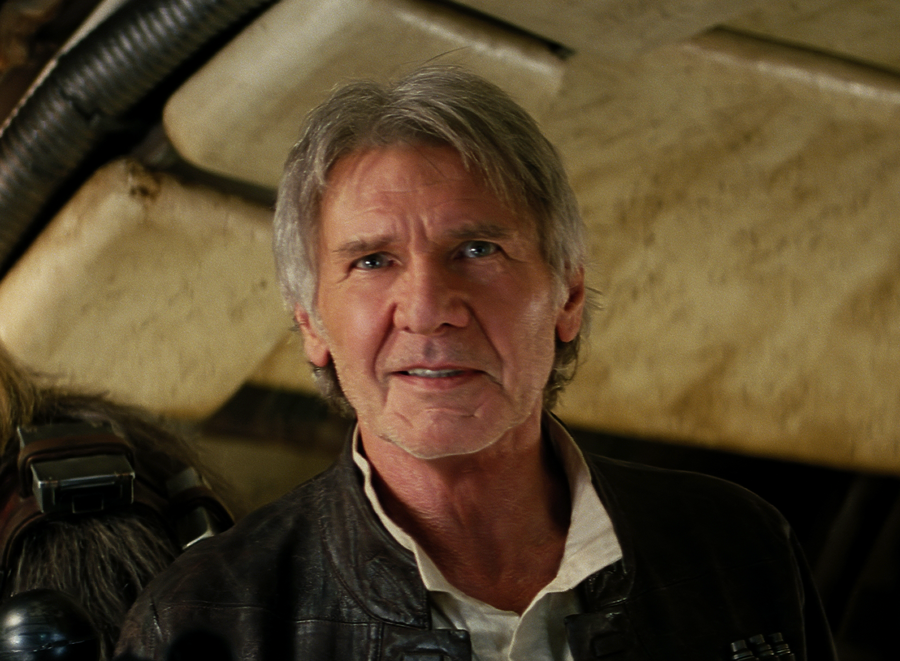 One of the only Original Trilogy character we have glimpsed at clearly in The Force Awakens so far is Han Solo. The only other is Chewbacca, who stands next to Han Solo in the foreground of the Millennium Falcon's corridors while Han declares, almost speechless, "We're home". I challenge any Star Wars fan to say they did not get either chills, goose bumps, or a little choked up the first time they saw that teaser the moment we heard Han's familiar voice…
Han Solo appears to be playing a most prominent role in TFA, assuming from the glimpses Lucasfilm has given us so far, perhaps his role is the largest of any Original Trilogy characters. There has been much speculation over what is to become of our favorite scoundrel by the end of that film. There will be no spoiling here, only a little speculation over what he could pass on to our new heroes Rey and Finn (assuming they share the most screen time with him because of that Vanity Fair). Before we head down the way of speculation, it seems appropriate to examine the life of Han Solo.
Just a little preface: A portion of the material that will be used to draw on for this article falls under Legends. Going by the new Star Wars canon leaves us with almost nothing outside of the Original Trilogy. That being said, beware that a good portion of this article's source material could change at any time as new canonical literature, comics, video games, and films add to Han's continuing story and/or history. Personally, I feel like the Legends material is a good vein of information, but I felt it appropriate to mention it could change abruptly. Onward we go…
Han Solo was born on the planet Corellia. Legends material tells us he was an orphan that grew up to attend the Imperial Academy. Solo was expelled for saving the life of Chewbacca, who went on to be his best friend, as well as eventual co-pilot. Not long after making friends with Chewbacca, Han Solo won the Millennium Falcon from Lando Calrissian in a game of sabacc (some form of card game).
We know that Han Solo eventually took his skills as a pilot (and mercenary of sorts) and applied them to smuggling. It's never clearly stated what "spice" is, but one could guess it is some sort of illegal narcotic that Jabba the Hutt found Han Solo to be very good at smuggling. Judging from the somewhat playful encounter between the Hutt gangster and Han in A New Hope (Special Edition, just in cast you missed it in the last 18 years), Jabba considers Han the best of smugglers. The only specifics we are given over the incident that eventually leads to the more serious falling out we hear about in TESB and witness in ROTJ is that Han dumped a shipment out of fear an Imperial boarding and arrest. Jabba considers Han responsible for the cost and we all know how that turns out for Han by the end of TESB.
It's funny to think that if Han had not dumped a spice shipment, he would not have been setback financially and probably not inclined to have some "old fossil" and a naive young man charter his prized ship for a trip to Alderaan. On this journey, and throughout a good portion of ANH, Han has nothing but disdain towards the notion of the Force. The first turning point we see in Han go from being a petty, cynical drug smuggler to the hero we come to know is when he wishes Luke a ceremonial "May the Force be with you" before the attack on the Death Star. Aside from the BIG reveal in the Marvel Star Wars comic series, we don't have much character development for Solo that spans between the destruction of the Death Star and where we find him on Hoth. I won't spoil that for you here, but I'm guessing you've heard about it, and it is still a loose end as of the writing of this article.
In TESB, we find a Han Solo that is much more toned down and subtle than the wild-man we saw chasing a platoon of Stormtroopers through the Death Star's corridors while screaming at the top of his lungs. He is conflicted by his new home with the Rebels while still needing to settle his debt with Jabba the Hutt. It doesn't take more than five-seconds screen time to see that the flirtatious nature of Han's relationship with Princess Leia has become something much deeper. Han looks genuinely nervous when he is about to bid adieu to Leia, but as fate and a few AT-AT's would have it, Han would not be going anywhere. We see that not only has a mutual attraction between he and Leia flourished; but his friendship to Luke Skywalker is much more important. Han risks his life to rescue Luke from certain death in the frozen wasteland of Hoth. Between that rescue, his bravery in trying to keep Princess Leia safe as they skip across the galaxy, and his final goodbye to be cast in the cliffhanging block of frozen carbonite; Han Solo is a changed man.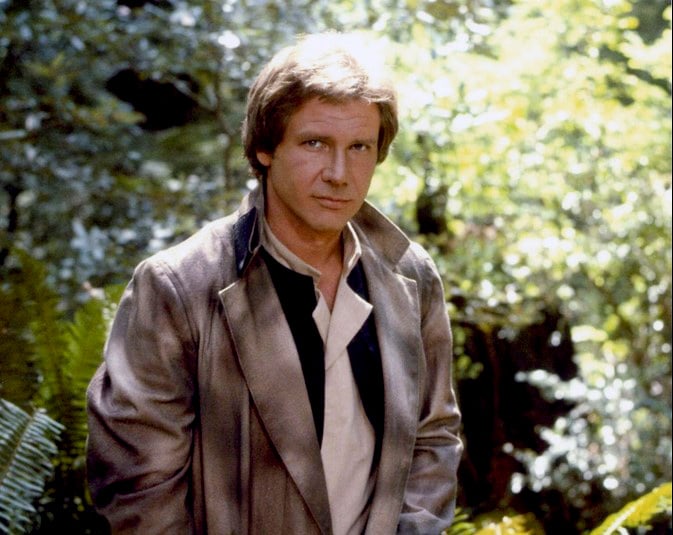 Harrison Ford thought the logical conclusion in ROTJ was Solo's death. He has been quoted various times saying that it would have been the end of a journey for the character. The death would have been that of the sacrificial nature, most likely in Ford's head Solo would be saving Leia, Luke, Chewie, or the Rebel Alliance. The death never came to fruition, and Solo once again proved himself heroic as he helped lead a small team of Rebels to assist in the destruction of the second Death Star…and presumably, the fall of the Empire as the galaxy knew it. The character seemed to be heading off into the sunset with Princess Leia. The Legends material has them married with children, as well as many other things.
"Chewie…we're home." That is all we officially know about Han's role in TFA. Home is no doubt the Millennium Falcon, and the longing in Han Solo's voice coupled with the relief in his expression, leads us to believe this is the first time in a very long time Han Solo has walked up that ramp. Let me say we are about to enter the portion of this article that is speculative and could very well end up being SPOILER. If you are avoiding that, stop reading now and just hope that Han Solo and his pal Chewbacca are going to have something heroic to do in TFA.
As stated before, I will not dare go into any major spoilers you may or may not have heard regarding Han Solo. What we have heard from various reports is that Han does play the most prominent role of the original cast. He is leading the charge of young Rey and Finn to find out what became of his old friend Luke Skywalker who is rumored to be absent from most of this film as well as the galaxy it takes place in. Somehow, Han ends up on the Millennium Falcon with both Rey and Finn, passing on his experiences to start them on their adventure through TFA and the rest of the Sequel Trilogy.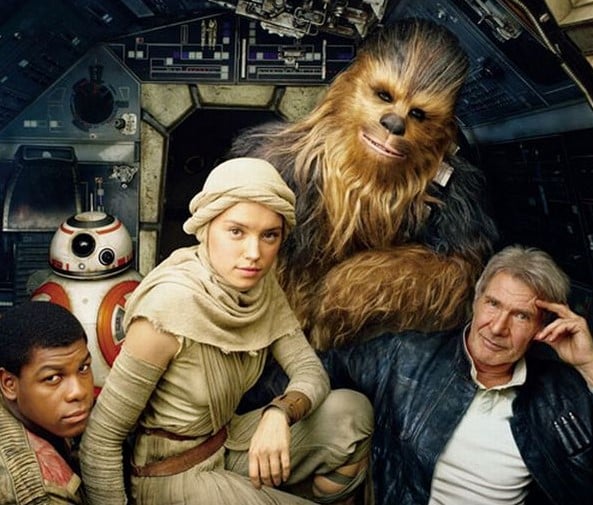 Moviegoers have a lot to look forward to as far as Han Solo is concerned. Not only is he a part of the Sequel Trilogy, Lucasfilm will be dedicating an entire Anthology film to the character. Almost nothing is known about the film other than it focuses on how Han Solo became the character we meet at the Mos Eisley Cantina. Lawrence Kasdan is handling the script and fans should take comfort in that, as his hand shaped the majority of Han Solo's nuance. There are huge gaps of time to cover in the rest of Han's story no matter how much screen he is going to get. It would not be outlandish to speculate Han getting his own comic or novel series a few years down the road. There is a lot of ground to cover and plenty of talented, enthusiastic writers out there who were raised on Han Solo one-liners.
Han Solo has served his purpose, thus far, as an anchor to the characters serving purposes that affect the entire galaxy. Luke was looking for something bigger, reaching out to the Force; Han had his back whether it was in the trenches of the Death Star or the woods of Endor. Leia was a freedom fighter, struggling with every move to lift tyranny from the galaxy; Han was the one who brought out some of the most human moments of her character. Whether it was his dry sense of humor or his abrasiveness, Han always came through for those who needed him most. He may not have been the heir apparent to the Jedi, but he was a hero and it will be very exciting to see where his story goes from here.
Kyle Larson lives in Portland, Oregon. When he's not running trails, he's reading and writing.