An Open Letter to Star Wars Insider: Thank You!
Today, I'm going to do something a little different than to just report the news. This is an open letter to Star Wars Insider following a recent inclusion in the "Bantha Tracks" section in their latest issue (pictured above).
A few months ago, I attended Star Wars Celebration Anaheim with my dad. In spite of being huge Star Wars fans, neither of us had ever attended a Celebration convention previously. It was a very busy business trip for me (I wrote fifteen articles in the span of four days – many of them on an unstable wi-fi connection, to boot!), but we had a lot of fun, what with being a part of the crowd that first heard "Chewie… We're home!", marathoning six Star Wars movies over three nights, and getting a look at the Rogue One teaser that I was absolutely not expecting. When I got back from Anaheim on a red eye trip, I was operating on a few hours of sleep and I still had to attend a three-hour lecture… but of course, that was all more than worth the few minutes that I had with the real Luke and Leia.
The opportunity to have a photograph with Mark Hamill and Carrie Fisher – my favorite part of the trip – was something that we came up with just before we left for the convention. The extensively long line we got into cost us our original flight back home, but we got a good shot with the duo, who were both enthusiastic, even after hours of taking other photos. We were so excited that neither of us could really believe that it actually happened – my Dad really likes Fisher's sense of humor (and her writing), and I'm a huge nut for Hamill's many, many voice acting roles. As the editors and readers of Star Wars Insider magazine now know, this photograph was the result.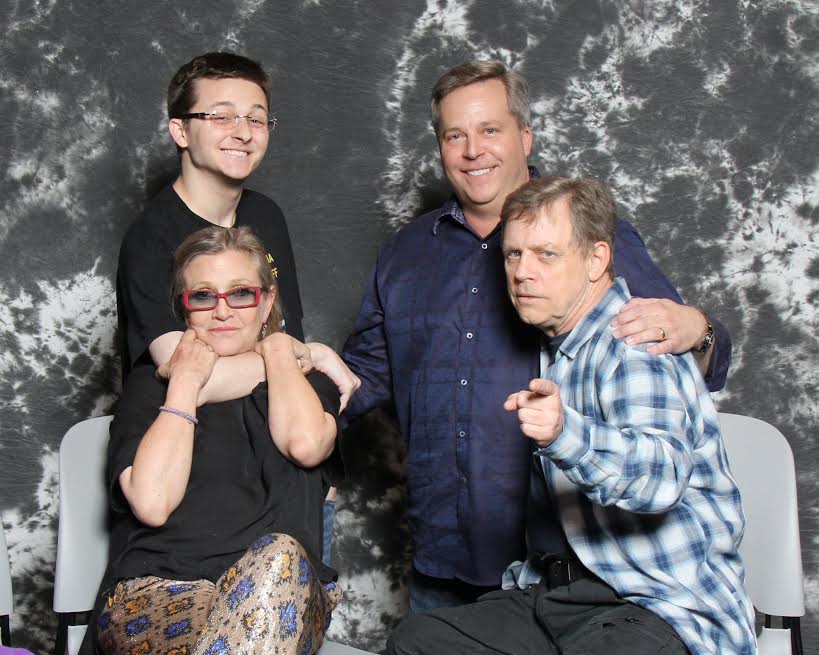 I have been a longtime fan of Insider since the time of the Special Editions (when I first got to watch these wonderful movies in the theater for the first time). In a way, I've come to realize that the way the magazine covered the world of Star Wars with such love and care became a factor that got me into blogging about Star Wars in the first place. So when I found out that the picture made it into the magazine's "Bantha Tracks" section (along with a message that my dad wrote about the experience), it was like the same unbelievable experience of hanging out with the Skywalker twins all over again. It feels surreal knowing that the picture and message were selected out of what must have been hundreds of mailed messages.
From a Star Wars 7 News blogger to editors of an official Star Wars publication, this shout-out in "Bantha Tracks" has meant a lot to me. Thank you very much, and may the Force be with you – always!
Grant has been a fan of Star Wars for as long as he can remember, having seen every movie on the big screen. When he's not hard at work with his college studies, he keeps himself busy by reporting on all kinds of Star Wars news for SWNN and general movie news on the sister site, Movie News Net. He served as a frequent commentator on SWNN's The Resistance Broadcast.