What We Missed This Month Regarding Star Wars Movies/Books/Toys.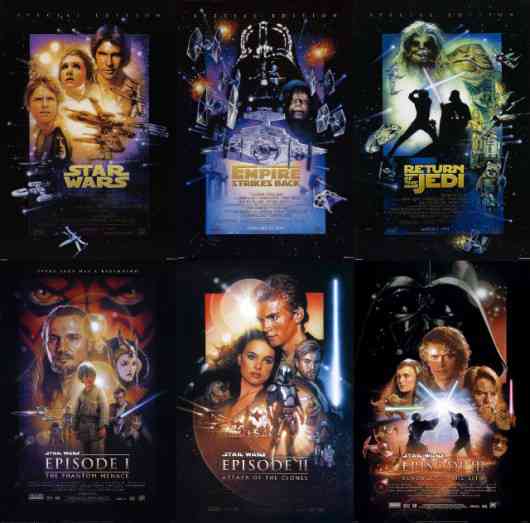 Sometimes, the months get so busy that we can't report on everything… But today, I'm going to fix that by talking about three important stories that we didn't talk about in May. This post will talk about a potential Star Wars seven-movie marathon that could occur at AMC, a film festival in China showing the previous six films, the latest iteration of the Star Wars Reads Day, and word on when we'll first get a look at new Hasbro toys – ones that will most likely tie into The Force Awakens.
Firstly, according to a bit of hearsay from Star Wars Action News, an AMC manager confirmed to the that the theater chain is going to host a movie marathon that runs through both the Prequel Trilogy and the Original Trilogy before going straight into the midnight release of The Force Awakens. While this is admittedly just talk from someone in the middle of the chain-of-command and not an official announcement from AMC itself, keep in mind that AMC just ran a 27-hour Marvel Cinematic Universe marathon in time for Avengers: Age Of Ultron. At this point, Star Wars only makes up 13.5 hours of film, which is comparatively more manageable even with another 2+ hour movie thrown into the mix.
Speaking of movie marathons, China is about to get hit by all six Star Wars movies at the 18th Shanghai International Film Festival. While all six movies have been available to watch on home video formats in China, it will mark the first time that all three Original Trilogy movies will be screened theatrically in the country. The festival occurs in June, from the 13th to the 21st. (A bit of speculation on my part – on the off-chance there's going to be a new teaser for The Force Awakens shown in front of Pixar's Inside Out, which debuts in the United States around this time, this is probably the place where it will be shown first.)
Star Wars Reads Day is also back up and running:
On October 10, 2015, bookstores, libraries, and retailers will participate in the fourth annual installment of the global event, featuring signings, parties, and more. Last year, events took place all over the world, and this year Star Wars Reads Day is expected to grow even bigger as fans gear up for the theatrical release of Star Wars: The Force Awakens in December. Participants in the events and festivities include: Disney-Lucasfilm Press, Marvel, Abrams, Chronicle, Del Rey, DK, Quirk Books, Scholastic, Workman, Egmont, Studio Fun, Phoenix International Publishing, and many more. BB-8 is ready. Are you?
The official site also shows promotional images of BB-8 and Yoda reading.
On one last note, Hasbro is getting ready to unveil its new Star Wars toys at the San Diego Comic Con! Check out this announcement on their Twitter page:
Don't miss the Hasbro Star Wars Panel @ #SDCC2015 – Friday July 10 @ 12:00pm in Room 7AB #HasbroSDCC

— Hasbro (@HasbroNews) May 19, 2015
While there is no specific announcement that they will unveil toys for The Force Awakens, their absences at the New York Toy Fair or Star Wars Celebration Anaheim suggest that they're waiting for the right time to reveal them all – and given that the toys for the movie are set to launch two months later (in September), what better time to unveil them than then?
Stay tuned to this website for the latest updates on all kinds of Star Wars news.
Grant has been a fan of Star Wars for as long as he can remember, having seen every movie on the big screen. When he's not hard at work with his college studies, he keeps himself busy by reporting on all kinds of Star Wars news for SWNN and general movie news on the sister site, Movie News Net. He served as a frequent commentator on SWNN's The Resistance Broadcast.