Full J.J. Abrams Interview With Vanity Fair!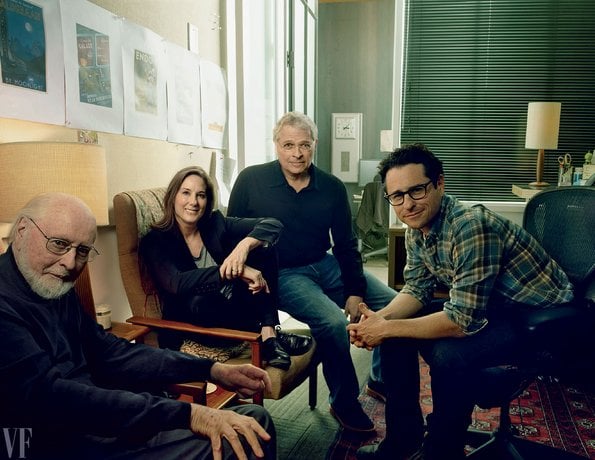 Vanity Fair published their full interview with J.J. Abrams. Among other things, The Force Awakens director described how they were trying to recapture the spirit of the original trilogy and revealed what it was like to work with the legendary actor Max von Sydow…
Excerpts from the interview:
Tell me about what it was like working on the new film both as its writer-director and as a hard-core Star Wars fan going back to your childhood.

Maybe the weirdest moment, which came months after production, was the first time I sat down with John Williams to show him about a half an hour of the movie. I can't describe the feeling. All I will say is, just to state the facts of it: I am about to show John Williams 30 minutes of a Star Wars movie that he has not seen that I directed.

I think maybe a better way to express how I feel about those movies is that they had a certain knowingness, because of the way the characters are, so archetypal, and the way they reference a lot of film history, like Luke gazing out at the two setting suns the way someone would in a John Ford Western.

And you know that in the Star Wars universe there are going to be certain things that you're going to want to see, and that's cool and that's great. But what I realized early on was it was all about point of view—meaning it's not like you just objectively throw in a star field or a spaceship or a desert planet or whatever the thing. The question is, who is that person in that experience? Why does it matter to them? What are they desperate for or afraid of? For me, you could reference all the stuff you want, but the experience of the audience in this is that they've got to be sitting with someone who happens to be on-screen going through these experiences. And then that's not just a desert planet; it could be the most desperate place in the world. Or that's not just a spaceship flying by; it could be the greatest, most heroic moment of your life.

Directing a Star Wars movie is one thing. Directing Max von Sydow in a Star Wars movie must have been . . . intimidating?

It was amazing. What a sweet man. When we were first communicating, he didn't have email. So I had to fax something to him. I was trying to woo him, so I made this big hand-drawn cover page that said Fax von Sydow with this whole thing, trying to convince him why he should be in this movie. I don't think he thought that was funny. But he was awesome. It was interesting because normally I would be nothing but terrified at the thought of directing an actor like Max von Sydow because, you'd think, That's a guy who's going to see right through you. But the truth is he was such a gentleman, so sweet, that he made it easy. He had to work a lot of late nights, too, and he was a complete trooper. He and his wife were both wonderful. And when he said good-bye to me, he gave me what he claims in his home country is a compliment and—I didn't research this to corroborate it—but he gave me, literally, a kick in the ass as good luck. And I thought, Max von Sydow just kicked my ass. It's pretty amazing.
For the full interview by Bruce Handy click HERE.