UPDATE! Star Wars Celebration Anaheim: The Untold Tales of The Clone Wars. Bad Batch Summary!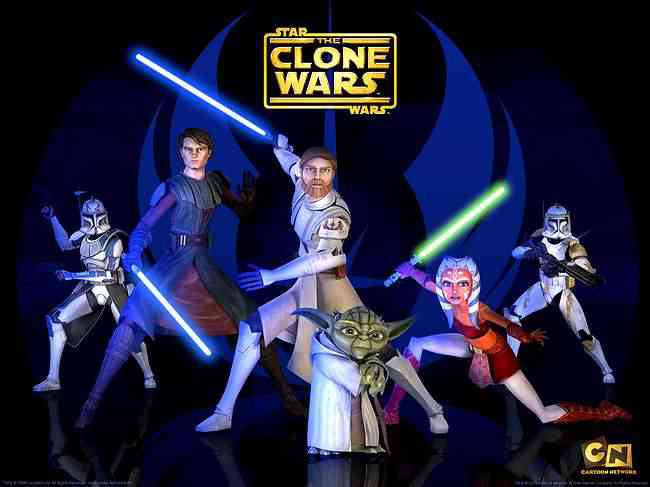 While the critically-acclaimed animated series The Clone Wars came to an untimely end due to Disney's purchase of  the franchise, the story has lived on via Netflix (The Lost Missions), comics (Darth Maul: Son Of Dathomir), and novels (Dark Disciple). Showrunner Dave Filoni and Lucasfilm Story Group member Pablo Hidalgo go into more details about what else will come from the currently untold stories – along with when these stories shall see the light of day.
The panel began with a discussion of unused concepts that carried over from The Clone Wars to Rebels, such as Ahsoka's role in the show. I didn't get into the panel until after this part, so I don't know the details. (I will say thanks to an attendee who told me about this after the event – on the off chance that you're reading this, you get a ton of brownie points, fellow fan!)
One animatic (with complete vocal work) showed Cad Bane tutoring Boba Fett on Tatooine, attacking a group of Tusken Raiders. Dave Filoni described the relationship between the characters as a passing of the torch (as Cad Bane was rivals with Jango Fett, and he wanted to see if his clone could be as powerful an opponent). The story was compared to the film For A Few Dollars More in terms of tone and characterization.
Another arc involved Yoda, Kashyyyk, and Wookiees, which was spiritual in nature. One Wookiee rode a large monkey-like creature, and another was seen praying toward the forest of Kashyyyk. An animatic of the Wookiees, the clones, and the monkey creatures fighting a swarm of Netcasters was shown.
The Bad Batch revolved around four altered clones working together, and it was described as a spiritual successor to "Rookiees". More will be shown in another panel, which will reveal an animatic of all four episodes.
The eight-episode Quinan Vos/Asajj Ventress story arc, which will be adapted into Dark Disciple, was also discussed. Quinan's characterization was meant to be similar to his characterization late into the comic Star Wars Republic, which made him a lot less carefree and more brooding. Another Ventress/Ahsoka Tano crossover was planned, but ultimately scrapped. Ventress also had a ship called the Banshee. Dave Filoni revealed that the ship will be appearing in Rebels, but under the possession of a different character. A clip of one episode involving Ventress was shown with her hunting down a bounty, only to be trailed by Quinlan in another animatic. Another animatic showed Boba Fett and other bounty hunters trying to take on Count Dooku.
Several images were also shown. A model of Deepa Bilaba was shown. Medical shuttles were seen landing in a Separatist/Mandalorian battle that was portrayed in Darth Maul: Son Of Dathomir, alongside Maul's ship. A sensual picture of Padme is drawn onto a shuttle that the Bad Batch fly, to which Anakin shows displeasure toward. Coruscant ruins showing the Sith Temple beneath the Jedi Temple on coruscant was shown. Ground soliders and air soldiers argued between one another. A sketch of a Yuuzhan Vong was shown (for an episode where they would have played a role in abducting a character). Ahsoka Tano and Yoda-themed Clone Trooper helmets were shown. Ahsoka and Captain Rex's story arcs would continue through a series of episodes that would pass through the events of Revenge Of The Sith and beyond. One last animatic showed Ahsoka racing on a malfunctioning speeder bike while descending through Coruscant.
Filoni also revealed that Barriss Offee did not die at the end of The Wrong Jedi, and that he had plans for her as a character.  He also mentioned that a Cad Bane appearance in Rebels is not planned, but that an Embo appearance was a definite maybe – though he also stated that nothing was impossible regarding the show (except for Anakin's old pal, Kittster, which he turned down).
UPDATE!
The animatics for all four episodes of The Bad Batch arc were shown today. The four Clone Troopers introduced in the episodes were different from the rest by means of mutations in their genetic code. The soldiers worked together to free Anaxes, a contested territory from the Separatists. Along the way, Rex discovers that Echo, a Clone Trooper previously thought dead, was alive and transformed into a cyborg by Wat Tambor. The Bad Batch, Rex, and Anakin rescue Echo on a Separatist-occupied primitive planet, and then return to Anaxes. They use Echo's newfound knowledge of Separitist codes to kill Admiral Trench and save the planet. The Bad Batch also appeared on the Kashyyyk arc that I mentioned earlier, and Echo joins the team.
More questions were answered after the show. Dave Filoni clarified that he could not say if Rex could return to Rebels or not, but he said that anything is possible. It was said that Wat Tambor was broken out of prison, explaining his involvement in the described arc. Filoni noted that presently, future projects for more adaptations of unused scripts are not planned at the moment, and that their goal with the projects is to be as faithful to the script as possible.
Grant has been a fan of Star Wars for as long as he can remember, having seen every movie on the big screen. When he's not hard at work with his college studies, he keeps himself busy by reporting on all kinds of Star Wars news for SWNN and general movie news on the sister site, Movie News Net. He served as a frequent commentator on SWNN's The Resistance Broadcast.