UPDATE 3! Possible New Star Wars: The Force Awakens Promo Art has Hit the Web. New Celebration Art for Battlefront and Rebels!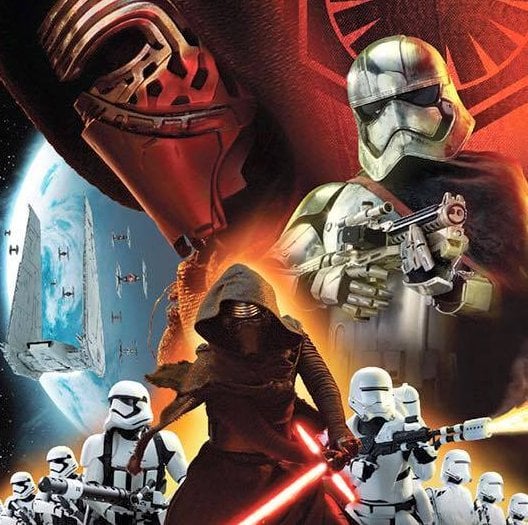 Breaking early this morning are a trio of images that look to be "official" pieces of promo art! After the jump we will take a look at the first possible full look at The Force Awaken's Kylo Ren, Captain Phasma (the Chrometrooper), stormtroopers, and flametroopers!
Special thanks to our friend Tim Veekhoven for the heads up. The art looks really very well executed with an impressive amount of detail. Still if you notice all the elements from the art has already been leaked online in the past and this made us doubt the authenticity of the images. No matter if they are fan art or the real deal, they look absolutely fantastic. Take a look:
The images were originally posted on the Association of Star Wars fans of Valencia's Facebook page. What do you think? Legit or fan art?

Stay tuned for all the updates coming from Star Wars Celebration Anaheim today!
UPDATE!
According to Indie Revolver the art is "100% legitimate"!
I can confirm that the Force Awakens promotional art that popped up this morning is 100% legitimate. http://t.co/dDINX12OoT #SWCA

— Jay – Indie Revolver (@IndieRevolver) April 16, 2015
UPDATE 2!   And even more:
Kylo Ren Motherfucker! #SWCA # TheForceAwakens pic.twitter.com/24kgF9yVhu — linnemeister (@linnemeister) April 16, 2015
UPDATE 3!
In addition to the content promoting The Force Awakens, art for other forthcoming Star Wars content has also gotten out a little earlier than intended. The first is a poster and a pair of cardboard stands for Rebels (special thanks to RebelScum for the find).
The second one (which has a slim chance of not being real) is a beautiful mural for Battlefront.
It's possible the planet shown in the Battlefront image ties into Episode VII. We'll find out more tomorrow.