UPDATE! Concept Artist Doug Chiang on George Lucas, J.J. Abrams and Star Wars: The Force Awakens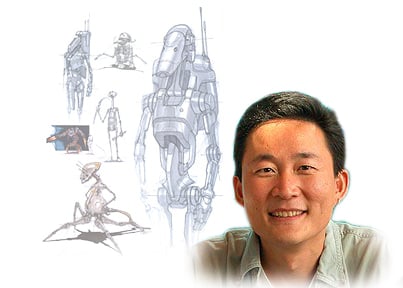 Doug Chiang is an American film designer and artist. During the late 1990s Chiang served as design director for Lucasfilm on Star Wars Episode I and Star Wars Episode II. Now he is the driving force behind the visual design of this year's Star Wars: The Force Awakens, as well as all the other Star Wars feature films currently in the works. In a recent interview the artist spoke about his mentor George Lucas and the new Star Wars era…
From Canoe.ca:
On George Lucas.
"The terrifying part is we don't have George," Chiang said in an interview this week.
"It's very demanding. It's very hard," said Chiang, who now serves as vice president and executive creative director at Lucasfilm. "We're still trying to figure out, what is Star Wars? Without George, it's a very tough challenge.

"We all think we know what it is, but really, Star Wars is George. George is the only person who really knows it very well. We're all trying to create something in his playground, but it's his playground."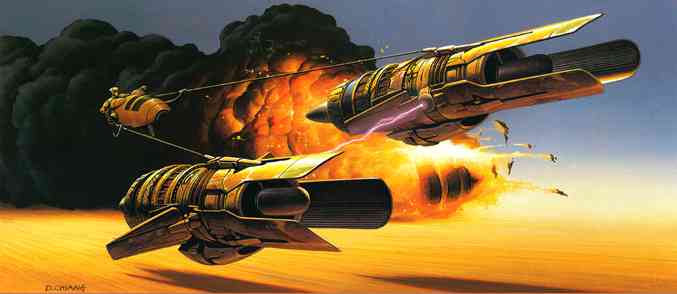 "He could scan a wall full of art and almost instantly identify the one or two or three images he really liked," said Chiang. "When I finally had the courage to ask, it was probably the biggest lesson for me. He said, 'I'm basically judging it by shapes and understanding.' What George was really doing was he was looking at those designs through an audience's point of view."
On Star Wars.
"I grew up drawing things like X-wings and TIE fighters, and I'm finally getting an opportunity to do that," Chiang said.

"When I was working with George, we had designed a huge universe, and only a small portion was used because the stories he was telling only used a little bit of it. And now we're able to utilize all that other richness," said Chiang.

"I think the audience is going to be really surprised. There's so much out there still."
Doug Chiang will be attending Star Wars Celebration next week. Stay tuned for our coverage of the event.
UPDATE!
In another interview Doug Chiang also talked about J.J. Abrams and the highly anticipated The Force Awakens.
From TheStar:
Lucas has taken a similar leap of faith with The Force Awakens or Episode VII, as it's often referred to. He's turned over the directorial reins to J.J. Abrams who Chiang says is trying to stay true to Lucas' vision with the original Star Wars trilogy, while also taking the franchise to new places.


"Episode VII is probably closer in kin to EpisodesIV,V and VI in terms of design esthetics for what's being created" Chiang says.

"It's interesting in the sense that J.J. is a huge admirer of George and of course everybody is really trying to live up to George's vision. What I find fascinating is that, even without George guiding everything, we're (still) in that role of trying to fill George's shoes and trying to be a filter.

"And it's a really tough task. After spending seven years with him, I thought I knew Star Wars. But George always surprises me."

And Lucas and company evidently intend to keep those surprises a secret, at least for now. I begin to ask Chiang about the colourful "ball droid" seen unveiled last fall in the teaser for The Force Awakens, which looks like a distant cousin of R2-D2.

But before Chiang can answer, he's interrupted by a publicist who has been listening to the conversation and who declares the topic off-limits.

One thing is not a state secret, and that's how much fans are looking forward to seeing The Force Awakens, the first new Star Wars movie since the prequel trilogy concluded with Revenge of the Sith a.k.a. Episode III in 2005.

Chiang judges the fan frenzy for The Force Awakens to be "almost exactly the same, if not even more" than for The Phantom Menace in 1999. And George Lucas is no doubt every bit as eager to see what Abrams and his team come up with.