UPDATE! Oscar Isaac Talks Acting, Star Wars and More.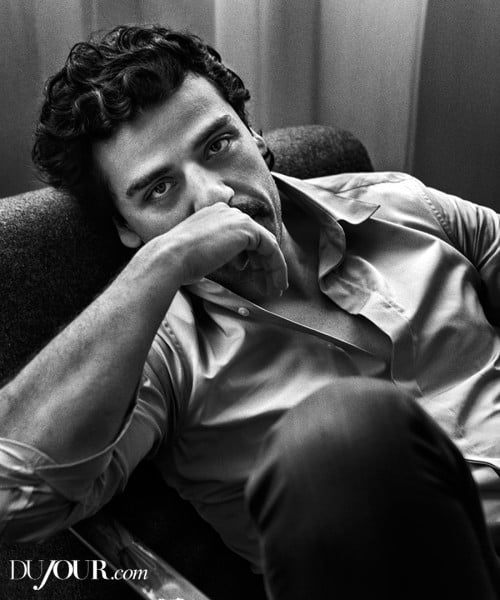 While discussing his acting carreer in an interview with DuJour, the Guatemalan-born actor also briefly mentioned Star Wars and how easy it was to choose a job that involves lightsabers.
From DuJour:
In the coming months, he'll appear opposite Mark Wahlberg and Garrett Hedlund in Mojave, he'll star in the artificial intelligence thriller Ex-Machina and he'll be deified by nerds everywhere for his roles in J.J. Abrams' upcoming Star Wars: Episode VII – The Force Awakens as well as Bryan Singer's X-Men: Apocalypse. 

It's an impressive slate for the Julliard graduate, but he says each of the films was one that he just couldn't pass up. "Being asked to inhabit the psyche of someone over a period of time, it's got to be a bit like falling in love," he says. "You know, you can't really quantify exactly why you want to play a particular part, but it's something you just keep thinking about, that doesn't leave your mind. That's the barometer in how I choose a role."

Still, Isaac's quick to admit that choosing a job that involves light sabers is remarkably easy.

"Not only are there these iconic props, but the sets, vehicles, droids and all these characters—you're interacting with the characters that have been a part of everyone's life for such a long time," he says of Star Wars, for which he plays X-Wing fighter Poe Dameron. "Sometimes I pinch myself because it's actually happening; it's wild! But it's funny, because you still have to do the same job you're hired to do, which is between 'action' and 'cut' to be alive, be truthful and tell the story."
For the full interview go to DuJour.com
UPDATE!
Here's yet another interview with Isaac, this time with ShortList magazine (via tv3.ie):
In an interview with ShortList magazine, he said: "The first film I remember seeing in the movie theatre was 'Return of the Jedi'. I don't know if I had a favourite character, but I remember the scene where Darth Vader's helmet comes off being really intense for me. You don't even realise, but you see Darth Vader as your father. It's about father figures being these impenetrable figures and realising they're actually just vulnerable, frail human beings."

Isaac has revealed he and his castmates had to read their scripts in a room with cameras inside to prevent any leaks, but he accepts the interest surrounding the movie means special measures had to be taken.

He said: "There was a special room with CCTV where you read the script. It's a wild world out there, where the hunger for even little titbits is ravenous. As soon as you're in, you're part of the world."