UPDATE! Disney didn't Use George Lucas' Ideas for Star Wars: The Force Awakens.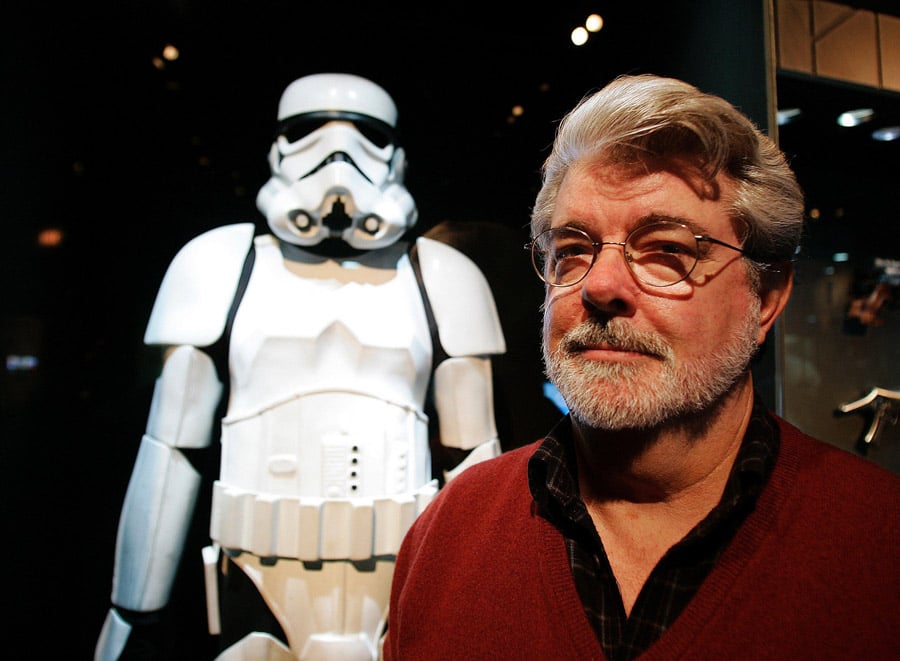 George Lucas' latest creation is a fairytale musical about fairies, goblins, and elves. This is his first full-length animated feature, and he's been working on it for the last 15 years. Strange Magic opens in theaters next week and George is doing the rounds, promoting the movie. In several press conferences Lucas also talked about Star Wars in general, shared his opinion on the Oscars and revealed that he has finally seen The Force Awakens trailer, but that's all he knows about the movie. Hit the jump for more.
(January 17, 2015)
The most interesting interview was with Screen Rant where the Star Wars creator revealed that he doesn't know anything about The Force Awakens.
Here's a direct quote:
"I haven't seen anything; I mean I saw the trailer, it looks great, it looks interesting. But as I've said before: one thing I regret about Star Wars is that I never got to see it, you know? I never got to be blown away by the big ship coming over the thing, or anything. But this time I'm going to be, because I have no idea what they're doing."
It's great to hear that Lucas finally has seen the trailer and he likes it, but many people expected that he would be more involved with the new movies. We know that they are based on Lucas' treatment and it was announced that he will be a consultant on the future installments. Also even before filming started, Lucas' son Jett, mentioned in an interview that:
– Disney will use George Lucas' guidelines.
– Lucas is constantly talking with J.J. Abrams.
Scrren Rant added that "Lucas also said that he isn't actively involved with building the new Disney-owned franchise, though he's no doubt still available to Abrams and co. for consultation."
So I really doubt that Lucas is that clueless about the new Star Wars movies, but obviously something has changed. It appears Lucas' involvement was bigger at the beginning of the production, and now he keeps his distance. Whether it's his decision or Disney's, remains a mystery.
In another interview with Business Insider, Lucas was asked he would turn down working on more "Star Wars" movies to focus on an animated feature about fairies. Here's what he replied:
Well, originally I had two daughters, and eventually, another daughter. 'Star Wars' was for 12-year-old boys. I figured I'd make one for 12-year-old girls. You know, the 12-year-old boy one worked for everybody from eight months to 88 and boys, girls, dogs, whatever. It really worked. So, I said, well, maybe I can do one like this, but it's slightly more female-centric. [In 'Strange Magic,'] we still have sword fighting, we still have things, but truly a story that hopefully will work for everybody. But, what's really something, I said, well, maybe I'll do this.

And, I just wanted to have fun. I was directing 'Star Wars' while I was doing these. I'd go out and shoot and this movie we'd put it on the shelf for awhile, and the guys would kind of work. I had a little group of guys and girls that were working on this thing.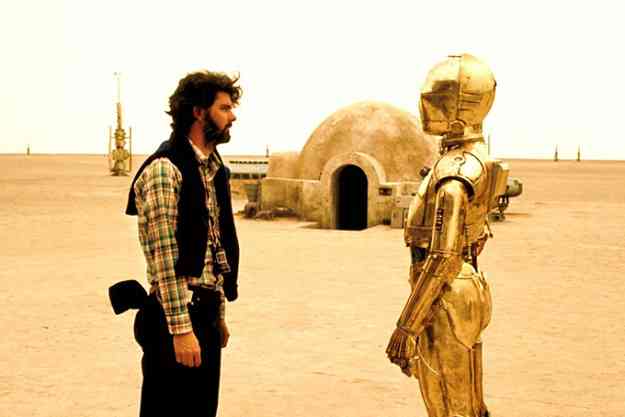 Also while speaking with LATimes, Lucas revealed that he currently is writing two new features which he will release only for his friends:
"The way [the films] are, they're not really movies that can be released, they're movies more for myself and maybe I'll show them to some of my friends."

"It costs more to put them out there than it does to make 'em," he continued. "These are movies that are never going to make any money or anything."

"They're like things I did in school or movies I produced, like 'Koyaanisqatsi,' 'Powaqqatsi,' things like that," Lucas said. "But it's different because they're dramatic films. It's very hard to explain because it's never been done yet."

"I'm busy on things, but I'm not quite sure when I'll actually get to start shooting some of these," he said.
And finally see in the video below what is George's opinion on the Oscars:
We couldn't agree more. 🙂
UPDATE!
(January 20, 2015)
In an interview with Cinema Blend, George Lucas revealed that Disney actually didn't use his ideas for Star Wars: The Force Awakens:
The ones that I sold to Disney, they came up to the decision that they didn't really want to do those. So they made up their own. So it's not the ones that I originally wrote.
So all the theories based on previous interviews with Lucas and Mark Hamill about the future of Star Wars are really off. It appears that we're going to get a very fresh take on the Star Wars franchise. Which is a good thing, we hope . . .