Updated With Video Clip! First Look at Lando Calrissian in Star Wars: Rebels.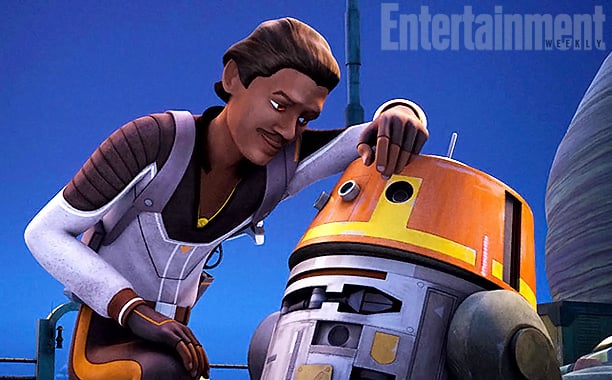 In the last episode of Star Wars: Rebels Recon the upcoming appearance of Lando was teased by a shot in which Zeb was playing sabacc with a mysterious character. Now an image with the coolest cat in the galaxy himself is already making the rounds on the web from the latest episode Idiot's Array.
Thanks to Star Wars Rebels for the image:
If you remember back in June Billy Dee Williams confirmed himself that he will voice a character in Rebels.
Here's the tweet that has been deleted since:
@ericgeller yes it is… But glad we can talk about it now! Very excited to be part of this project!
— Billy Dee Williams (@realbdw) June 7, 2014
Also according to Lucasfilm's Tracy Cannobbio we can expect more Rebels news from Entertainment Weekly tomorrow, so stay tuned.
Pssst. @EW will be sharing some awesome #StarWarsRebels news tomorrow!

— Tracy Cannobbio (@Tcann13) January 12, 2015
UPDATE!
And here's the promised update from Entertainment Weekly:
Williams has been rumored to appear in an episode of Rebels, which launched this fall. Since Rebels in a prequel, he'll play a younger and less experienced version of the smooth-talking space pirate. "He's still working on all of his moves, all of his strategies," says supervising director Dave Filoni.
Also make sure to check out this clip from The Official Youtube Channel for Star Wars.