Poe Dameron and His Black X-Wing?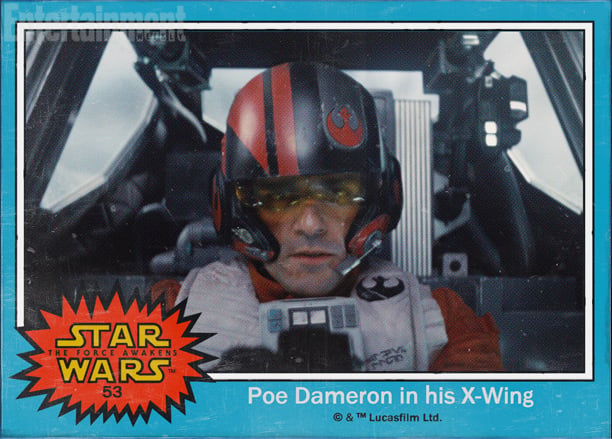 I'm sure many of you probably have already figured this out. Nevertheless here's a very good post from our Cantina boards with some impressive detective work…
All credit goes to our member cassidy
Here's a full quote of the story:
Most of us are aware that spy shots were taken of the black and orange/red X-Wing at the RAF base a few months ago:
If you look at the recently released trading cards from the teaser you'll see that the X-Wing pilot "Poe" (Oscar Isaac) has a black and red helmet – but this particular shot for the card was taken with the windows fogged up on the side of the X-Wing.

(It's also interesting that it says "Poe Dameron in HIS X-wing".. which might be a hint that there is something unique about it)

If you watch the actual trailer you'll see that the fog/moisture on the windows fades away and you can see that the engine housings are a dark color past the silver nacelle trim (just like in the spy shot above):


If you look at the X-Wing and pilot from the Force for Change promo with JJ you'll see that the engine housings are a lighter grey color and the pilot has a white helmet:

All I'm getting at is I believe the scenes in the trailer that flip from Oscar's character to the X-Wing formation skimming over the water aren't directly connected, as I believe his character "Poe" is flying the black X-Wing. 

Even though the sound connects in the trailer scene, I believe this was done through editing. 

So maybe Poe is an experienced squadron leader – an awesome pilot – and has a sweet unique black X-Wing?

Maybe this means that he is more of a Han Solo type character and will focus on his piloting skills rather than force abilities?
Very interesting indeed.