2015 Topps Star Wars: Rebels Trading Cards.
After the surprise reveal of the retro looking Topps cards with the characters from The Force Awakens teaser, comes the announcement of the release of Topps cards for Star Wars: Rebels . . .
Fittingly, America's favorite brand of trading cards is set to unveil exciting new cards for the hit animated series Star Wars: Rebels. Collecting Star Wars dates back to the release of the original movie in 1977. Staples for kids everywhere included Star Wars Marvel comics, Kenner action figures and playsets, and Topps trading cards as we saw with the release of character names recently. Today's "kids of all ages" have had Hasbro action figures since 1995 and will soon be getting their Marvel comics back. Now Topps is expected to release these new cards on February 25th, 2015. They will feature Regular Packs with 6 cards per pack, and Jumbo Packs with 18 cards per pack.
From The Cardboard Connection:
2015 Topps Star Wars Rebels trading cards usher in a new phase for the franchise. Based on the animated cartoon that had a successful first season on Disney XD, it's a retail-only product that is strikingly simple.

The base set has 100 cards that not only cover the first batch of episodes, but introduce collectors to the show's characters and some of the vehicles. Base cards have a Rainbow Foil parallel.

Every pack of 2015 Topps Star Wars Rebels comes with a Sticker insert. The set has 20 total cards. There are also Tattoos, which fall 1:8 packs.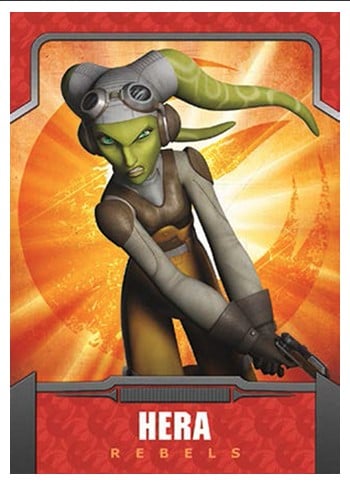 Because it's a retail product, hits are stressed a lot less than most every other set Star Wars trading card set. That said, Sketch Cards are randomly inserted. For those holding out hope that the hobby would finally get a Freddy Prinze Jr. autograph card, you're going to have to wait a little (or a lot) longer. The product has no signed cards.

As far as a timeline goes, Star Wars Rebels is set more than a decade after the events of Revenge of the Sith and a few years before the original trilogy kicked off. While there are some familiar names, the characters are predominantly new.
One can only wonder when the announcement for TFA Topps Cards will be made, but whether there's an announcement or not fans and collectors alike can expect to see a full merchandising blitz for The Force Awakens, starting around October of 2015. Now, I wonder if we'll be getting some nifty Burger King glasses?
Some more info from ICV2  HERE. (via JediNews)