Star Wars Rebels: Imperial Forces Inbound!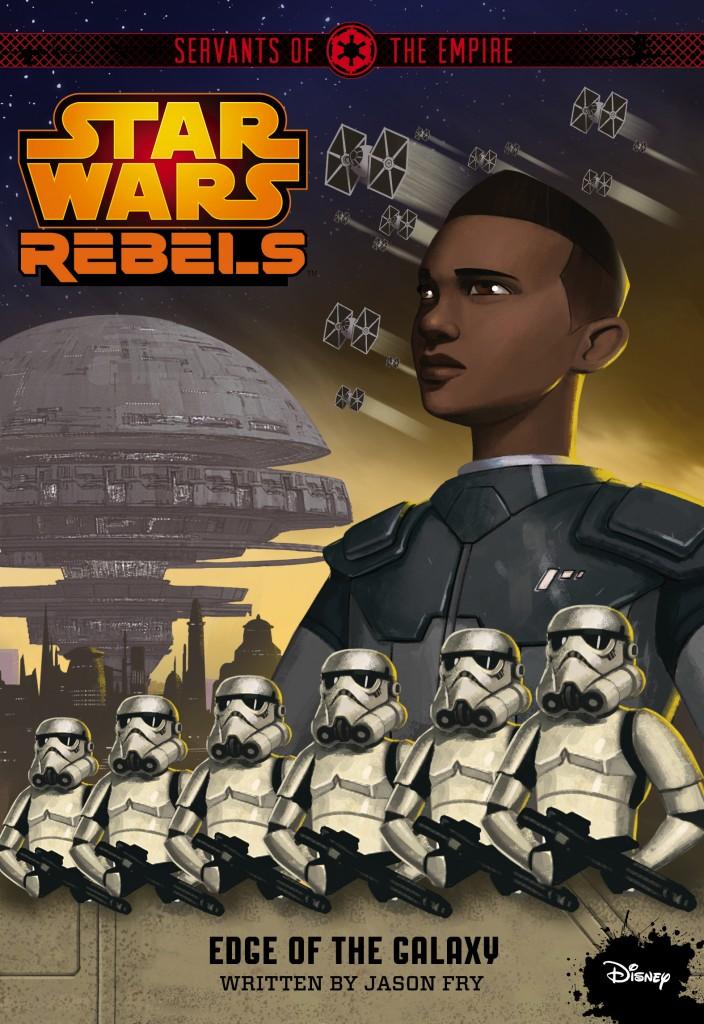 You can't have a Rebellion without having an establishment to fight against, and Star Wars is quite obviously no exception. Early copies of the DK Book, Star Wars Rebels: The Visual Guide, have been seen throughout the internet, revealing the names and motivations of a couple of the of antagonists – of special note is Zare Leonis, a dark-skinned Imperial Cadet with a special agenda in mind. In addition, there appears to be a possible link between Rebels and Episode VII (minor spoilers after the jump).
Before getting into the special case of Zare, however, let's get into the more generic Imperial antagonists. So far, two Imperials have been described as leading the Imperial occupation of Lothal, the planet that protagonist Ezra Bridger calls home: Commandant Cumberlayne  Aresko, and Taskmaster Myles Grint. Aresko is said to be cruel to both citizens and his inferiors alike (sounds like a model officer for the Empire), often spouting Imperial rhetoric and overestimating his own abilities. Conversely, Grint is fairly quiet and is the less intelligent than the typical Imperial Officer, but he is also considerably more powerful and imposing, keeping underlings in line with his presence alone. Both characters are said to benefit from being a part of the Imperial regime, and are deeply loyal to their cause.
Now that that's out of the way, we can get into Zare Leonis, Imperial Cadet. Zare's appearance represents an obvious change in the portrayal of the Empire that we've seen so far in the canon in that he doesn't represent the "snooty male human from Space-Britain" archetype that has come to be associated the bad guys in previous Star Wars works, and there's a good reason for that – he's a mole, and quite possibly one of the first major additions to the ragtag crew of the Ghost. According to the book, he starts off as a friend to Ezra when the latter is forced to infiltrate an Imperial Academy under the guise of a new recruit. When fellow trainee Jai Kell is taken into questioning by the Inquisitor, Ezra and Zare (whose names are incidentally anagrams) work together to ensure Kell's safety without blowing their cover. While Ezra and Kell escape the facility, Zare remains within the ranks of the Empire, in part to uncover just what happened to his sister Dhara (who disappeared from the Imperial Academy under suspicious circumstances), and in part to act as an informant to Ezra regarding Empire's Lothal operations.
But the fun doesn't stop there – while everything above has been confirmed by eyewitness accounts of those who have looked at the DK book, the rumor mill's a-buzzing due to the similarity between this character's description and the description of John Boyega's character, suggesting that they may both be related – after all, both characters are Black in ethnicity and choose to ditch the Empire in favor of doing the right thing. Some to believe that the two characters will be related in the long run, and that this will be Disney's first real tie-in between the show and the new movies. The good folks over at Making Star Wars respectfully disagreed with this line of thought, having the following to say on the matter:
In Star Wars Rebels, when Jai Kell is arrested, Zare Leonis betrays the Empire and gives our rebel heroes information to help rescue Jai. What does this have to do with Star Wars Episode VII? Well if you recall we shared some rumors that John Boyega's character is a Stormtrooper in Star Wars Episode VII and he defects to the good side after being saved by Daisy Ridley's character. I mean no disrespect to our sources, but it has made me wonder if Leonis' character has confused things. What if concept art for a scene of a young black man in Stormtrooper gear was observed and the assumption was it was from Star Wars Episode VII? But what if it was just Zare from the animated show and not Boyega's character in the feature film? Honest mistake.
So, what do you think? Could Zare Leonis be an early sign of what's to come in Episode VII, or is it too early to tell? Let us know in the comments below.
In other news, Disney launched a flash game on their website featuring the new ship, the Ghost. The game serves as a short prequel to the series, explaining how the crew of the ship made it to Lothal, where they would later meet Ezra. The game involves the ship making a few daring attacks on Imperial Shuttles to siphon their supplies, operating the Phantom attack shuttle to defend the ship while it recovers the goods. It's a neat little diversion to ease the wait for the San Diego Comic Con, and it also includes a handful of the planets featured in The Clone Wars – an added treat for fans of that series, and hopefully a sign that we'll get to revisit them and others in the new show. Kashyyyk is also present, meaning that it's likely that planets that were only briefly included in the movies will be making more prominent appearances in the show.
Grant has been a fan of Star Wars for as long as he can remember, having seen every movie on the big screen. When he's not hard at work with his college studies, he keeps himself busy by reporting on all kinds of Star Wars news for SWNN and general movie news on the sister site, Movie News Net. He served as a frequent commentator on SWNN's The Resistance Broadcast.