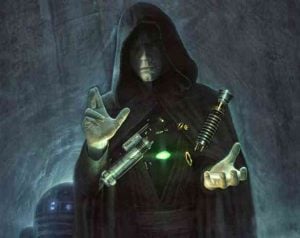 Check out the latest rumors about an upcoming announcements in the following days. Although the source proved to be credible in the past, one of the rumors is about "an announcement teaser featuring Luke". That sounds crazy, right?…


As crazy as it sounds still it's not impossible. Remember that J.J. Abrams loves to tease people with very early teasers. He did so with Cloverfield, Super 8 and several other TV projects.

I know that people are really sick of Episode 7 rumors but that's all we've got for you at this stage.
Here's what Ali Arikan posted on twitter:
So here's what I'm hearing about Episode VII. Casting and title announcements are imminent, possibly today or tomorrow. But that's not all.
— Ali Arikan (@aliarikan) October 8, 2013
I've heard word that there'll be an announcement trailer/teaser featuring Luke. Tweeting this so I look like Nikki Finke if/when it happens.
— Ali Arikan (@aliarikan) October 8, 2013
Ali Arikan is considered to be credible. He had a good track record with some Prequel Trilogy rumors and also new what was going to happen at Celebration Europe II.

Later more people followed on the buzz:
.@devincf Take wild guess where you're gonna hear that from. ;)
— elmayimbe (@elmayimbe) October 8, 2013
Also on several occasions Jeremy Conrad from furiousfanboys stated that he know that the release date of Episode 7 will be on May 20, 2015. While release dates often change I never believed the rumors that the movie is scheduled for a December release. The May release date makes perfect sense (considering the previous 6 movies) but I doubt that the studio has already locked on a specific number.
@swankmotron @makingstarwars @justinl81 I can't wait for the May 20th date to be announced. The backpedaling will be EPIC.
— Jeremy Conrad (@ManaByte) October 8, 2013

Another tweet (not regarding Episode 7) from a Lucasfilm employee:
There was an LFL update meeting at work today and I'm so excited as an employee and as a fan for what's coming.
— Jennifer Heddle (@jenheddle) October 8, 2013

It's good to see the level of excitement at Lucasfilm. Obviously some good things are coming…


UPDATE!

Some clarifications from Ali Arikan on a great deal of things:
@MOVIELORD101 From the same guy who told me, MONTHS in advance, that Ewan McGregor was coming back. And that Saoirse Ronan read for a part.
— Ali Arikan (@aliarikan) October 9, 2013
@MOVIELORD101 Caveat: A whole bunch of movie bloggers and critics were told that Benedict Cumberbatch was to be announced as a Sith Lord.
— Ali Arikan (@aliarikan) October 9, 2013
@MOVIELORD101 We were told with absolute confidence that THR was to break the news. When THR contacted Disney, they denied it.
— Ali Arikan (@aliarikan) October 9, 2013
@MOVIELORD101 However, a few people think BC is definitely in. So, what I am saying is, there's a ton rumours going around.
— Ali Arikan (@aliarikan) October 9, 2013
@MOVIELORD101 I don't know – but the person who told us about BC was as close to official as you can get.
— Ali Arikan (@aliarikan) October 9, 2013
@MOVIELORD101 @MaddisonKeith That work out thing is not true. I mean, I'm sure he's getting in shape but it was not stipulated by Disney.
— Ali Arikan (@aliarikan) October 9, 2013
And more teasing:
"@ThePlaylist: @elmayimbe No, I will not give you my scoop on the three new leads who will star in Episode VII, sorry." Congrats on scoop!
— elmayimbe (@elmayimbe) October 9, 2013

I feel something is definitely coming…