'Star Wars' Black Series HasLab Rancor Campaign Fails to Fund
Malakili isn't the only person crying over the Rancor now. The HasLab Black Series Rancor campaign ended at 11:59 E.S.T. on 12/6 and, unlike the other Star Wars-themed HasLab campaigns before it, failed to reach its minimum backer goal.
The project set a target goal of 9,000 backers and, while things got off to a good start, enthusiasm trailed off and actually nosedived after a live stream event on 11/19 that revealed the fully painted behemoth six-inch scaled figure and its final stretch goals, including a Kenner-style carded version of Salacious B. Crumb plus a Kenner-style carded brand-new Jedi Knight Luke Skywalker.
Though Hasbro added a brand-new Malakili (Rancor Keeper) action figure as part of the deal, the campaign failed to reach its target and ended just shy, with an apparent tally of 8,454 backers.

The campaign page was then updated to reflect the project did not fund and will not be going into production. Given the Rancor's size and price, it's extremely unlikely this toy will ever see release. It remains an open question if Malakili and Jedi Knight Luke Skywalker will see retail release in modified forms, as these were intended as brand-new figures.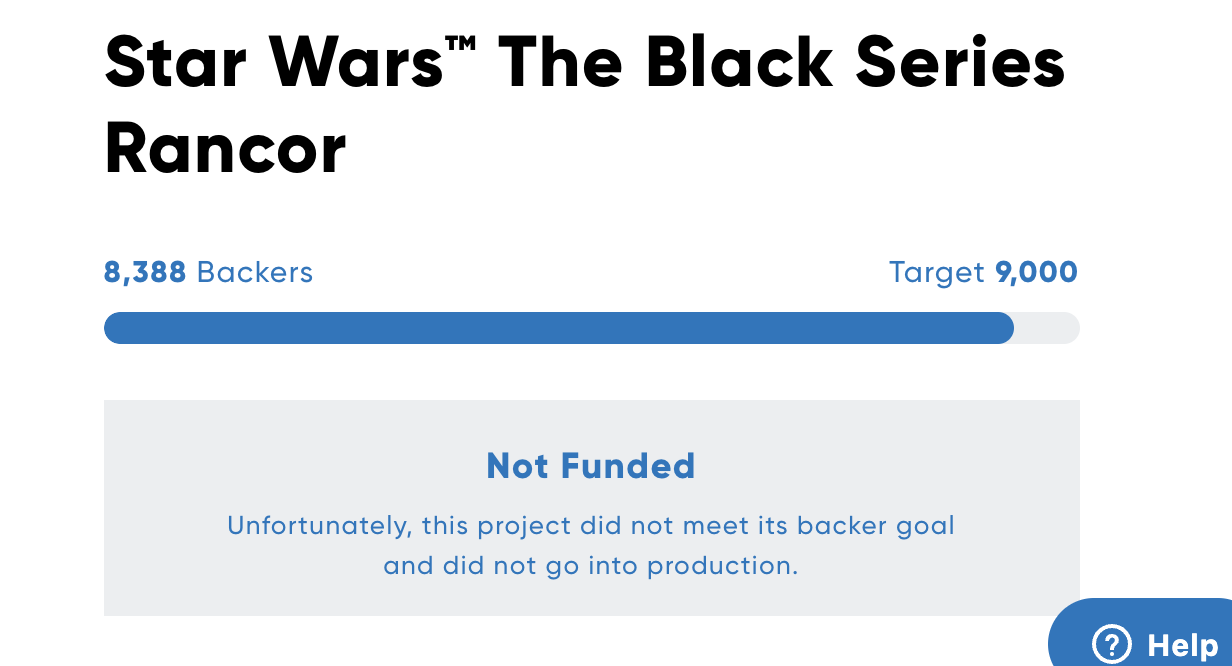 The number of backers reflected in the count has since decreased dramatically as Hasbro evidently cancels orders. Backers will not be charged, since the item will not move into production.
Only one other HasLab item, the Cookie Monster doll, did not fund. One campaign, the Transformers Unicron, got an extension. It's unclear why the Rancor did not, given the positive direction it seemed to be moving towards, but in general, enthusiasm for this particular item didn't seem to be on par with other campaigns.
Other Star Wars items like the Razor Crest and Jabba's Sail Barge were enormously successful, so it's unlikely that this is the end of the line for giant Star Wars crowdfunded goodness.
DARBY HARN is a novelist, freelance writer and podcaster. His novels include Ever The Hero, The Judgement of Valene, Nothing Ever Ends and A Country Of Eternal Light. His short fiction appears in Strange Horizons, Interzone, Shimmer and other venues.