Celebrating 200 Issues Of Star Wars Insider – A Conversation With Editor Chris Cooper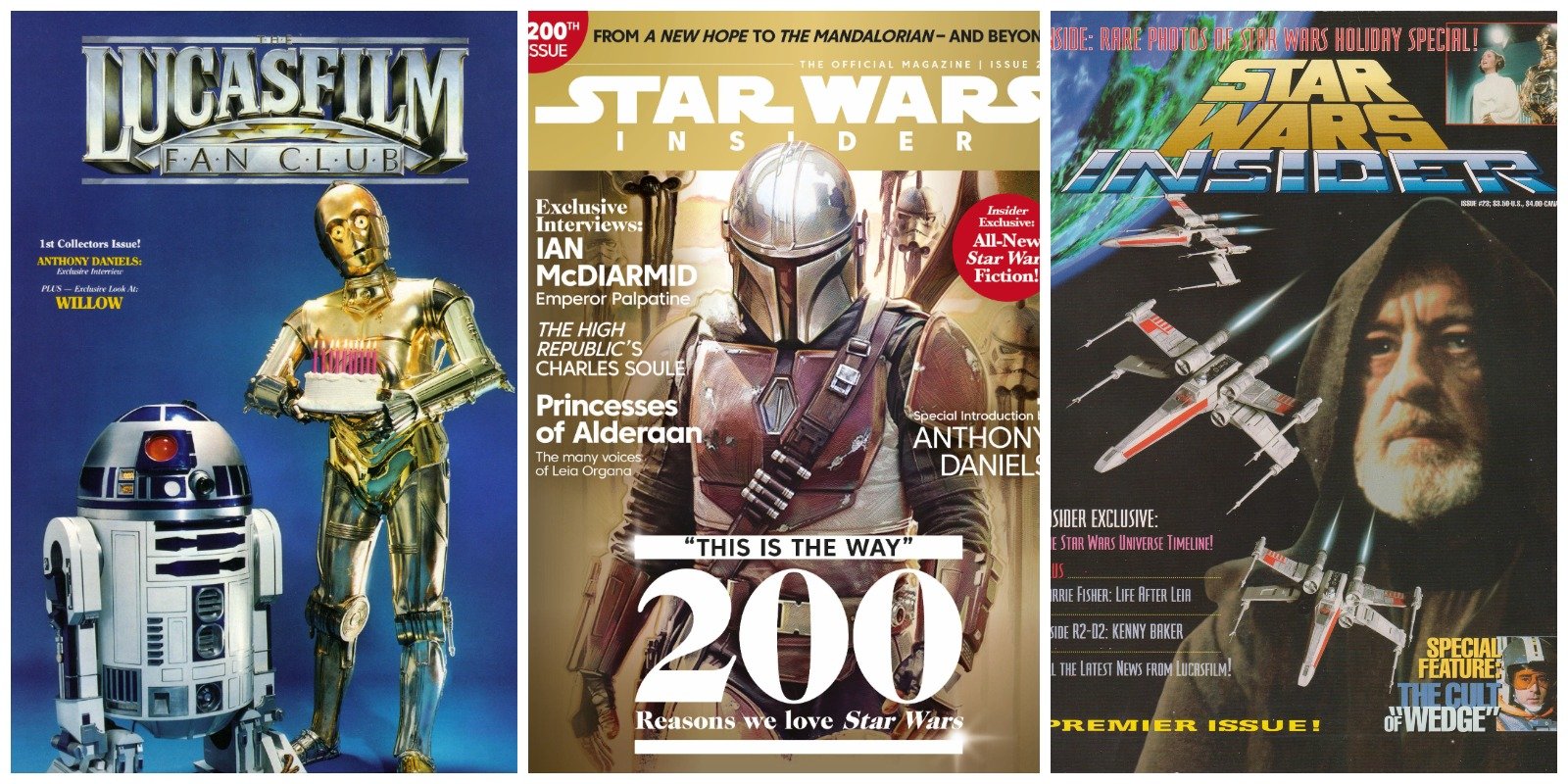 The Official Fan Magazine Star Wars Insider is publishing its landmark 200th issue and we're celebrating with a special conversation with Editor Chris Cooper!
The special 200th issue of Star Wars Insider Magazine goes on sale on February 9, 2021. Insider began in 1987 as The Lucasfilm Fan Club Magazine, under which name 22 issues were published. In the fall of 1994, the name was changed to Star Wars Insider, and from #93 its home has been at Titan Publishing. Chris Cooper has been the editor of the magazine since issue #179, and he was kind enough to answer some of the staff's questions about the history and future of Star Wars Insider.
Darby Harn, SWNN: Modern Star Wars fandom is a diverse spectrum with podcasts, YouTube channels, and social media. Has it changed how you approach the official fan magazine? 

Chris Cooper, Star Wars Insider: I'm not sure that it has, at least not while I've been editor. All of those types of thing are now so well established, I think Insider adapted and carved its own niche as these other channels emerged, and now the magazine exists in its own, unique space.
What Insider has going for it most of all is that everything you read in the magazine is official, and we work closely with Lucasfilm to ensure what we do has their full approval. They are very amenable to us taking a few risks and having fun with Star Wars too, so we're able to cover a lot of ground that digital channels don't.

John Hoey, SWNN: In interviewing Star Wars creators, how do you approach balancing asking questions that will serve die-hard fans as well as general Star Wars fans?

Chris Cooper, Star Wars Insider: Finding the right balance is an intuitive skill, I'd say. My writers are all fans, and very knowledgeable about Star Wars, so they're well equipped to ask questions that are deep cuts, but the brief is to always remember that if there's one reader who doesn't necessarily have that knowledge base, we have to cater to them too.
Where appropriate, the best writers know when and where to deploy a die-hard question, but every good interview tells a compelling story, which is why we approach them from the perspective of the general fan first and foremost, as we can then paint a bigger picture that rewards both the broader readership and the die-hard fans.
Miguel Fernández, SWNN: What is the one question you wish you would have asked any of the creators but didn't have the chance to when you interviewed them? 

Chris Cooper, Star Wars Insider: Every time you end a call, or thank an interviewee and move on, within five minutes a question you simply should have asked pops into your head. Without fail. Thankfully we're often able to make contact later to ask a follow-up question, but sometimes you just have to live with the shame.

Chris Lyne, SWNN: You just brought back original fiction to Star Wars Insider. Whilst the announced stories focus on the newly launched High Republic era, looking long term is there a chance to explore other eras as well?

Chris Cooper, Star Wars Insider: We'll be telling stories from The High Republic era throughout 2021 and into 2022, and they'll intersect closely with the broader story arc of the books and comics. Beyond that, you'll just have to wait and see. What I can say is that it's great to have fiction back in Insider, and we're gratified by the response from our readers.

Chris Lyne, SWNN: With over 200 issues spanning more than three decades, Star Wars Insider has lived through the rise of the internet, social media, and a lot of changes in how fans get their news and interact with those creating the franchise. What do you credit for the continued success of Insider through these changes and what do you see for the future?

Chris Cooper, Star Wars Insider: There is a sense of history and continuity surrounding Insider, which stretches right back to Bantha Tracks, the original fan club newsletter. I think people have a respect and affection for the magazine, which plays a big part in why it has lasted this long. 33 years is pretty amazing for this kind of title, especially in the face of numerous competing digital channels.
A lot of that, of course, has to do with the continuing popularity of Star Wars itself, which has evolved into way more than a pop culture phenomenon. It's a part of people's daily lives, now, and by extension Star Wars Insider has become that too, as far as our regular readers and subscribers are concerned.

As for the future, as an official source of news and information on all things Star Wars, I think Insider has a huge amount of potential. There are so many Star Wars stories heading our way, it's a very exciting time for the magazine.
Our thanks to Chris for taking the time to answer our questions!
Fans looking for copies of Star Wars Insider #200 will find it on sale at newsstands, comic shops, Forbidden Planet (UK & Europe), and digital devices on February 9, 2021. Also, Titan is running a special #200 subscription offer – 8 issues for just $47.99 – saving 40%! You can take advantage of this offer HERE.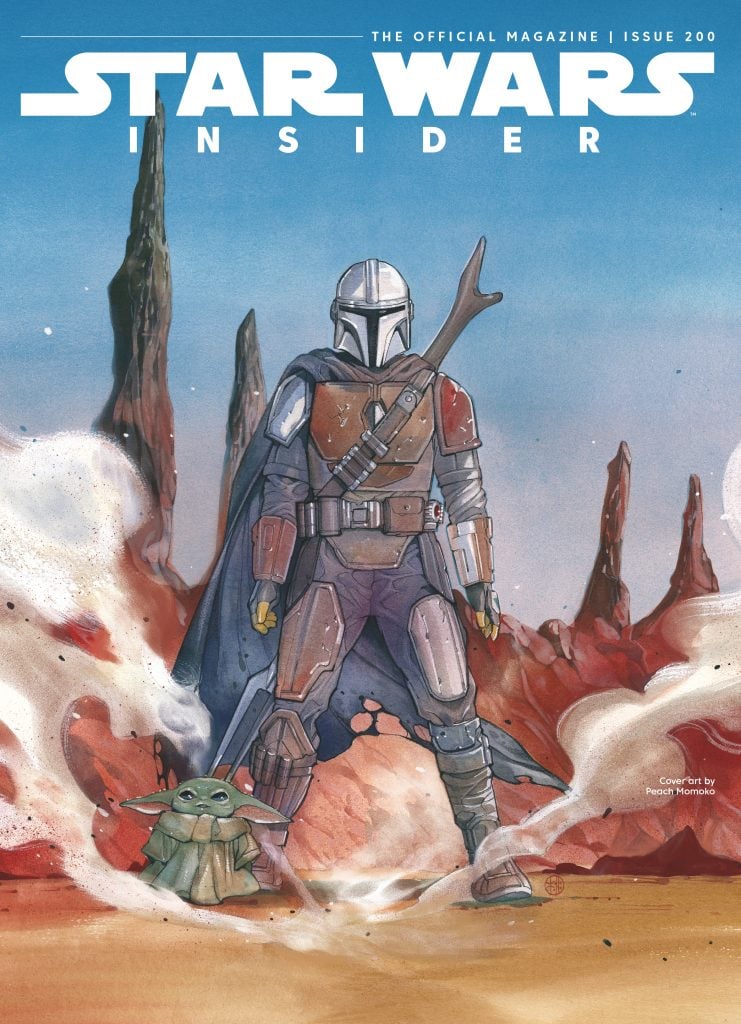 The newsstand cover features the eponymous star of
the Golden Globe-nominated Disney+ live-action series
The Mandalorian,
while the Diamond Exclusive cover featuring the artwork of superstar comics artist Peach Momoko is available only in comic shops. The exclusive cover, drawn in Momoko's signature style, features the break-out star of
The Mandalorian
, Grogu.
DARBY HARN is a novelist, freelance writer and podcaster. His novels include Ever The Hero, The Judgement of Valene, Nothing Ever Ends and A Country Of Eternal Light. His short fiction appears in Strange Horizons, Interzone, Shimmer and other venues.