Take A Look at Marvel's The Rise of Kylo Ren #3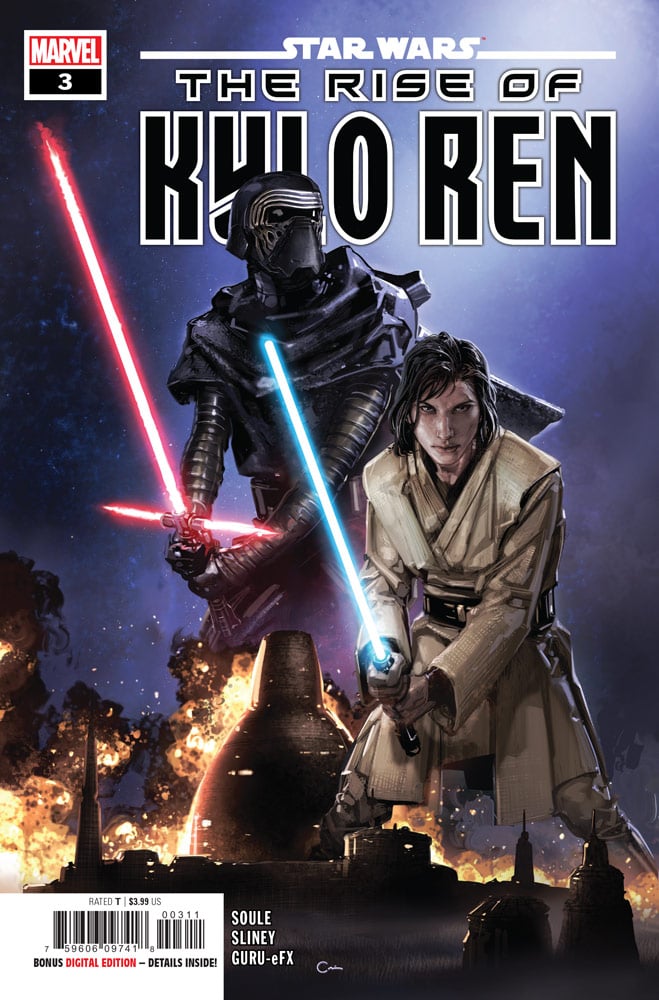 StarWars.com treated fans to a special preview of Marvel's The Rise of Kylo Ren #3 yesterday and we couldn't resist speculating on what this issue might have in store for Ben Solo. If you haven't been reading along you can catch up with our SPOILER reviews of the first and second issues. Writer Charles Soule continues to guide us through the tragic events leading to the fall of Ben Solo and the rise of Kylo Ren.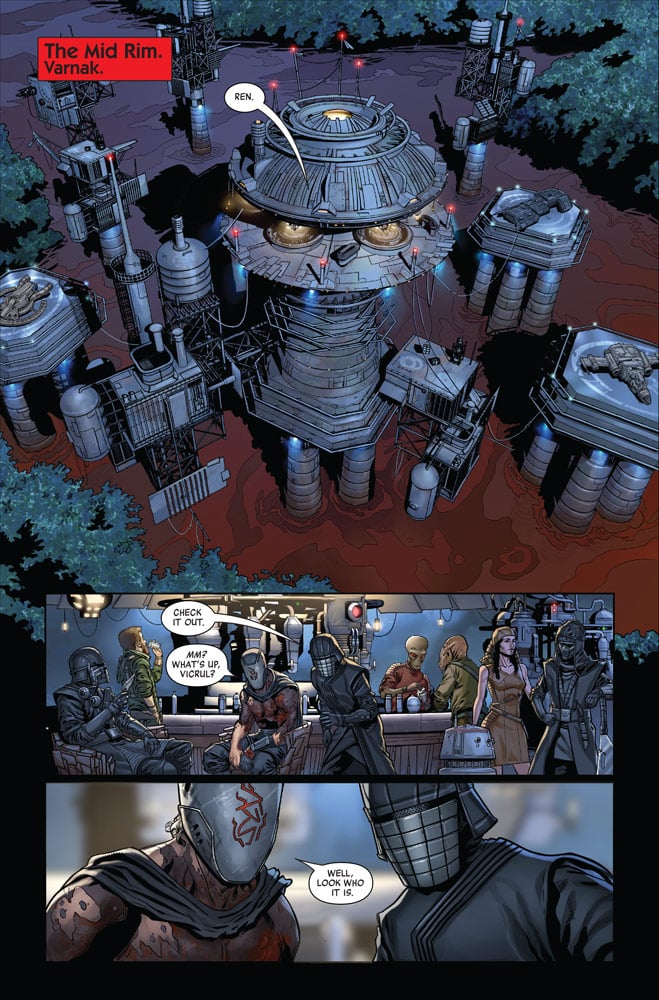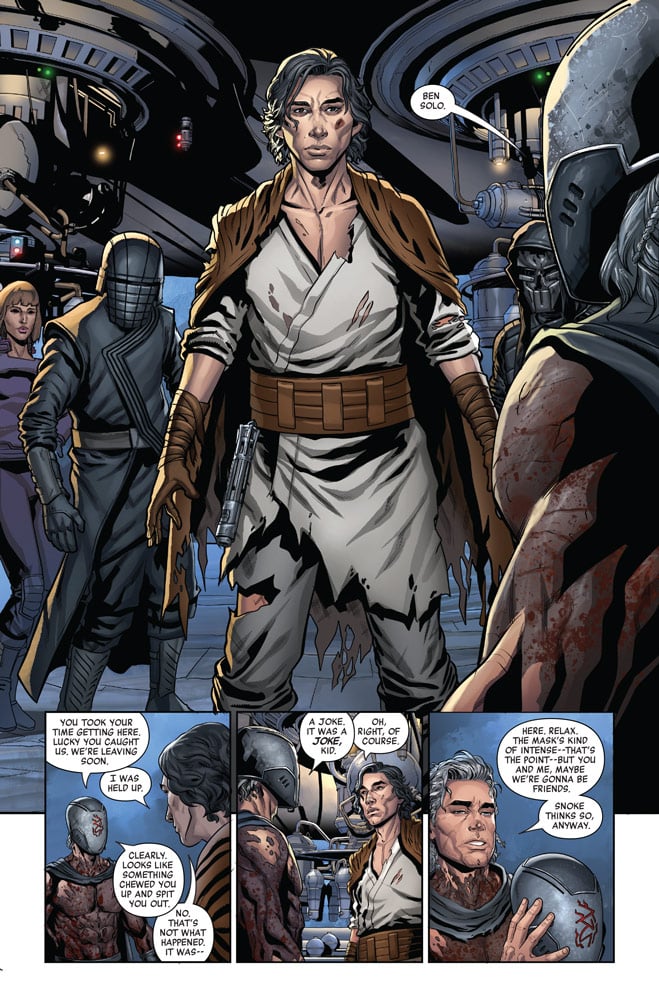 The third issue appears to begin after a small time-jump. At the conclusion of the second issue, the three surviving Jedi students of Luke Skywalker's Jedi academy caught up with Ben Solo as he found a mask left behind for him by the Knights of Ren. Ben initially refused to fight them at the sight of the Jedi Temple, but the end of the second issue suggested he may not have a choice, as the three Jedi seemed intent on taking him into custody so they could figure out exactly what happened. It should be noted the first issue clearly shows Ben Solo did NOT destroy Luke's temple as many of us assumed from the Force-backs in the film and he actually went out of his way not to fight these pursuing Jedi. Ben's placed his trust in a more benevolent Snoke at this point and believes the Knights of Ren will show him his path in the Force.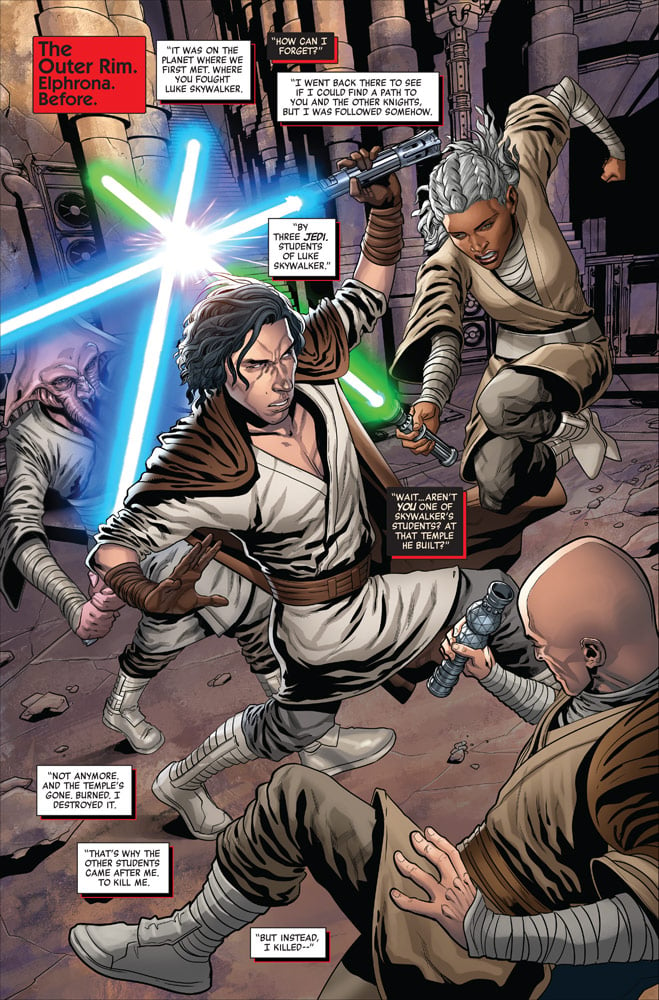 It's ominous, for sure, but Ben doesn't outright say he killed the Jedi, so we don't know for sure what happened until we get the rest of the issue. It's entirely possible Ben will say "I killed Ben Solo" and we will ultimately see the demise of these Jedi in latter pages of this issue or subsequent issues. One thing is certain, he believes he's responsible for the destruction of the Jedi Temple, even though it's Palpatine or Snoke who are responsible. This demonstrates another layer of manipulation to push Ben towards believing the tragedy he's experienced up to that point is all his fault. His self-hatred no doubt contributes to his own demise and the rise of Kylo Ren. Sheev Palpatine knows how to play to dark, sad emotions.
Ren, who we can assume is the leader of the knights at this point, doesn't just want to hear the tale of how Ben may or may not have killed these Jedi. He wants to know who they were and why the potential of Ben Solo killing is such a major thing. It looks like we will be getting a decent-sized flashback sequence highlighting Luke Skywalker's tutelage of these Jedi as younglings. Writer Charles Soule has consistently given us the more nuanced aspects of characters in this saga and I expect fans' regard for Ben and these Jedi's well-being will only deepen after we see them as younglings forming a bond and found-family of Jedi. The excellent art by Will Sliney and colorist Guru e-FX has also plays a great role in deepening the appreciation for this story. This series has been incredible so far and now's your chance to catch up!
Make sure to head over to StarWars.com for the full article. The Rise of Kylo Ren #3 will be available at your local comic shop (make sure to put it on your pull-list, as these issues are selling out fast) and digital retailers February 12th. Look for our review next week, as well.
SOURCE: StarWars.com
Kyle Larson lives in Portland, Oregon. When he's not running trails, he's reading and writing.