New 'The Clone Wars' Trailer Showcases the Bad Batch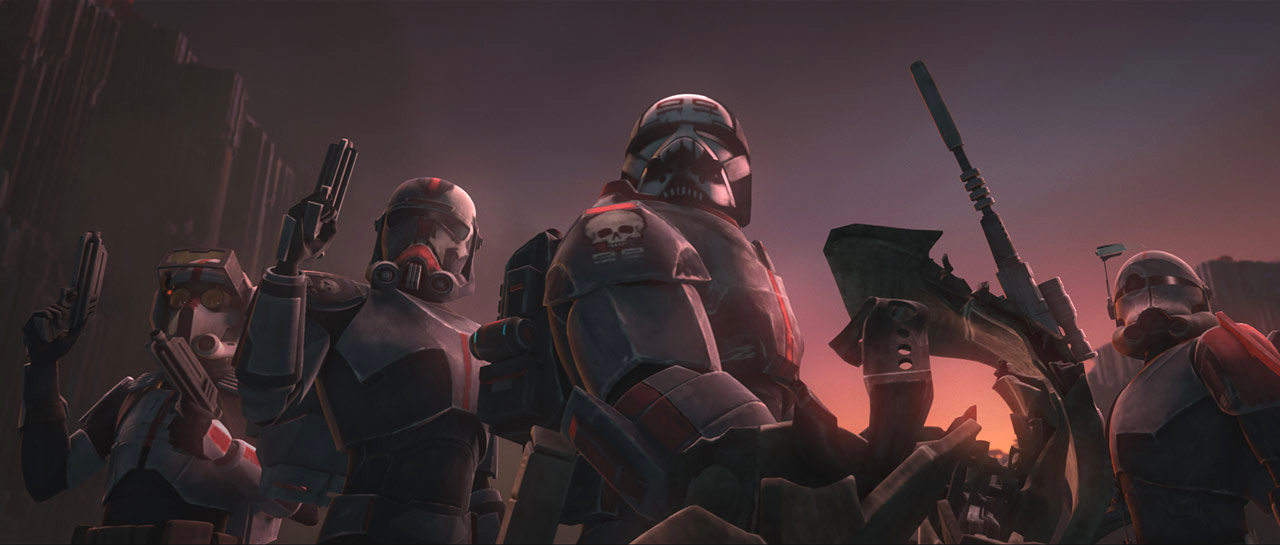 A new trailer for season 7 of The Clone Wars has revealed our first official look at the 'Bad Batch', a particularly badass squad of clone troopers previously teased by Dave Filoni.
The 'Bad Batch', officially named Clone Force 99, are being sent on a clandestine operation behind enemy lines with Rex and Anakin. Rex describes them in the trailer as 'defective clones with desirable mutations', though it's not clear exactly what those mutations may be.
Anakin reiterates to the Bad Batch that they are on a stealth mission, and we get treated to some quick cuts of the new clones doing some not very stealthy things as they take on battle droids. Cue Rex sighing 'So much for stealth…' as he raises his twin pistols.
We also get some quick snaps of Obi-Wan and Mace Windu igniting their lightsabers. It's unclear if they play a large role in the Bad Batch arc, or if the shot is taken from a different episode, but it does seem out of place if they're not present in these particular episodes. We see Mace Windu at the beginning of the trailer, but it's not clear if he actually joins Anakin, Rex and the Bad Batch on this mission. We also get another look at Admiral Trench, who definitely seems to be part of the the same arc.
The trailer is only a minute long, but reminds us that we don't have long to wait, as the final season of The Clone Wars will be streaming on Disney Plus on February 21. Not long now until we finally get to watch the Bad Batch.
Josh is a huge Star Wars fan, who has spent far too much time wondering if any Star Wars character could defeat Thanos with all the Infinity Stones.