Go Back to Dagobah in New Star Wars Storybook – 'A Jedi, You Will Be'
How would you like to celebrate the 40th anniversary of The Empire Strikes Back by returning with Luke Skywalker to swampy Dagobah? You can do just that in an adorable new Star Wars picture book, A Jedi, You Will Be, coming from Disney Lucasfilm Press in October. The story is narrated by Yoda himself and teaches readers about the Force in the Jedi Master's own humorous and playful style.
Written by Preeti Chhibber, contributing editor for SYFY Fangrrls, and whimsically illustrated with vibrant art by Mike Deas, the book allows young readers to learn about the Force via illustrations of Luke's training and moments of Yoda interacting with the many creatures on Dagobah.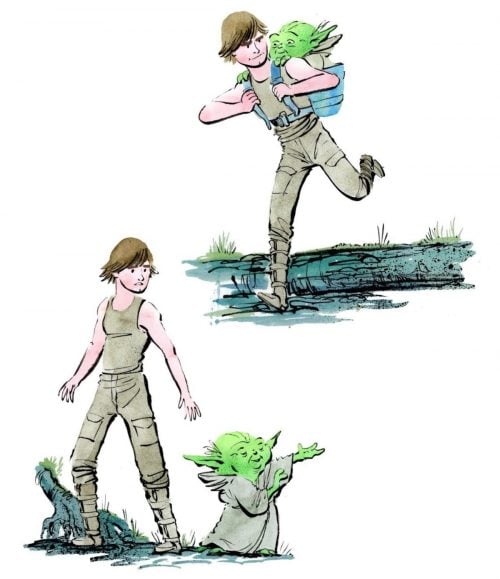 In an interview with Syfy Wire, Chhibber, who worked previously in children's book publishing, spoke about writing her first book for Star Wars, saying "This is a dream come true. I'm a huge, huge dork for all things in the Star Wars-verse." She adds that "the best part of writing Yoda is that I am writing Yoda."
Mike Deas's delightful illustrations bring the Jedi Master to life with deft strokes and sparkling colors, and Yoda would no doubt agree that he looks delightful despite his 900 years. Chhibber says Deas's work is her "favorite iteration of Yoda."
In creating a story that sets out to teach readers about the Force, Chhibber says her passion for the universe made the project feel less like work and she found writing about the enduring themes of Star Wars particularly rewarding.
"More than ever we have an opportunity and responsibility to reach young readers with positive, productive ideas," she explains. "I may not even be able to remember the first time I watched the original trilogy, but its ideas of being committed to goodness and of rejecting the Dark Side played a part in shaping me. So getting to share those ideals with a young audience through a picture book is truly an exciting thing to do."
Whether you have young readers in your life or simply appreciate a beautifully illustrated Star Wars storybook, A Jedi, You Will Be will be available in the fall on October 6, 2020.