Harrison Ford on Han Solo's Return in The Rise of Skywalker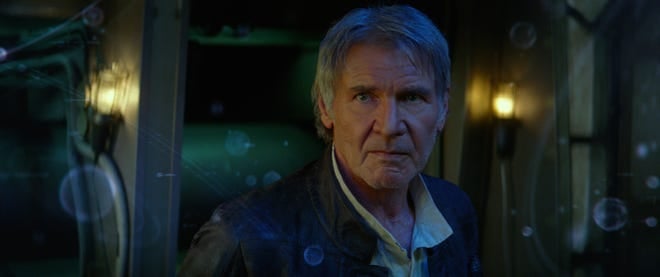 Harrison Ford has spoken to reporters during the past few weeks while on a press junket for his upcoming film, The Call of the Wild. As expected, a few questions that have come his way relate to his role in Star Wars and particularly his unexpected appearance in The Rise of Skywalker.
Ford says Han Solo's return was a surprise to him too. He told USA Today that when JJ Abrams asked him to reprise the role, he reminded the filmmaker that his character was dead.
"He said, 'Sorta dead. You can do this.' He hadn't written anything at that time. But he said, 'This is going to be great.' So I said okay. If JJ asked you to do something, you'd probably do it too. He's a very persuasive guy."
While it's long been known that Ford wanted Han Solo to die as far back as the events of Return of the Jedi, he's also been clear about his preference that the character's death have meaning for the story and other characters. He tells USA Today, that was the case with Han Solo's return too.
"It was a useful addition to the story and the continuing development of Adam Driver's character," Ford says. "And the chance to do another scene with Adam was great."
Though Han Solo's appearance is described in the film as a memory, USA Today's Bryan Alexander asked the actor to weigh in on whether his character appeared in the form of a Force ghost. Ford has a long history of plainspoken irreverence for Star Wars and his interview with USA Today is in the same vein. He insisted, "I have no idea what a Force ghost is. And I don't care!"
However, Ford doesn't seem to mind that Star Wars questions pepper his interviews for a film that has nothing to do with the franchise. While interviewing him about The Call of the Wild, YouTuber Jack Hamilton presented him with a fan question submitted by Mark Hamill on Twitter: "Ask him if he was born cool or did that come later."
Ford responded graciously, saying he learned how to be cool after meeting his longtime co-star. He added, "He's just a really straightforward nice guy. He's really a sweet guy."
Hamilton closed his interview by asking the actor about Han Solo's iconic "I know" in The Empire Strikes Back. Of the tweak to his line in reply to Carrie Fisher's Princess Leia, Ford says, "That has character value to me and there's a kind of edge to it as well." As he did with Han Solo's death in The Force Awakens and his reappearance in The Rise of Skywalker, Ford focuses on his character's effect on the story.