Review – Luke Isn't Finished Yet In The Secrets of the Jedi by Marc Sumerak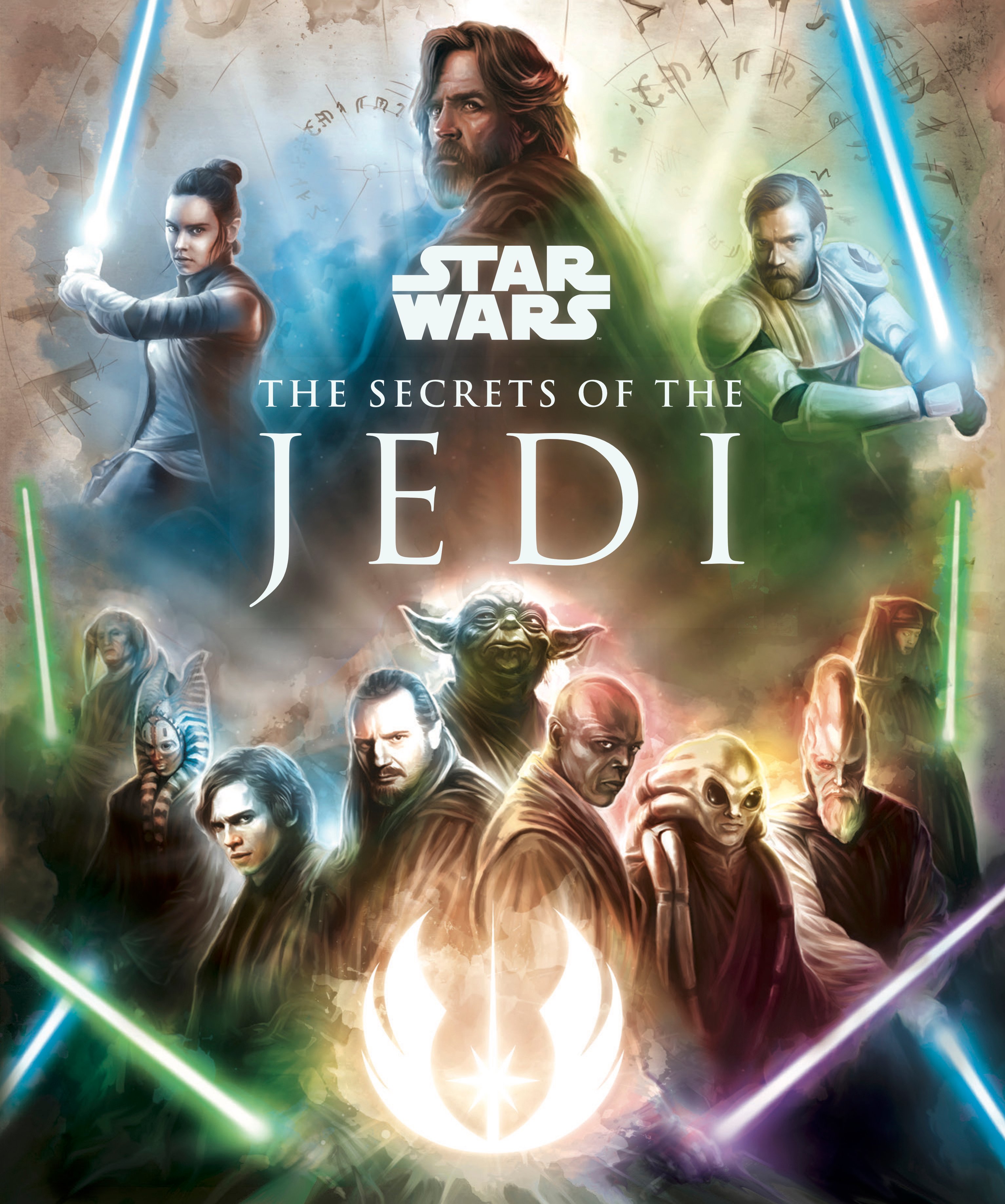 Luke Skywalker and the story of family, friends, and adversaries comes to an end next month with The Rise of Skywalker. Fans already expect a large number of callbacks from across the other eight films composing the three trilogies. The Last Jedi pushed the saga forward, but didn't have a lot of time for nostalgia. Now, while I don't criticize the film for its choices in that, I'd wished there'd been a way to hear more of Luke's thoughts on history  – and author Marc Sumerak found one in The Secrets of the Jedi. This is an incredible collection of biographies, stories, and thoughts about the Force and the Jedi, told to us entirely by Luke Skywalker himself. Yes, friends, the Jedi Master returns to share his wisdom as we approach the end.
Before we press on, I'd like to note there is no new story, per se, but the perspective of Luke adds a unique tone to the subjects of this book. I feel compelled to put a MINOR SPOILER warning here in case you want to experience Skywalker's words fresh. I'm going to be as careful as I can not to get too specific, but some of the images I share have text.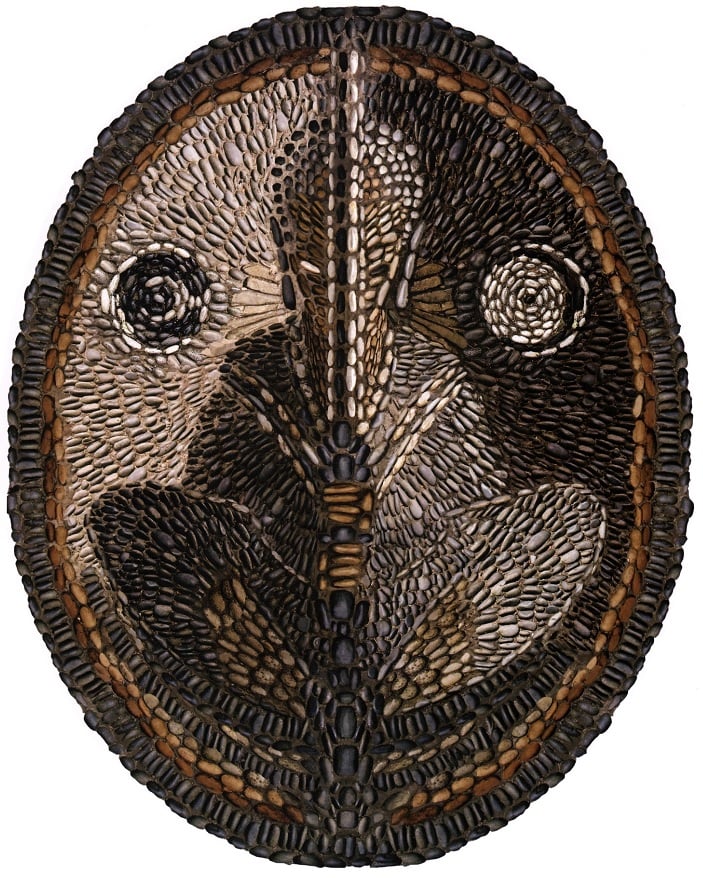 Let's move forward!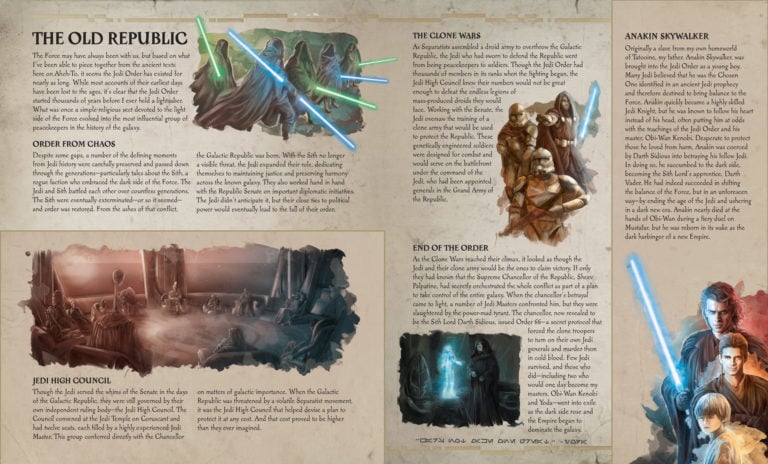 The layout of this book is superb. Every piece of art has a life to it, almost as if the Force is embedded into each page. I was blown away by the aesthetics. It feels like something a Jedi would put together. It's similar to The Jedi Path and Book of Sith, but a bit more vibrant and lively. Most of the images in this book you've seen in other mediums, so illustrator Sergio Gómez Silvan paints with a palate adding distinctiveness while retaining familiarity. You'll most likely find yourself flipping through it several times before you even sit down to read it. It's a visual candy store for Star Wars fans. The Insight Editions and Lucasfilm teams who put this layout together should be commended. Not only does it make this reference book intuitive and easy to use, it also brings these stories to life.
The design team also sprinkled tangible pamphlets, pop-ups, and diagrams throughout the book. This book is targeted for younger readers and these additions  help keep your attention and make the galaxy seem even more real. Don't worry, they aren't at all distracting and actually tie-in quite nicely, complimenting the text and art on the page.
You also get an Aurebesh decoder card to bring along as you peruse the history of the Jedi. The design team have inserted accompanying quotes on certain pages and leave it up to the reader to decipher. This is a little tricky at first, but you get the hang of it after a little bit. I really enjoyed the small challenge of translating them and I think it's good for younger readers. You'll start to figure out the quotes faster each time.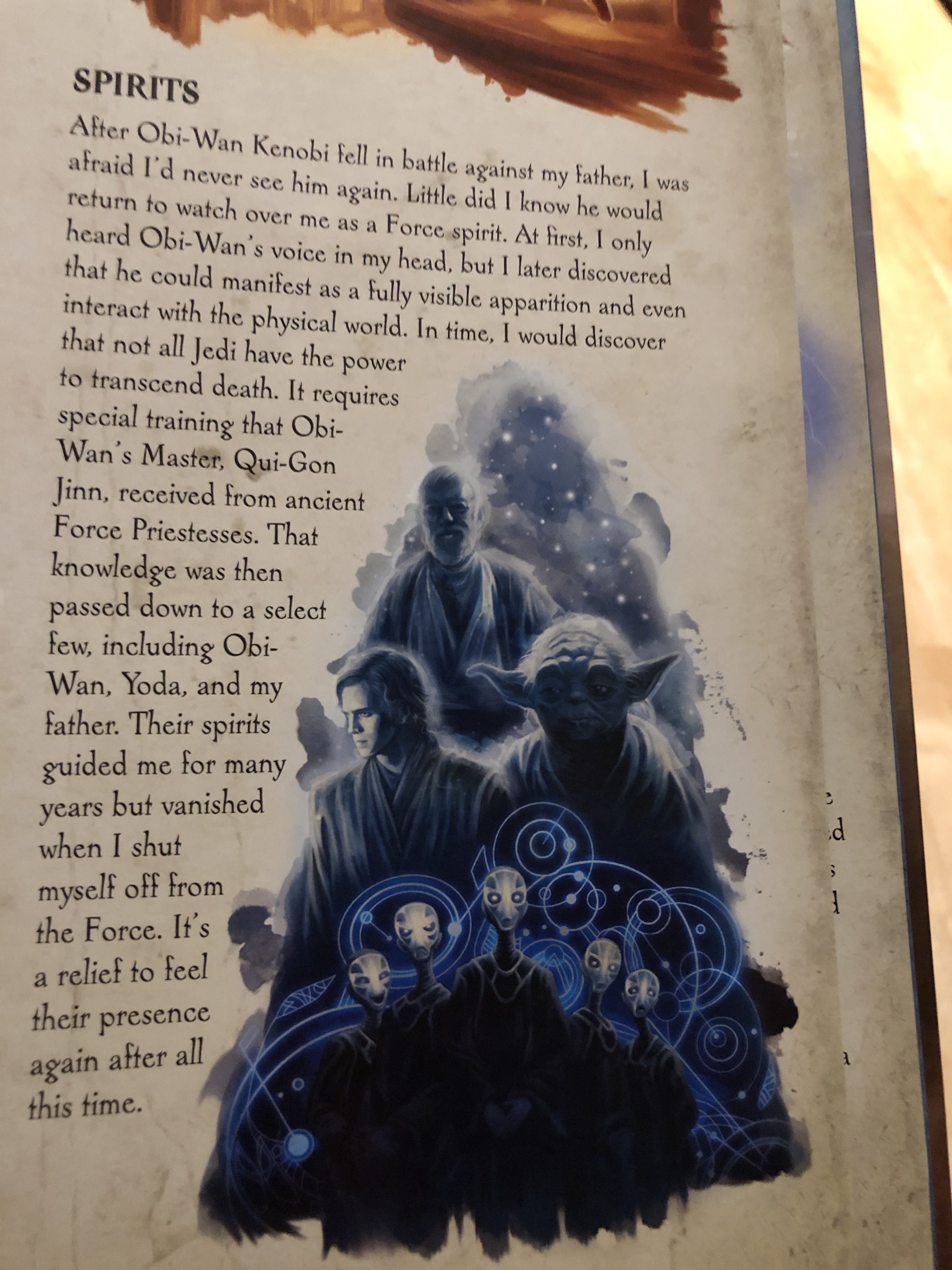 Great art and design are one half of what makes this book so special. The writing from Marc Sumerak bring Luke Skywalker to life as if Mark Hamill himself narrated these passages. You'll pick up right away this is Luke, speaking to you from Ahch-To, shortly after Rey's departure to Crait. My headcanon tells me this recounting was done shortly before Luke realized what sacrifice he could make to aid the fight against darkness. The trip through the history of the Force and the Jedi is not a very pleasant one for Luke, though I should note he does not come across as bitter. This is the last Jedi reflecting on the life he led and the many who came before him. It's a brilliant way to pay homage to Luke and all the characters surrounding the events which shaped his life and the galaxy we know.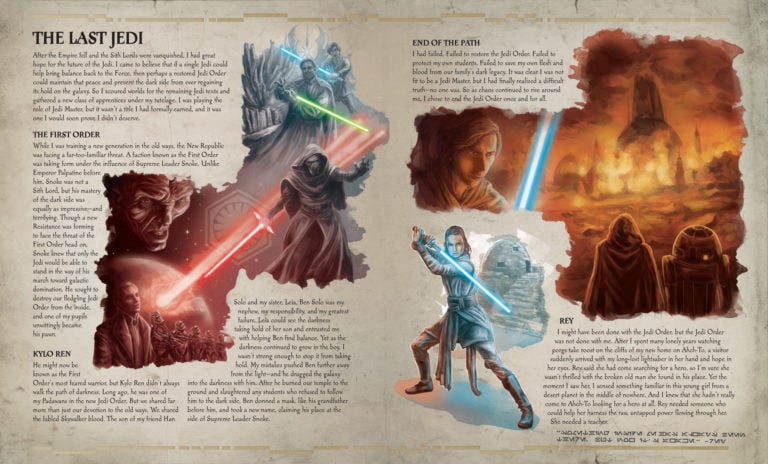 The Secrets of the Jedi is the distillation of Luke's studies in the Force. The Force, whether he rejects it or not, defines Luke and that's what this book is about. If you're someone who's followed Luke through the films, comics, and novels I'm confident you will find his words incredibly satisfying. Whether he speaks about Ahsohka Tano or Kanan Jarrus/Caleb Dume, Luke has been doing some extensive research into the history of the galaxy. You'll find he's well aware of what came before. It's the recounting of his own years between Return of the Jedi and The Force Awakens where he gets vague. There's nothing evasive about it, as Sumerak's writing conveys the pain of Ben Solo's fall to the dark side and his own failures..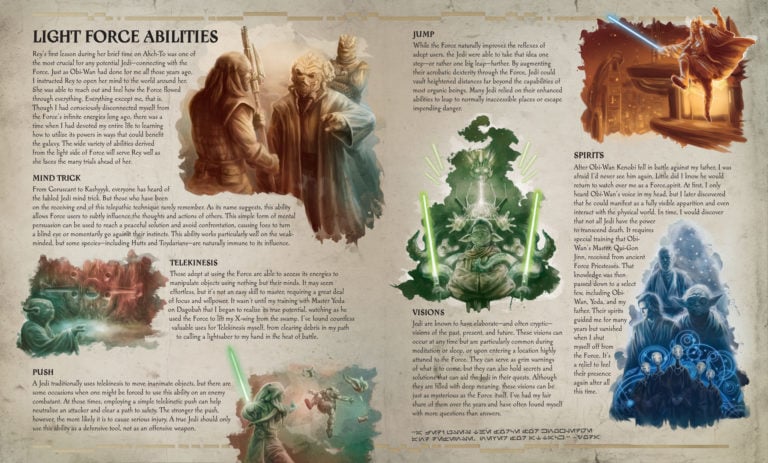 There's so much more to this book than just Luke, though. This book covers the Force, the Jedi, the Sith; touching on events stretching back to the Old Republic, and bringing us to the edge of The Rise of Skywalker. You'll see all your favorites and hear what Luke's learned about them. Sometimes he'll throw in an opinion or two, but it's so great to see them all together here. Though I feel I should caution this isn't a Wikipedia for everything spanning the Force and the Jedi. There's nothing about Mortis or World Between Worlds, which kind of surprised me. Sumerak certainly went deep into many aspects, but this book doesn't canonize older material or attempt to explain the unexplainable. The galaxy is still wide open for decades of storytelling to expand upon this lore, so I'm grateful this didn't solve the mysteries of the Force.
The dark side is certainly represented here. I loved that Luke knew about his father's castle. Fortress Vader has become such an important part of the saga, as well as the Inquisitorius, and they're featured right alongside other familiar faces. Tyranus, Sidious, Maul – but I was really disappointed the Night Sisters were not touched upon. Furthermore, Ventress is mentioned merely as a sidetone in Quinlan Vos' biography and I thought that was a huge disservice to the character. It's one of the few problems I have with the book, but it's a glaring absence.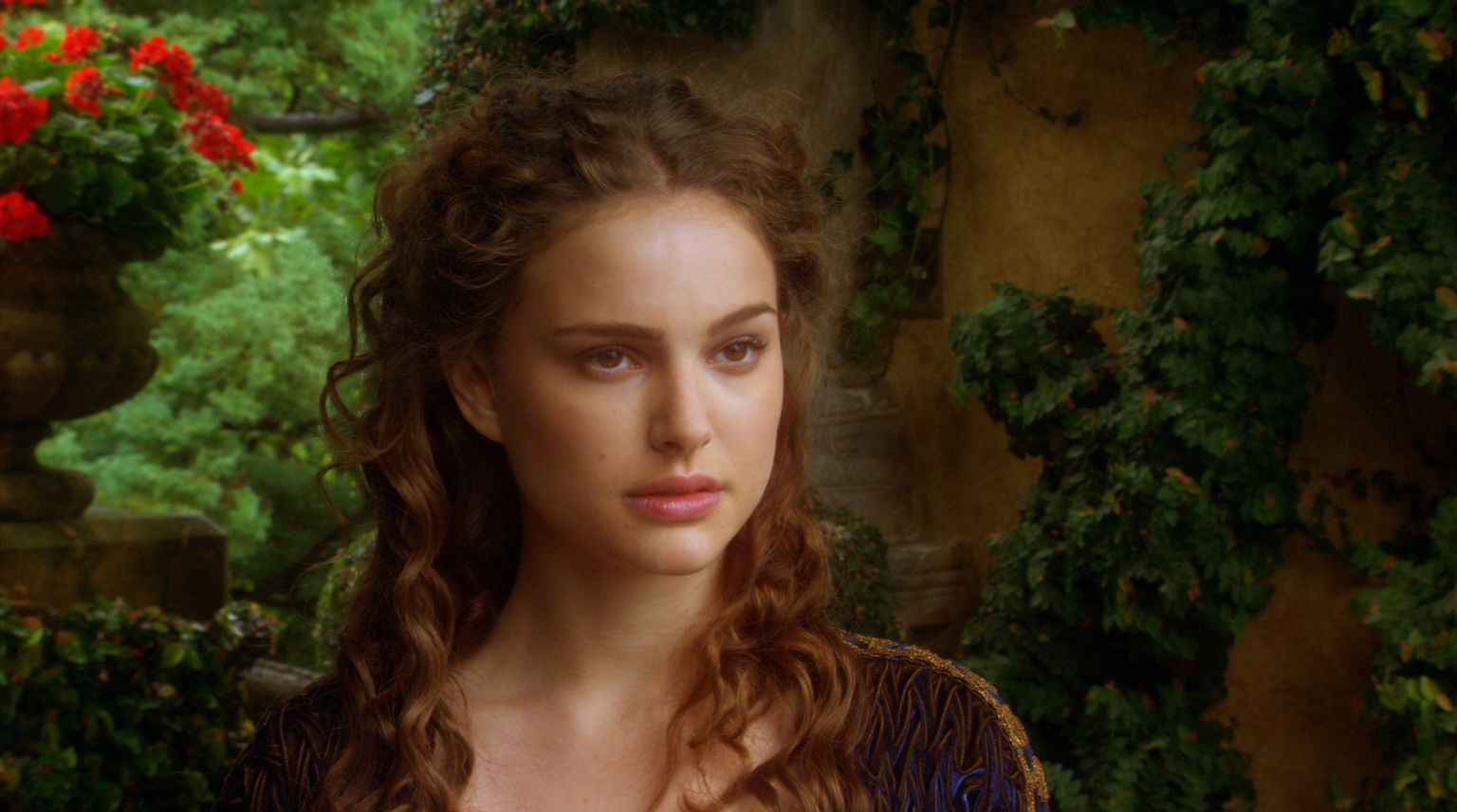 Another thing I feel should be addressed was the absence of Padmé and the love story between Luke's parents. Perhaps we'll have to wait until December to hear Luke tell it, but I thought it was very strange Padmé wasn't mentioned in the text. Love is a key theme in Star Wars and to not acknowledge it played a key role in the redemption of major characters let me down a bit. But that's just my interpretation and I don't doubt Marc Sumerak would agree love is an important part. This book is quite streamlined, in the best way, so one shouldn't expect it to cover everything.
Overall, there is much more to praise than to criticize about this book. We are reunited with an old friend many of us grew up with, giving us more than a history lesson – this is the story of the galaxy, according to Luke Skywalker. Author Marc Sumerak and everyone involved gave this project and these characters enduring and well-deserved love. Also, I can't believe this book is only $24.99! I thought it would be at least double that. It's great reading and will no doubt keep you flipping its pages for years. It's a great time to be a Star Wars fan.
RATING: 8/10
The Secrets of the Jedi is now available at your local bookstore and online retailers. Special thank you to Insight Editions for the advanced copy used in this review.
Kyle Larson lives in Portland, Oregon. When he's not running trails, he's reading and writing.