Watch or listen below! On this episode of The Resistance Broadcast we talk about the future of Force powers in Star Wars! Should Star Wars storytellers and perhaps more so the story group need to make sure the Force has a ceiling of some sort, so characters don't flirt with immortality/invincibility? Have they done this already? Do we want the Thanos snap in Star Wars? What is the future of Force powers beyond the Skywalker saga?
We also run through five topics in our segment WILL OF THE FORCE like – will Episode IX footage be shown this month?
As always we end the show with your tweets in #ResistanceTransmissions! The Resistance base is now open, so come on in and join us!
The Future of Force Powers in Star Wars
On this transmission of The Resistance Broadcast:
John Hoey and Lacey Gilleran!
James Baney is still stuck in the hyperspace somewhere, but he will be back on Monday!
The podcast is now watchable on video (CHECK IT OUT BELOW!), and make sure you are subscribed to our YouTube channel which is FREE!
If the audio version is your preferred method nothing has changed so no worries! You can always find us on Soundcloud, iTunes!, and Spotify! Now on to this episode!
THE WILL OF THE FORCE
Will The Mandalorian be released with a single long-form story, spread across 10 episodes, or will it be a series of separate adventures?
Will Nick Nolte have a major role in The Mandalorian?
The upcoming third Thrawn novel Thrawn: Treason's description states: "Set before the finale of Rebels, Thrawn's Imperial loyalty is tested, he crosses paths with Orson Krennic, and his protégé Eli Vanto returns with dire warnings about Thrawn's homeworld."
Will this third Thrawn book have any implications or hints as to where Thrawn and Ezra wound up?
We've heard the rumors from Collider, and we talked about it briefly on Monday but this is Will of the Force, so will Episode IX footage be shown this month?
Will Lando Calrissian have more than five minutes of on screen time in Episode IX?
DISCUSSION: The Future of Force Powers in Star Wars
We have seen Force powers that we've never seen before in The Last Jedi, from a Force ghost manipulating nature and creating lightning, to Snoke bridging the minds of Rey and Kylo Ren, to Luke Skywalker projected himself on to Crait when he never left Ahch-To.
Will we see anything greater than these? Are we entering dangerous territory if Force users can possess "UNLIMITED POWER" as Darth Sidious once put it? Do Star Wars storytellers and perhaps moreso the story group need to make sure the Force has a ceiling of some sort, so characters don't flirt with immortality/invincibility.
***Thank you to our patron Don Boring for this topic idea***
RESISTANCE TRANSMISSIONS!
We pitch a question to you, and you fire away! Did yours make it on the show?
Listen and find out, and follow us on Twitter @RBatSWNN!
It is time for #Resistancetransmissions! Even bros get ticked off at each other sometimes! One example is on Hoth when Chewie is working on the Falcon, he yells at Han and Han tells him not to lose his temper.

What do you think Chewie said to Han there? Be clever, be funny! pic.twitter.com/9S3xjz8RS6

— The Resistance Broadcast (@RBatSWNN) December 4, 2018
PATREON!
Our podcast is free as always but if you'd like access to more exclusive content and rewards you can sign up for our Patreon page! We recently posted our full audio/video commentary for The Phantom Menace!
Starting with tiers as low as just 2 dollars a month, you gain access to all of our additional content, videos, commentaries, giveaways, polls, and a lot of fun daily rewards, perks, and other fun stuff! Simply click HERE and take a look at the options! We appreciate any and all support. Thank you!
BUY YOUR RESISTANCE BROADCAST MERCH!
ON SALE NOW! Great for Christmas gifts for the Star Wars fans in your life!
Pick up some of our awesome designs on a shirt, coffee mug, tank top, sticker, hoodie, pillow, anything! Simply go to our Resistance Broadcast store on TeePublic – check out our 40+ different design and pick what you like, like our brand new aurubesh backed logo below! You can head right to the store by clicking on the image below! Thanks for the support and enjoy the swag!!!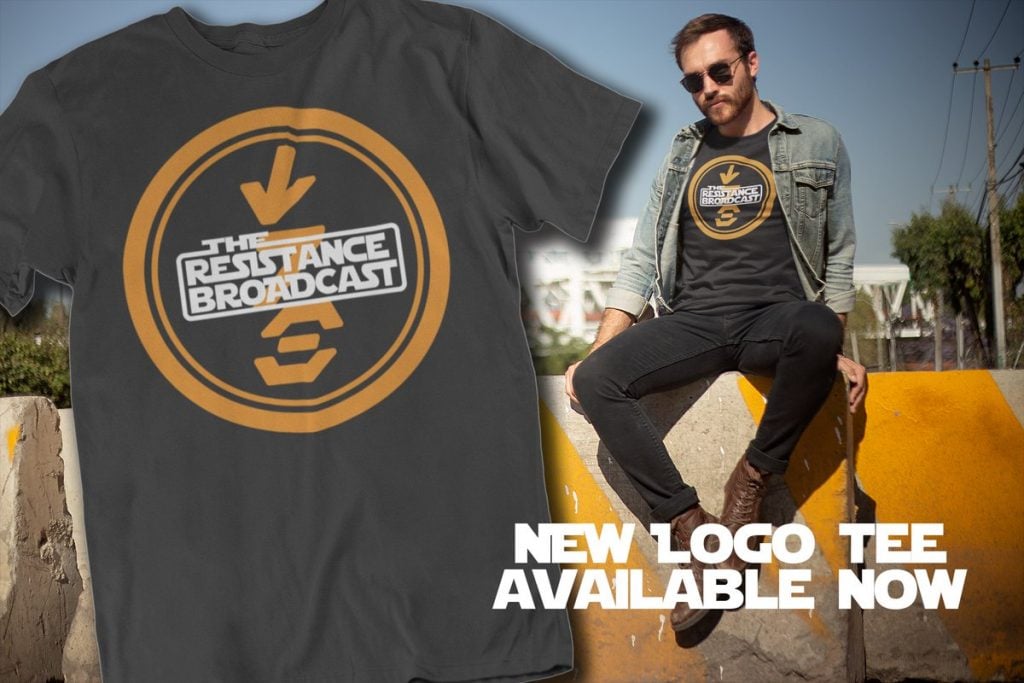 Special thanks to Matt Pasterick for our theme song!
John Hoey is the Co-Lead Editor and Senior Writer for Star Wars News Net and the host of The Resistance Broadcast podcast
"For my ally is the Force, and a powerful ally it is."
Click HERE to check out and comment on this topic in our forum The Cantina