The Resistance Broadcast – Episode IX: Will New Leia Dialogue Be Made Using a Voice Actor?
Watch or listen below! On this episode of The Resistance Broadcast we talk about whether Star Wars TV/streaming series will become the main way we absorb future Star Wars content over theatrical releases!
We also run through six topics in our segment WILL OF THE FORCE like – Will a voice actor be used to create new dialogue for Leia for Episode IX?
As always we end the show with your tweets in #ResistanceTransmissions! The Resistance base is now open, so come on in and join us!
Will New Leia Dialogue Be Made Using a Voice Actor?
On this transmission of The Resistance Broadcast:
John Hoey , James Baney, and Lacey Gilleran!
The podcast is now watchable on video (CHECK IT OUT BELOW!), and make sure you are subscribed to our YouTube channel which is FREE!
If the audio version is your preferred method nothing has changed so no worries! You can always find us on Soundcloud, iTunes!, and Spotify! Now on to this episode!
THE WILL OF THE FORCE
Will you be watching the new animated shorts

Star Wars: Galaxy of Adventures

?

If they return, will the Knights of Ren each have names?

Will Leia have added dialogue using ADR with another voice actress for scenes in Episode IX?

Will Star Wars Episode IX have a significant plot twist?

Thanks to our patron, Commander Todd Desgrosseilliers: Will Chewbacca finally avenge the death of Han Solo?

Call back to John's prediction for the first Episode IX teaser, will Kylo Ren have Sith eyes at any point in Episode IX?
DISCUSSION: Will Star Wars Films Take a Back Seat to TV?
Disney+, DisneyNOW, "Star Wars Kids"…Disney clearly has their eye on the trends and by bringing forth three different TV based platforms forward makes us wonder if they feel the future for their programming, most importantly Star Wars resides in this medium. Is it possible the juggernaut that is Star Wars films could take a back seat to TV? Will Star Wars theatrical released then be dialed back to years apart as they once were? What impact will the growing content of Star Wars TV have on the big theatrical films which made Star Wars great?
RESISTANCE TRANSMISSIONS!
We pitch a question to you, and you fire away! Did yours make it on the show?
Listen and find out, and follow us on Twitter @RBatSWNN!
It's #ResistanceTransmissions! Best answers are read on the show!

When Vader sensed Kenobi on the Death Star he started a sentence but never finished it: "I sense something, a presence I've not felt since…"

What was the rest of Vader's sentence gonna be? Be clever! #StarWars pic.twitter.com/bWNxDdhdiT

— The Resistance Broadcast | Star Wars News Net (@RBatSWNN) November 27, 2018
PATREON!
Our podcast is free as always but if you'd like access to more exclusive content and rewards you can sign up for our Patreon page! We recently posted our full audio/video commentary for The Phantom Menace!
Starting with tiers as low as just 2 dollars a month, you gain access to all of our additional content, videos, commentaries, giveaways, polls, and a lot of fun daily rewards, perks, and other fun stuff! Simply click HERE and take a look at the options! We appreciate any and all support. Thank you!
BUY YOUR RESISTANCE BROADCAST MERCH!
Pick up some of our awesome designs on a shirt, coffee mug, tank top, sticker, hoodie, pillow, anything! Simply go to our Resistance Broadcast store on TeePublic – check out our 40+ different design and pick what you like, like our brand new aurubesh backed logo below! You can head right to the store by clicking on the image below! Thanks for the support and enjoy the swag!!!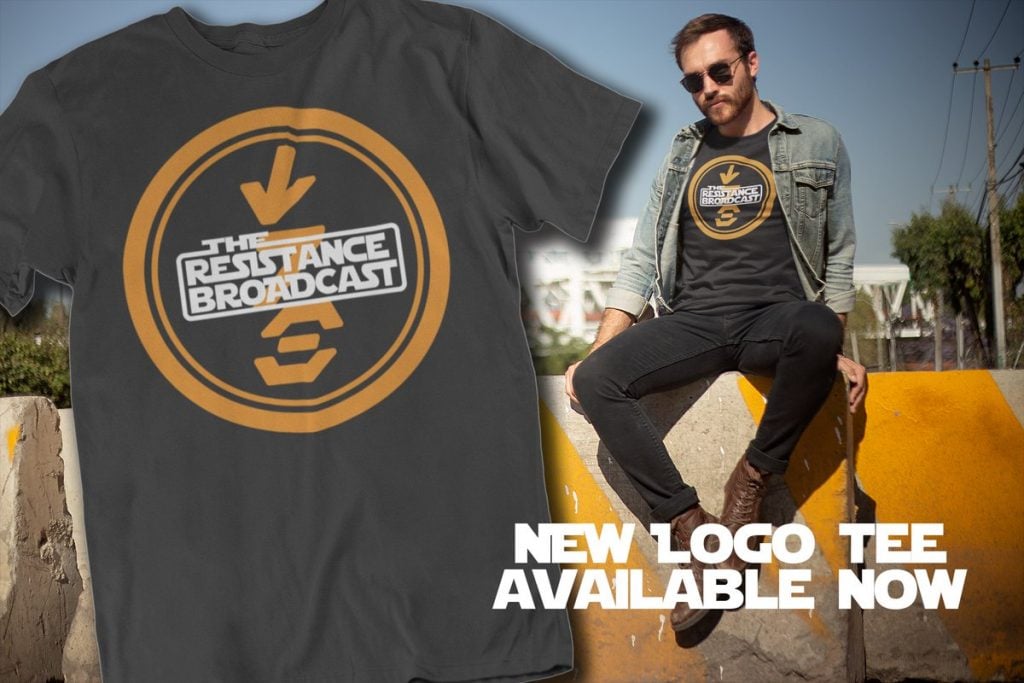 Special thanks to Matt Pasterick for our theme song!
John Hoey is the Lead Editor and Senior Writer for Star Wars News Net and the host of The Resistance Broadcast podcast
"For my ally is the Force, and a powerful ally it is."