Updated with the Winner! San Diego Comic Con 2018: Preview of Star Wars Related Content and Our SDCC Exclusive Giveaways!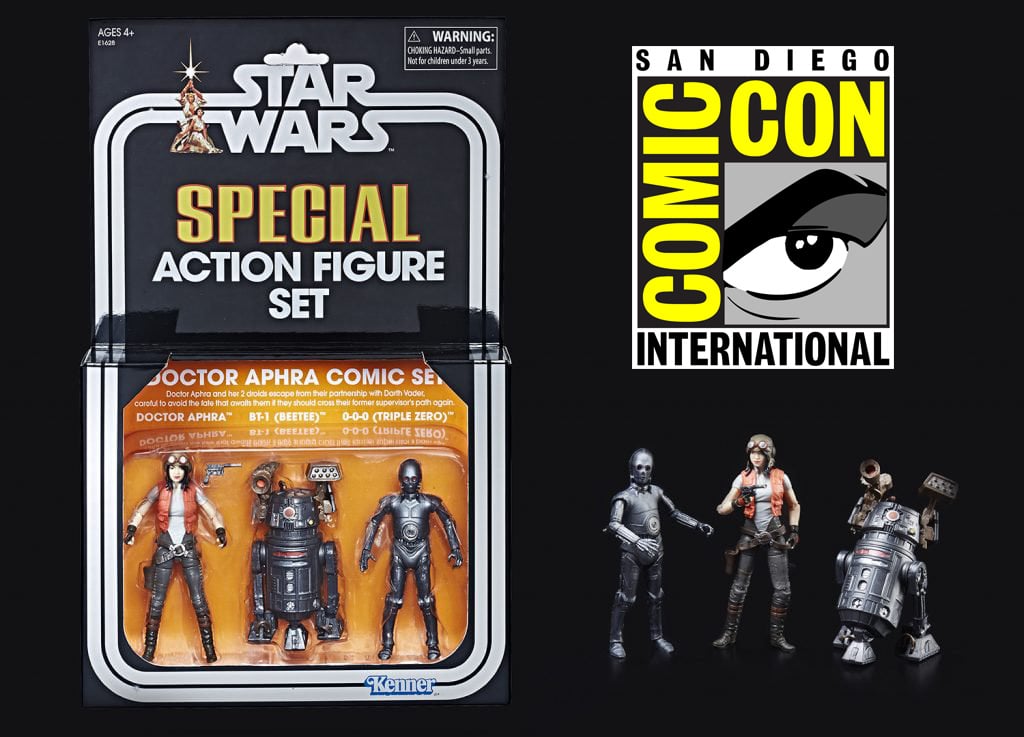 San Diego Comic Con (SDCC) starts this Thursday! We will be in attendance and reporting on Star Wars related news and content happening over the course of the weekend! Here is a preview of the Star Wars panels and events we'll be attending and reporting on, plus an exclusive SDCC Star Wars item giveaway just for our readers.
In addition to updating you with our reports here on the site, we'll also be live-tweeting events. So if you haven't yet, make sure you follow us @StarWarsNewsNet on Twitter! Representing us this year will be Lacey Gilleran! So if you see Lacey, be sure to say hi and if you have anything remotely related to Kylo Ren to talk about, she'll be more than excited to chat about him!
Here is the list of Star Wars related panels we'll be attending and covering LIVE at SDCC this year!
THURSDAY
We were honored to be invited to attend Hasbro's annual Entertainment Brand Preview Breakfast! The event features a first look at the latest toys and SDCC exclusives from favorite Hasbro brands such as Transformers, My Little Pony,Power Rangers, DropMix, Magic: The Gathering, Marvel, but most importantly..STAR WARS! We will have the opportunity to speak with Hasbro brand representatives before the convention floor opens and we'll get you as much info as possible!
Star Wars: The Clone Wars panel (11:45 PT)
We will be attending this anniversary panel, live tweeting as executive producer Dave Filoni and panelists look back on 10 years of the Emmy Award-winning series that expanded the Star Wars universe and introduced countless fan-favorite characters to a galaxy far, far away. Filoni will be joined by producer Athena Portillo, composer Kevin Kiner, the voice of Ahsoka Tano herself, Ashley Eckstein, and the voice of Anakin Skywalker, Matt Lanter. Many rumors have been swirling about whether a big announcement will come out of this panel, so we'll keep you updated on this live!
FRIDAY
Hasbro: Star Wars (1:00pm – 2:00pm PT)
Members of the Hasbro and Lucasfilm teams will discuss the popular Hasbro Star Wars line. Attendees will get an in-depth look at Hasbro's latest action figure offerings. Word on the Holonet is there may also be a few surprises.
Disney-Lucasfilm Publishing: Stories from a Galaxy Far, Far Away (2:00 pm PT)
Michael Siglain (director, creative: Disney-Lucasfilm Publishing) and surprise panelists share previews and exclusive announcements about what should be on your must-read list from Star Wars publishing.
The Women of Star Wars (5:00pm – 6:00pm PT) 
For the past 40 years, the Star Wars galaxy has expanded at a remarkable rate. Behind the scenes, creators have worked to round that galaxy out and to maintain cultural relevancy by appealing to new fans from different walks of life. Authors E. K. Johnston (Star Wars: Ahsoka) and Zoraida Córdova (From a Certain Point of View) join writer Nicole Dubuc (Forces of Destiny) to discuss the impact of a more inclusive Star Wars, from the writers to the actors to, of course, the characters you know and love.
SDCC EXCLUSIVE GIVEAWAY CONTESTS!
Speaking of women in Star Wars, that brings us to our giveaway! Thanks to our friends at Hasbro, we are giving away a SDCC exclusive figure set, the Doctor Aphra Comic Set!
Celebrate the legacy of STAR WARS with premium, highly-detailed 3.75-inch scale figures and vehicles from THE VINTAGE COLLECTION! Imagine the adventures of the STAR WARS comic universe with these 3.75-inch-scale DOCTOR APHRA, 0-0-0 (TRIPLE ZERO), and BT-1 (BEETEE) figures that feature premium deco across multiple points of articulation and design inspired by the DOCTOR APHRA comics. Includes 3 figures and 3 accessories. Each set sold separately. The STAR WARS: THE VINTAGE COLLECTION DOCTOR APHRA COMIC SET will be for sale at San Diego Comic-Con 2018. Limited quantities of this item will be available at select conventions and select online retailers after the convention in the relevant market (including HasbroToyShop.com where available). Good while supplies last.
To enter simply comment below with your answers to this question:
Do you think J. J. Abrams' Star Wars: Episode IX should have a definitive finish or end open ended, perhaps even with a cliffhanger? Also do you think J.J. Abrams will play it safe in this final installment of the trilogy?
There is no right or wrong answer, it's how you feel about it! Just comment below and we'll pick one random winner who will luckily take home this SDCC exclusive figure set! The winner will be announced next Tuesday.
We're not done yet! In addition to this we will be giving away two Black Series SDCC Exclusive sets as well! The Empire Strikes Back Han Solo/mynock set will be given away on our Cantina Forum, so be sure to sign up HERE (it is free) to be ready for that announcement to enter to win that starting on Friday!
Our podcast The Resistance Broadcast will be giving away the other Black Series SDCC exclusive set in a contest of their own starting Monday. This will be the Rey and Kylo Ren Starkiller base duel set! So be sure to subscribe to The Resistance Broadcast HERE (or HERE for non Apple users!) to listen for that, and also follow them on Twitter at @RBatSWNN!
As you can see a lot of Star Wars news and information out of SDCC is coming your way in the next few days, so keep it here to stay up to date on all of it and enter these contests! May the Force be with you!
Our second SDCC exclusive giveaway is now active on our Cantina forum. Click on the link in the tweet below for more information how to win the Han Solo Exogorth Escape set:
Win a SDCC Exclusive Han Solo Exogorth Escape! Cantina members: check out the details here! #StarWars https://t.co/X1saF7BBkh pic.twitter.com/NUEgRnNkQg

— The Cantina Forum (@TheCantinaForum) July 20, 2018
And our third SDCC Star Wars exclusive giveaway is on!
NEW GIVEAWAY!!!! To enter: FOLLOW US and RETWEET this!

Miss San Diego Comic-Con? No worries! We're giving away this #SDCC Exclusive Black Series Rey and #KyloRen Starkiller Centerpiece!

The winner will be announced Monday 7/30! Thanks @HasbroNews! #StarWars #Podcast #Reylo pic.twitter.com/zBeCHI8VEm

— The Resistance Broadcast (@RBatSWNN) July 23, 2018
Good luck to everyone.
UPDATE!
And here's the lucky first winner from the SWNN giveaway, who gets the SDCC exclusive Doctor Aphra set:
Because of the new Disqus rules we can't directly contact the winner (we don't see emails anymore). So please all winners to contact us at viralhide@gmail.com, so that we can organize the shipping of the prize.
Tomorrow we will announce the winner from our Cantina forums, and next week the final winner from our podcast – The Resistance Broadcast.
John Hoey is the Co-Lead Editor and Senior Writer for Star Wars News Net and the host of The Resistance Broadcast podcast
"For my ally is the Force, and a powerful ally it is."