Truth Behind the 'Solo' Production Chaos That Has Made It the Surprising Underdog We Can All Root For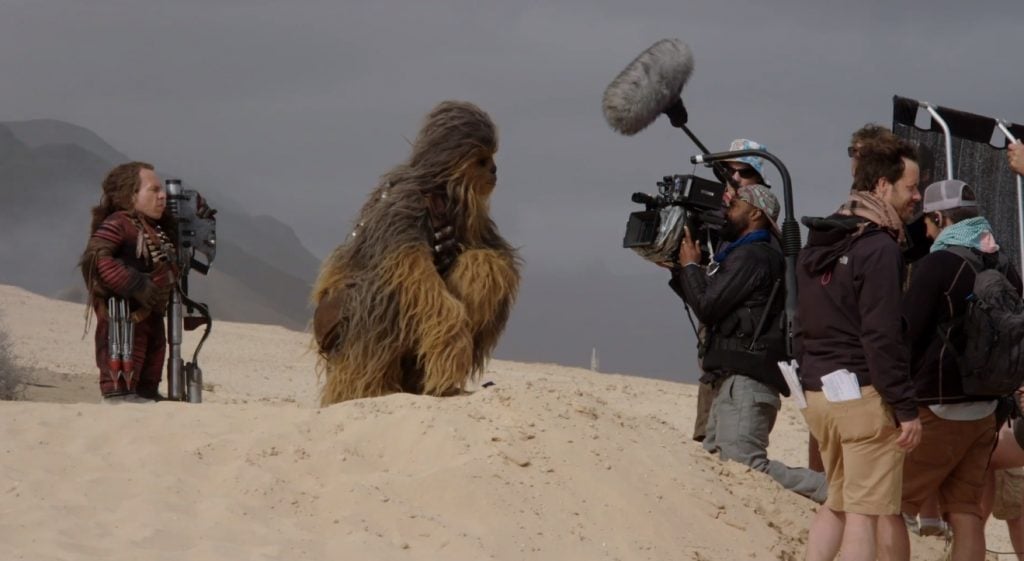 While still saying they were good, "a miscommunication in artistic vision" is how Donald Glover sums up the dismissal of Phil Lord and Christopher Miller from the director chairs of Solo: A Star Wars Story. An extensive article at Variety by Kristopher Tapley finally sheds more facts on what really happened last Summer during the production of the movie. The film is two days away from opening to the public, and the drama is ancient history, so we can look back on it with more of a curious eye than a worried one, knowing the film moved on and above any and all chaos that took place a year ago.
In the piece by Variety, we get first hand accounts from the cast, crew, and production team behind Solo, into what exactly happened that led to the dismissal of its initial directors, putting the film in the hands of Ron Howard to reshoot most of the film and save it from disaster. It took an extended four month commitment from all of them, and it has turned Solo: A Star Wars Story into something nobody could ever imagine a 2018 Star Wars movie being: An underdog.
The Kasdans Takes on the Situation
In what he claims is his Star Wars "swan song" and final bow, Lawrence Kasdan does his best to diplomatically explain the tension or miscommunication by pointing fingers at the root of the problem, and not anyone specifically.
"Tone is everything to me. That's what movies are made of. But this was a very complicated situation. When you go to work in the morning on a 'Star Wars' movie, there are thousands of people waiting for you, and you have to be very decisive and very quick about it. When you are making those split-second decisions — and there are a million a day — then you are committing to a certain tone. If the [producers] think that isn't the tone of the movie, you're going to have trouble. It may not always end this way, but no one was happy about it. It was agony."
Kasdan was joined in his final Star Wars script by his son Jon, who gives his take on the reports that the problems stemmed from Lord and Miller's penchant for constant improvisational takes:
"The issues we were having were much more in the bones and practical. Chris and Phil did everything they could to make it work, as did we. The questions only became about how to make the movie most efficiently in the time we had to do it."
The theme of both of their answers appear to be time. It sounds like Lord and Miller had a hard time meeting the deadlines for a shoot of this magnitude, and that this may have put stress on the production and force the hand of using less than quality takes for the sake of moving forward. The film was mostly shot, but clearly behind schedule, and it sounds like after a certain amount of issues, Kathleen Kennedy made a bold but decisive move to plug up a slowly sinking ship and put it on a new course. What was the final nail in the coffin for Kathleen Kennedy to fire Lord and Miller? An unidentified crew member said the first assistant director going to higher-ups to get around extensive experimental shooting is what did Lord and Miller in.
"I got a lot of overtime [under Lord and Miller], which ultimately was their downfall," the crew member says. "The first assistant director brokers that with production. He ultimately went to the well one too many times, and Kathleen Kennedy blew up."
Ron Howard Takes Over
Post-George Lucas Star Wars was no stranger to firings or changes, as writers and directing shake-ups happened with The Force Awakens and Rogue One respectively. What better way a to calm a chaotic production than to bring in a calming veteran presence like Ron Howard?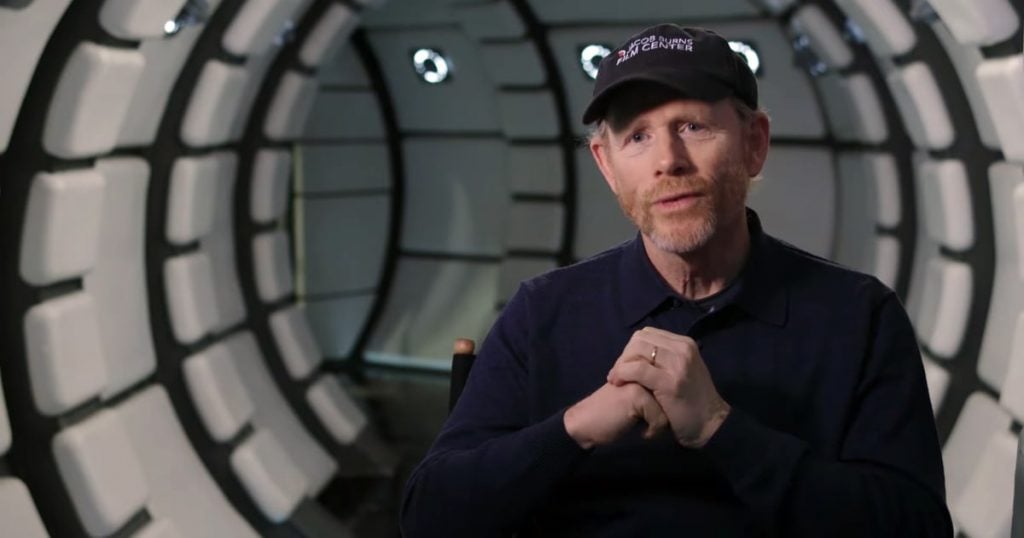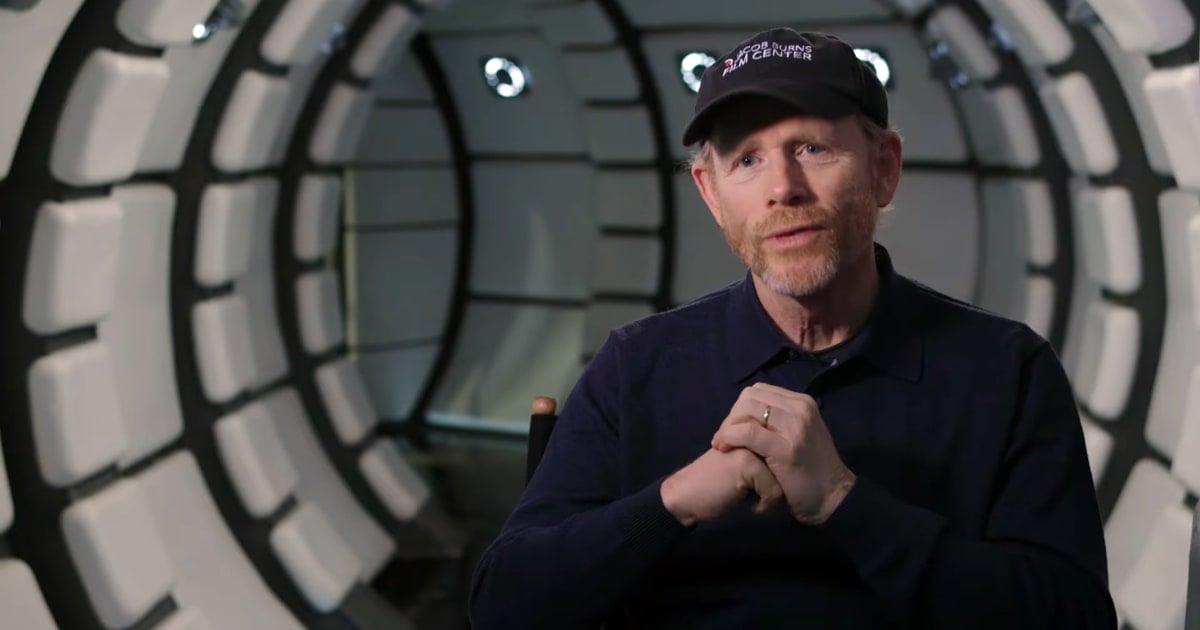 The rumors about how much Ron Howard actually wound up shooting has been wildly speculated, and now we have our answer:
When Howard came aboard, it was mandated that 85% of Lord and Miller's "Solo" be reshot, including second unit material. Howard's work ultimately comprises 70% of the finished film. The shoot would extend four more months, finally wrapping on Oct. 17.
We at SWNN received a tip early last Fall from a reliable source surrounding one of the international shoots for the film, who informed us that Ron Howard reshot upwards of 80% of the film. We broke this scoop on our official podcast The Resistance Broadcast in October. If you would like to, you can watch that episode here:
A Clear Change in Tone
The change in tone was evident from the beginning according to a crew member, with Howard paying attention to certain aspects of the shoot with passion that was for lack of a better term vacant from the tone set by Lord and Miller.
"You can totally see the love affair because Howard seemed super invested in how the film looked. Lord and Miller didn't seem too fussed with that aspect, really."
In fairness to Lord and Miller, who in addition to Kathleen Kennedy did not comment on this, according to Variety's source close to production, many of their ideas were allegedly rejected which likely caused tension and disappointment from their viewpoint.
"In their minds, Phil and Chris were hired to make a movie that was unexpected and would take a risk, not something that would just service the fans," says the source. "They wanted it to be fresh, new, emotional, surprising and unique. These guys looked at Han as a maverick, so they wanted to make a movie about a maverick. But at every turn, when they went to take a risk, it was met with a no."
The cast seemed to develop a sense of confidence in working with Howard rather quickly, with one of them jokingly making light of the situation.
"He just kind of spoke 'Star Wars' and that tone," Alden Ehrenreich

"I texted Jon Kasdan about six times going, 'What? Really? You're joking. We're not that lucky, surely, to get Ron Howard to come and take the movie on.' Any fears were wiped away pretty quickly." – Emilia Clarke

"We got three directors for the price of one." – Donald Glover
George Lucas Leaves the Maker's Mark
In what might be the most interesting part of this piece is finding out the scene George Lucas had input on when he visited the set. It is way more involved than I imagined it would be, and reveals a bit of a romantic angle between Han and Qi'ra, which aside from speculation we haven't heard much about between the two. It also serves as a reminder that George created Han Solo, and that nobody knows him better.
The hand of George Lucas, too, happens to be present in the film, in a romantically charged scene between Ehrenreich and Clarke staged in Lando's cape closet. There was a beat when Han takes Qi'ra's cloak, hangs it up and moves on to his next bit of business. But Lucas had a note, if he could be so bold.

"He said, 'You know, Han wouldn't bother to hang it up,'" Howard says. "And then he sort of did it. George became Han Solo for a second. The body language was there and the attitude. Not only was it a nice accent on the scene, but it was also a reminder that George created this character and really understood him. He was so reluctant [to offer his opinion], and yet the choice was so right that it was fun to use it."
A Star Wars movie, written by the most legendary Star Wars screenwriter, directed by Ron Howard, that even has some George Lucas flair punched in – what is there not to like? For a Star Wars movie owned by Disney in 2018 to be considered an underdog is almost unfathomable to comprehend. But here we are, two days away from a movie that was knocked down time and time again over the past year, but somehow kept getting up. The production of this film embodies who Han Solo is, which is too stubborn to fail, and winding up exactly where it needs to be regardless of the unlikely path it takes, and that makes it all the more charming.
Solo: A Star Wars Story is the most unlikely big budget underdog, the biggest Star Wars underdog since the original Star Wars 40 years ago, and we're rooting for it.
"For my ally is the Force, and a powerful ally it is." 
John Hoey is the Lead Editor and Senior Writer for Star Wars News Net and the host of The Resistance Broadcast podcast
"For my ally is the Force, and a powerful ally it is."