UPDATE (Card 11) – Beckett And Chewbacca On The Falcon! Topps' Journey to 'Solo: A Star Wars Story' Card Collection Is Here
As with The Last Jedi, Topps is starting a daily card reveals (excluding weekends), featuring scenes and characters from Solo: A Star Wars Story, leading up to the release of the movie in theaters on May 25. Check them out.
"THE COUNTDOWN BEGINS… Introducing Countdown to Solo: A Star Wars Story featuring exciting new imagery! Check back daily for a new card every weekday leading up until the premier of Solo: A Star Wars Story…."
The first official Topps trading card for Lucasfilm's Solo: A Star Wars Story has been released and is titled "Han Solo & The Millennium Falcon". The card shows one of the more exciting moments from the film (seen in a recent TV spot here) featuring the shot after Lando Calrissian tosses  Han Solo his signature blaster during a gunfight, teasing the beginnings of their galactic friendship.
All 25 of the Topps cards are being released one day at a time from Monday April 23rd through Friday May 25th leading up to the premiere of Solo: A Star Wars Story.
Source: TOPPS
UPDATE!
The second card from the collection features Lando playing Sabacc!
Oh hey, it's @donaldglover. … Card No. 2 in the Countdown to Solo is available now for just 24 hours: https://t.co/BnJJ1oko8q #Lando pic.twitter.com/GL60ZkXQfA

— Topps Company (@Topps) April 24, 2018
The third card from the countdown has been released and it features the Corellian gang leader Moloch:
The fourth card is very interesting as well. It features both Val and Beckett wearing mud trooper uniforms on Mimban.
A few days ago we shared with you some cool bios about the main characters from Solo, and Val's description revealed that she will be on Mimban with Becket, trying to steal something:
Measured and methodical, she is a crack shot with a blaster rifle, and the most even-headed and capable member of the ragtag gang of rogues Beckett has recruited to undertake a foolhardly escapade in search of riches on the muddy battlefields of Mimban.
Based on what we know from some of the toys, it's not crazy to speculate that Beckett is on Mimban with his crew, trying to steal something. This is when he meets Han – a real mud trooper who recently signed as one, and who finds himself in prison with a familiar Wookiee. Han and Chewie decide to help the outlaws, winning their freedom this way. Again, this is just a speculation.
Topps has released two more cards from the countdown to the Solo: A Star Wars Story collection. The Fifth Card from the countdown features a closer look at Paul Bettany as crime boss Dryden Vos: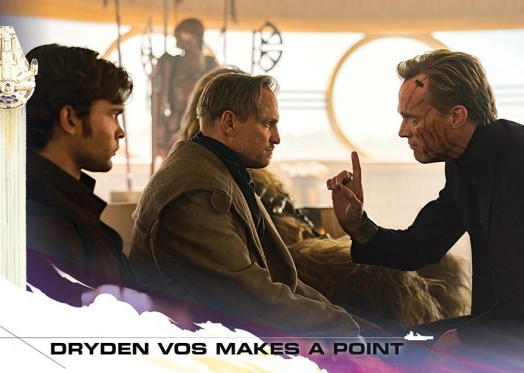 Also, on the heels of the recent "Becoming Solo" featurette for the spinoff film, Topps has debuted the sixth trading card which give us fresh look at two of the films main heroes, Tobias Beckett having a word with Han Solo:
The Beckett and Solo image is one of the most interesting and specialized of the cards released so far. According to techniques used in popular culture, a warrior's most vulnerable area is his back, and by putting their backs together, the warriors can eliminate this disadvantage and turn it into an advantage. Now, as cool as these two look together fighting back-to-back, you just have to wonder what the intentions of Beckett are and whether or not he ends up being a hero or villain. Will Beckett turn on Han in the film? The answer is coming in just a few weeks time.
The seventh card shows Han and Lando fighting their way through the planet Kessel, just before Han makes the infamous Kessel Run.
Topps has released the eighth 'Countdown to Solo: A Star Wars Story' trading card which give us a closer look at the character Val, played by Thandie Newton. Fan theories suggest that Val is an undercover Imperial agent. What do you think?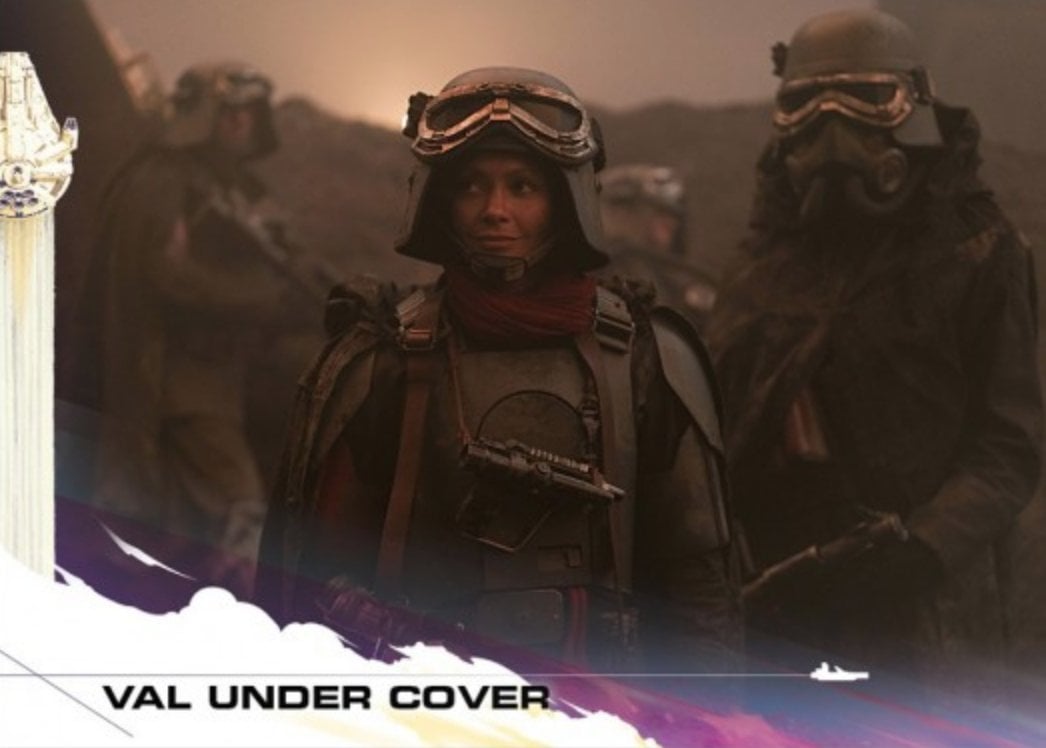 The ninth card in the series features two characters that are shrouded in mystery, Dryden Vos (portrayed by Paul Bettany) and Qi'ra's (portrayed by Emilia Clarke). Here we see Qi'ra and Vos  talking like their rather familiar to one another.
Topps has released the tenth 'Countdown to Solo: A Star Wars Story' trading card which give us a closer look at the conversation between Han and Beckett, played by Woody Harrelson. Fan theories suggest that Beckett is Han's mentor. What do you think?
The eleventh card shows Beckett sharing some word of advice to Chewbacca on the Millennium Falcon.
More later….