First Solo: A Star Wars Story Spoiler Free Reactions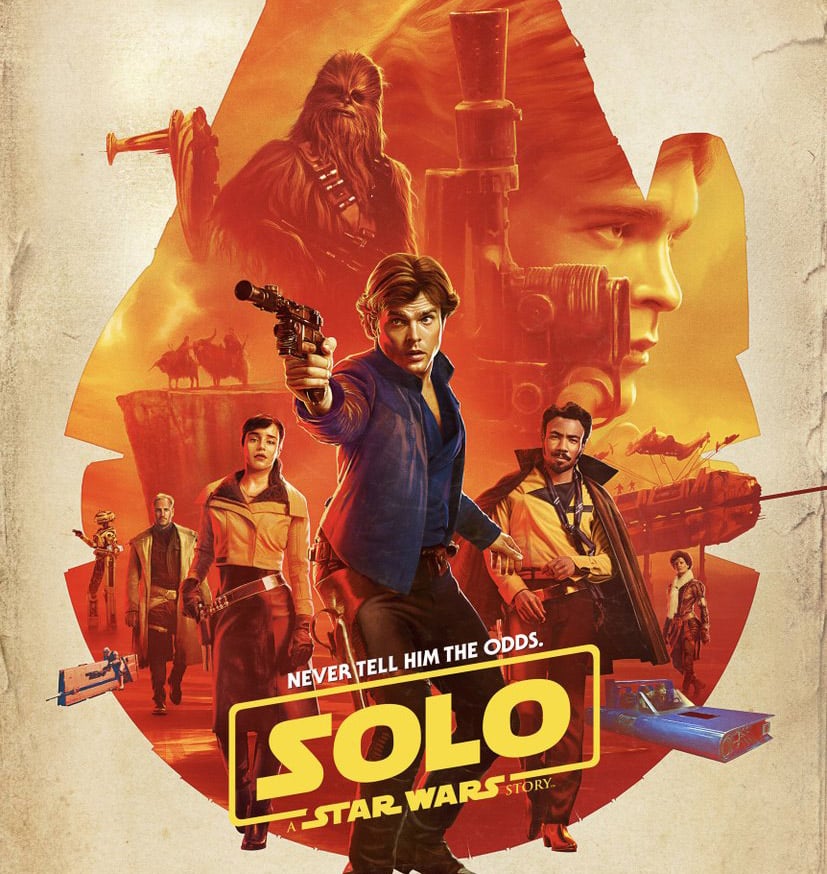 So far, early buzz for Solo: A Star Wars Story has been almost unanimously positive after its first screening yesterday. Check out several key reactions below!
Overall, the initial reactions to the film have indeed been very positive, but it remains to be seen if the opinion of the critics will match that of the general audience or the most passionate of fans. While most comments about the movie thus far have been glowing, others are more reserved in their praise for the movie.
The consensus seems to be that Alden Ehrenreich was able to pull off a young Han Solo in a manner that's either fine or pretty great (depending on who you ask), while the ensemble is just as good if not better. The performances of Donald Glover and Joonas Suotamo as Lando and Chewbacca, along with Phoebe Waller-Bridge as L3-37, all seem to be fan-favorite standouts. There are also criticisms of the movie's pacing in the first 30 minutes or so, but the remainder of the film picks up significantly (as that's when Lando and L3 enter the picture).
While the movie is said to go through a number of expected story points (like Han winning the Millennium Falcon and the ship making the Kessel Run), they seem to unfold in unexpected ways. There's also, apparently, a major jaw-dropping plot twist that absolutely no one was expecting or speculating about prior to the film's release. But above all else, one thing that everyone seems to agree on is that the movie is a lot of fun from start to finish.
Here are some of the impressions with no real spoilers from the movie:
More #Solo thoughts: Alden Ehrenreich doesn't remind me of Harrison Ford. He reminds me of Jack Nicholson if he's been cast as the smuggler in the original Star Wars. Wiseass. Easily scared. Bigger heart than he'd like. Jake Gittes of the galaxy. pic.twitter.com/gyAloWVmhM

— Anthony Breznican (@Breznican) May 11, 2018
Last thoughts: True surprises. 🤐 Especially Emilia Clarke's Qi'ra and Phoebe Waller-Bridges L3. Not what I expected from them, and unexpected is always welcome. pic.twitter.com/uwtsYtrvhu

— Anthony Breznican (@Breznican) May 11, 2018
#Solo MVP: @JoonasSuotamo, who somehow radiates the soul of Chewbacca from beneath all that fur. pic.twitter.com/zCthMreJ5h

— Anthony Breznican (@Breznican) May 11, 2018
There are things you simply won't believe until you see and hear them, and even then… wow… #hansolo

— Bryan Young (@swankmotron) May 11, 2018
I figured if @DisneyStudios was willing to show 'Solo: A Star Wars Story' a few weeks before release it must be good and it absolutely is. Film is a blast and a welcome addition to the Star Wars universe. @RealRonHoward you did a great job. Congrats. pic.twitter.com/1pkWH2y6qE

— Steven Weintraub (@colliderfrosty) May 11, 2018
Thought there is a lot of fun to be had with Solo but I was definitely disappointed. I'm sorry guys! But it seems like there are TONS who loved it. I'm only one opinion.

— Kristian Harloff (@KristianHarloff) May 11, 2018
#Solo feels surprisingly unlike any Star Wars movie before, yet perfectly captures the tone, adventure, characters and humor of the #StarWars franchise. Also, I need a Lando movie in my life.

— Peter Sciretta (@slashfilm) May 11, 2018
Solo: A Star Wars Story is a goddamn delight. It's a non-stop adventure packed with way more emotion than your expecting. You'll have a smile on your face the whole time and leave eager for more. pic.twitter.com/fOsF7Tr95L

— Germain Lussier (@GermainLussier) May 11, 2018
Boom. #SoloAStarWarsStory Loved it. Stay off the internet! Avoid spoilers! Great job @RealRonHoward and cast!

— Clayton Sandell (@Clayton_Sandell) May 11, 2018
I don't want to add too much more — review on Tuesday, y'all — but feel remiss to not add that Donald Glover is a delightful Lando and no one should sleep on what Phoebe Waller-Bridge does as his beloved droid. Solid supporting cast all around, but they are highlights.

— Kate Erbland (@katerbland) May 11, 2018
It does take a bit to get used to Alden as Han, but after 30 minutes or so your brain adjusts. (Also I've now finally seen Clint Howard in a Star Wars movie.) #soloastarwarsstory

— Mike Ryan (@mikeryan) May 11, 2018
Alden Ehrenreich is the real deal, Thandie Newton is who I want to be when I grow up, and Phoebe Waller-Bridge's L3… well we'll talk about that later. 😃 #SoloAStarWarsStory

— Angie J. Han (@ajhan) May 11, 2018
I loved #SoloAStarWarsStory so much. It's a western. A caper. Funny with so much heart. It's got so much surprises that fans are going to love. Donald Glover is charming x1000. Alden Ehrenreich is a great #HanSolo and just know I've been saying this for years! Fave new #StarWars.

— Michelle Buchman (@michelledeidre) May 11, 2018
ALDEN EHRENREREICH IS HAN SOLO! The movie is an absolute blast to hyperspace! #SoloPremiere #SoloAStarWarsStory #Solomovie

— Umberto Gonzalez (@elmayimbe) May 11, 2018
There's some fun to be had with #SoloAStarWarsStory. Ehrenreich was solid and really enjoyed Glover and Waller-Bridge as L3, but not convinced we needed a young Han Solo movie. Was really hoping for higher stakes, more energy and depth.

— Perri Nemiroff (@PNemiroff) May 11, 2018
Up until a few weeks ago, people were worried that Deadpool 2 might steal this movie's thunder, but it looks like the wisecracking mercenary and his team of Mutants might have been outclassed by Solo. It still seems weird to us that they moved that movie's date to go between this and Avengers: Infinity War. (A good portion of you are probably going to catch both, so it's just as well.) We're sure to hear more reactions when the film is screened at Cannes in a few weeks, and reviews should arrive around that time as well, but as it stands, it sounds like they actually pulled this off — over budget, but on time and having delivered the goods.