The Resistance Broadcast – Talking Star Wars With the Black Series Rebels!
In this episode we talk about Awesome Con (an event our own Lacey helped organize), including John Boyega talking about Daisy Ridley and their characters reuniting in Episode IX! We also talk about Solo: A Star Wars Story!
We RUNDOWN: Enfys Nest is a female and other exclusive details we received about the character, Jabba's sail barge met its goal at Hasbro's HASLAB, scoring for Solo is finished, and as always we answer YOUR questions in #AskTheResistance!
Our special guests the Black Series Rebels' LIVE taping of their show in Los Angeles is out now! We have the episode posted below, check it out!
On this transmission of The Resistance Broadcast: John Hoey, James Baney, Lacey Gilleran, and our special guests @BlkSeriesRebels!
Be sure to subscribe to our YouTube channel or follow us on Soundcloud so you are alerted when new episodes post! If these formats aren't your thing, subscribe to us here on iTunes!
Our special guests Alex Backes and Stephen Ellis, the Black Series Rebels LIVE show!
Star Wars March Madness COOLEST character tournament is over and Darth Vader is the winner! We also have a winner for the bracket challenge – Matt Hossan who wins a Resistance Broadcast T-shirt of his choice.
If you would like to submit questions for the show you can tweet at us on our Twitter account @RBatSWNN, message us on the Cantina Forum in the questions and comments thread, or send an email to resistancebroadcast@gmail.com. As always, let us know if you have any episode feedback so we can make sure these episodes get better every week. Your support and comments are highly appreciated! If messaging us on Twitter, make sure to include #AskTheResistance so we can access your questions directly every week.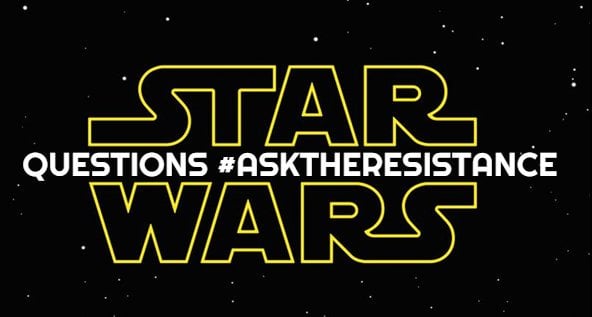 Stop by our merchandise store over at TeePublic to pick up some Resistance Broadcast SWAG, like Han Solo in headphones! It is truly the best way to support the show!
Special thanks to Matt Pasterick for our theme song!
John Hoey is the Lead Editor and Senior Writer for Star Wars News Net and the host of The Resistance Broadcast podcast
"For my ally is the Force, and a powerful ally it is."