The Resistance Broadcast – Alden's Contract Leaves Door Open for More Solo But Will Lucasfilm Make Them?
In this episode we discuss the new details about Dryden Vos, one of the presumed villains in Solo: A Star Wars Story, as well as the latest promo material for the film, and applying true perspective on the fact that Alden Ehrenreich was signed to multiple films.
We RUNDOWN several other news items like the new animated series Star Wars: Resistance (no we have nothing to do with it unfortunately) and switch things up this week by doing our segment where YOU are the voice in #ResistanceTransmissions!
Alden's Contract Leaves Door Open for More Solo But Will Lucasfilm Make Them?
On this transmission of The Resistance Broadcast: John Hoey, James Baney, and Lacey Gilleran!
Be sure to subscribe to our YouTube channel or follow us on Soundcloud so you are alerted when new episodes post! If these formats aren't your thing, subscribe to us here on iTunes!
ASK THE RESISTANCE!
Although we didn't answer questions on this episode, we'll be back at it next Monday! If you would like to submit questions for the show you can tweet at us on our Twitter account @RBatSWNN, message us on the Cantina Forum in the questions and comments thread, or send an email to resistancebroadcast@gmail.com. Your support and comments are highly appreciated and you always make the show more fun! If messaging us on Twitter, make sure to include #AskTheResistance so we can access your questions directly every week.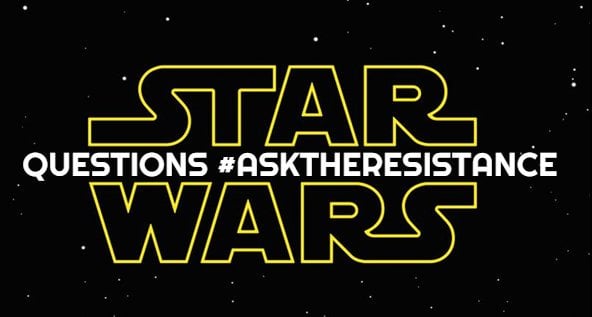 Support The Resistance and Get Yourself Some SWAG!
Check out our store over at TeePublic and pick up some Resistance Broadcast gear! Fly FALCON AIRLINES with your Captain Lando Calrissian, but remember, you might want to buckle up baby!
NEW shirt! Come fly FALCON AIRLINES! "You might want to buckle up baby!"

Get yours today on SALE for 30% off right here on our TeePublic store! #StarWars #Podcast #Lando #SoloAStarWarsStory https://t.co/a7GRBd5Cby pic.twitter.com/7IEQvDgDdj

— The Resistance Broadcast (@RBatSWNN) April 19, 2018
Special thanks to Matt Pasterick for our theme song!