Celebrate a New Era in the Rich History of Star Wars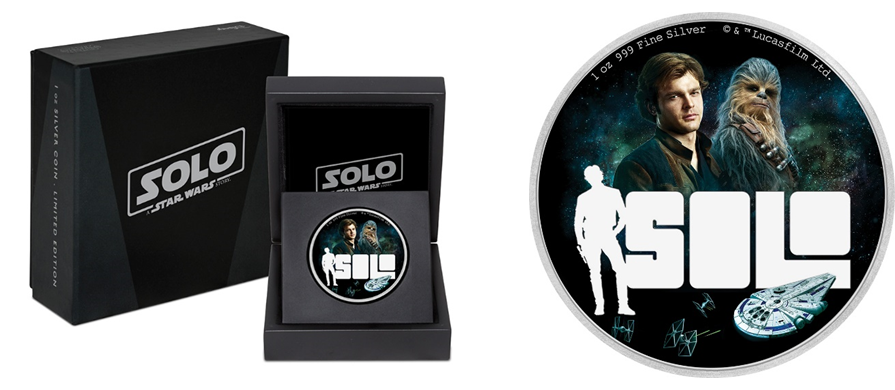 With the upcoming release of Solo: A Star Was Story in May the epic continues to grow and expand, exploring characters and events beyond the core Star Wars saga to enrich the entire mythology. New Zealand Mint are a part of this launch with a new, officially licensed 1oz fine silver coin.
The coin cleverly combines engraving and colour to create a stunning souvenir. It features key characters: the young Han Solo, his loyal co-pilot Chewbacca and their legendary ship, the Millennium Falcon.
This new space fantasy, filled with humour following the grand Star Wars spirit, explores Han Solo's story before the events of Star Wars: A New Hope. The movie takes us on a journey through the adventure-filled past of the iconic scoundrel and everyone's favourite Wookiee.
This unique memento will arrive in a quality Star Wars branded box. The coin itself is housed in a sleek coin case which also contains the coin's Certificate of Authenticity, themed to match. A bonus for any keepsake.
Bold, new and exciting this movie is set to thrill a new generation of fans, so make sure you get your piece of memorabilia – with only 10,000 available worldwide they could be gone in a parsec!
If you are keen to be one of the first to hear about Star Wars precious metal products from New Zealand Mint, you can find them on Facebook, Twitter or sign up here to get Star Wars product news emailed directly to your inbox!