The Resistance Broadcast – Star Wars Episode IX: Evidence Shows Trevorrow's Ideas Are Likely Gone
In this episode we start putting the pieces together, further pointing us to Colin Trevorrow's Episode IX ideas being completely discarded!
We also talk about the results of Round 2 of our Star Wars March Madness COOLEST character tournament, give our take on the new batch of Forces of Destiny episodes, and speculate briefly on the production timeline for Rian Johnson's new trilogy;
We RUNDOWN: Spielberg's Ready Player One Star Wars Easter eggs, The Last Jedi comes out TOMORROW on Blu-ray after winning 5 Empire Awards, and as always we answer YOUR questions in #AskTheResistance!
On this transmission of The Resistance Broadcast: John Hoey, James Baney, Bill Sheehy, and our newest member Lacey Gilleran!
Be sure to subscribe to our YouTube channel or follow us on Soundcloud so you are alerted when new episodes post! If these formats aren't your thing, subscribe to us here on iTunes!
If you would like to submit questions for the show you can tweet at us on our Twitter account @RBatSWNN, message us on the Cantina Forum in the questions and comments thread, or send an email to resistancebroadcast@gmail.com. As always, let us know if you have any episode feedback so we can make sure these episodes get better every week. Your support and comments are highly appreciated! If messaging us on Twitter, make sure to include #AskTheResistance so we can access your questions directly every week.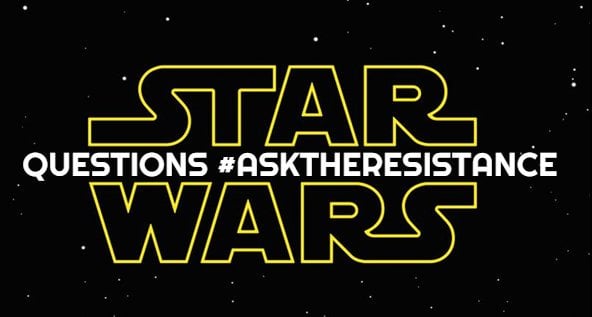 Stop by our merchandise store over at TeePublic to pick up some Resistance Broadcast SWAG! It is truly the best way to support the show! It is the return of ALL of our character shirts permanently, including the Supreme Leader!
Special thanks to Matt Pasterick for our theme song!