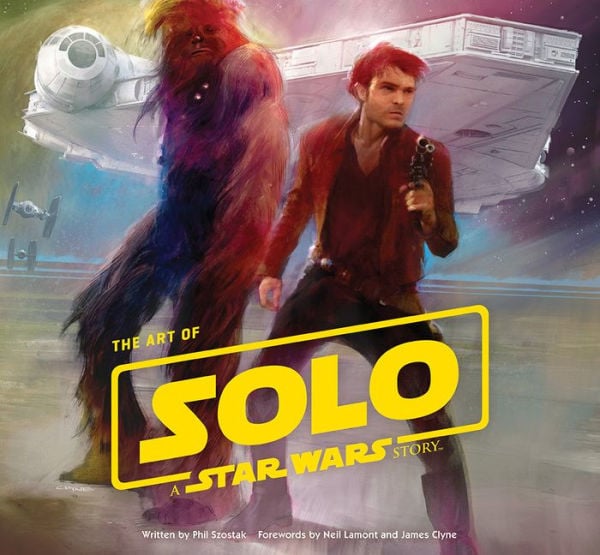 Last year, Phil Szostak showed us concept art, costume sketches, storyboards, and blueprints that gave us a "behind the scenes" look into the characters, weapon, worlds, aliens, and creatures of Star Wars: The Last Jedi. His book "The Art of Star Wars: The Last Jedi" was among the most popular, selling a multitude of copies worldwide. Phil's upcoming book titled "The Art of Solo: A Star Wars Story" does not hit shelves until May 25, but the author has already begun sharing details about the process of what goes into making it and his other "Art of" books. Read on for more!

Creative Art Manager and author Phil Szostak took to Twitter Sunday to share the process for making his 'Art of Star Wars' books with his fans, especially those who are interested into how things work creatively over at Lucasfilm.
"Been thinking about doing a step-by-step thread on my process for making an Art of #StarWars book for a while," he tweeted. "partly just to give you guys a glimpse into how things work creatively at #Lucasfilm more generally. So away we go…"
Phil has worked with the Star Wars art departments for almost a decade. His books explore filmmakers' visions and illuminates their creative process. Here are some of the things he discussed on Twitter:
1. Introduction: The first thing I think about (& finish writing) is my intro, an opportunity to express my own thoughts about the themes of the film & how they connect to the artistic process. The intro is both my favorite and the most difficult part of crafting these books.

— Phil Szostak (@PhilSzostak) March 4, 2018
2. Structure: I try to make each "art of" book different & themed to the film. The total page count is always the same. So I figure out what I want each chapter to cover and then do the math for a rough sense of how much room per topic I have. pic.twitter.com/FC8mdQ2ix5

— Phil Szostak (@PhilSzostak) March 4, 2018
@ABRAMSbooks' Art of #TheForceAwakens moved chronologically thru production, partly to connect back to the prequel "art of" books & because its 3-year artistic evolution seemed the most fascinating story to tell. @Kushins' Art of #RogueOne marched world-to-world thru the film. pic.twitter.com/ro9GbxGbrx

— Phil Szostak (@PhilSzostak) March 4, 2018
I decided to structure The Art of #TheLastJedi as "character journeys", starting with Luke's life on the island pre-Rey & then going character to character, in order of prominence & how they intersect until they all converge on Crait. Structure is always left completely up to me. pic.twitter.com/xcJo6zsmgJ

— Phil Szostak (@PhilSzostak) March 4, 2018
3. Interviews & transcription: Who I interview & setting up the interviews is also left up to me. Some are conducted by phone, others by email but the best (& easiest to transcribe) are in-person. They are at least an hour long & sometimes more than one interview is required. pic.twitter.com/ZC5x3Z2I9U

— Phil Szostak (@PhilSzostak) March 4, 2018
I record each interviews on a little digital recorder and, for security's sake, transcribe them myself, the most time-consuming & laborious part of the process. 1 hour of interview = 6+ hours of transcribing. I usually conduct 20ish interviews per book. pic.twitter.com/OzDfJ9bAhz

— Phil Szostak (@PhilSzostak) March 4, 2018
Though laborious, transcribing the interviews myself does cement the information into my head, making writing the manuscript a lot easier. Every year, I get to travel to @PinewoodStudios to conduct whatever interviews I can squeeze into a couple of days on set. pic.twitter.com/X3F27NsKbD

— Phil Szostak (@PhilSzostak) March 4, 2018
For The Art of #SoloAStarWarsStory, I interviewed maybe 6 folks in Pinewood's offices, touring the sets in-between appointments, including witnessing the filming of an action scene. Easily the coolest set I toured was the Falcon interior, which is smaller than you might think. pic.twitter.com/fYOOwTJoZn

— Phil Szostak (@PhilSzostak) March 4, 2018
Phil said he will continue his in depth look at "some point in the future starting with step #4, gathering the concept art!" We'll be sure to keep you updated, so stay tuned to SWNN for more information as this progresses.
The Art of Solo: A Star Wars Story hit stores May 25th. The book is currently available for pre-order via: AMAZON
May the force be with you….
Click HERE to check out and comment on this topic in our forum The Cantina