Fulfill Your Destiny: The Last Jedi Trailer Is Here!
The wait is over, the full trailer for The Last Jedi is here! We will do a full breakdown/speculation piece later, but for now here is the trailer, the theatrical poster we showed you earlier, and a historical trailer perspective to keep in mind!
THE LAST JEDI TRAILER:
THE LAST JEDI THEATRICAL POSTER: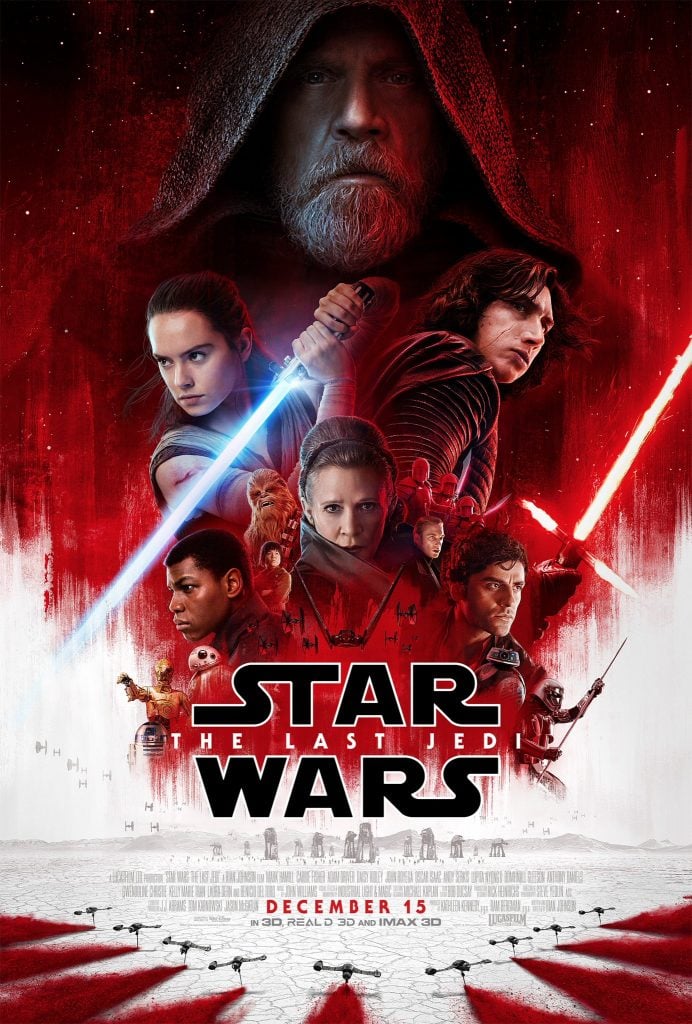 The tone of this poster is clearly dark, as expected with the second part of a trilogy (or three act story), and it is continuing the recurring red color theme as well.
KEEP IN MIND THE POTENTIAL FOR MISDIRECTION
We should remember that the full trailer for The Force Awakens had a lot of misdirection in addition to dialogue that wound up not being used in the film. As a refresher here is a list of what we saw in The Force Awakens trailer that was either blatant misdirection or simply not included in the final version of the film:
Both series of dialogue that started and ended the trailer were not included in the film, between Maz Kanata and Rey:

Maz Kanata's dialogue to Rey to start the trailer: "Who are you?", with Rey's response, "I'm no one."
Maz's final line of the trailer: "The Force, it's calling to you…just let it in."
Han Solo saying "the Jedi" over a panning shot of Finn and Finn alone, inferring he would become the next Jedi, which was an obvious red herring that turned out to be inaccurate.
Maz Kanata handing the Skywalker lightsaber to Leia, also not in the film.
The only reason I am bringing this up is to remind you that while this time around the trailer may very well be be more on target and at face-value, we could be witnessing some more misdirection.
What did you think of the trailer? Do you think there is some misdirection like the one for The Force Awakens? We are a little over two months away from the release of The Last Jedi, be sure to get your tickets which will be going on sale now, and we look forward to continuing the discussion about this trailer and the film itself in the final days before its release!
You can find me on Twitter balancing the light and darkness at @JohnnyHoey and we will do a full deep dive breakdown on this on the next episode of The Resistance Broadcast, you can find us on Twitter @RBatSWNN
"For my ally is the Force, and a powerful ally it is."
John Hoey is the Lead Editor and Senior Writer for Star Wars News Net and the host of The Resistance Broadcast podcast
"For my ally is the Force, and a powerful ally it is."