Star Wars Weekly Buzz: New The Last Jedi Coverage from Empire Imminent? Mark Hamill, Adam Driver and John Boyega Interviews, and Toys, Lots of Toys!
Because of the Force Friday II event tomorrow, we are posting our Weekly Buzz piece today.
This week on the Weekly Buzz: Empire Magazine teases some upcoming Star Wars content; Mark Hamill talks Luke Skywalker in The Last Jedi; New interviews with Adam Driver and John Boyega; New photo of Rey on Ahch-to; Benicio Del Toro's character DJ gets a Funko Pop figure; Another look at Chewie and the porgs; Hasbro's new Forcelink gadget reveals new lines of Supreme Leader Snoke, possibly from The Last Jedi; The latest from Pablo Hidalgo and Rian Johnson, and …. toys. Lots of toys.
First we start with this curious tweet by Empire Magazine:
Coming soon, to a galaxy not too far away… pic.twitter.com/mxtAG91w4Y

— Empire Magazine (@empiremagazine) August 31, 2017
Remember that Empire's first coverage on Rogue One happened in August 2016 (here), so we're assuming that in the following days we will get their new and exclusive story on The Last Jedi. Or could this be just some Force Friday II trick? We will have to wait and see.

In a new interview with The Associated Press, Mark Hamill briefly talked about Luke Skywalker's backstory in The Last Jedi, and his feelings about making a Star Wars movie without Carrie Fisher.
AP: Did this feel like a different Luke to you? It sounds as though this is a darker version of the character that may be unfamiliar to fans and even to you.

Hamill: Absolutely. Luke changed, I think, more than the other characters in the original trilogy, from callow farm boy to a Jedi in training to finally a Jedi master. What you're talking about is what really fascinated me. Between "Return of the Jedi" and "Force Awakens," there's just decades of history that's unknown. So I was wondering how they're going to handle all this. Now, obviously, with "Force Awakens," J.J. (Abrams) had a full plate. It was inevitable that they would push me down the line. I was sorry I wasn't able to work with any of the original actors again. But it's not about us anymore. In this new one, I was saying to Rian Johnson: I need to know my backstory. It was kind of unclear. You read where he is now and what he's doing now and sort of have to fill in the blanks for yourself. So I did do a backstory myself. It's not about Luke anymore, so it's not really important. But I had to make sense of it for myself. What Rian came up with, I was stunned.
AP: Does it feel different to be putting out a "Star Wars" movie without Carrie Fisher, who died in December, and Harrison Ford, who exited with "Force Awakens"?

Hamill: It is different. She was irreplaceable. There can never be a proper reunion anymore. It's tragic. I hate that it adds an air of melancholy to the film because it doesn't deserve it. I know for a fact she would obviously want us to be having fun. She was all about laughter and enjoying the moment. We're all sort of having this communal period of grief. In a way, it sort of reflects the movies themselves, which were about triumphs and tragedies. They are about a family — a dysfunctional family, but a family nonetheless.
The interview also revealed a little known fact about Hamill. He briefly worked as a copyboy at the AP's Los Angeles office while he was at college.
You can read the whole interview here.
And this tweet by Mark doesn't really need a comment…
She will always be with us. #MiddleFingerFriday pic.twitter.com/JHfSIRm8n0

— Mark Hamill (@HamillHimself) August 25, 2017
A few days ago Adam Driver and John Boyega did two interviews sharing a few tidbits about The Last Jedi. Check them out below:
A new photo of Rey on Ahch-To from The Last Jedi has been revealed by Yahoo Movies in their Fall Movie Preview:
#StarWars fans! We have an exclusive new photo from #TheLastJedi in our Fall Movie Preview. More here: https://t.co/5CoTFYNu6X pic.twitter.com/C3oi5HjyB3

— Yahoo Movies (@YahooMovies) August 29, 2017
Del Rey has revealed the title page and the full cover jacket for the new novel Phasma, written by Delilah S. Dawson. The book is officially released tomorrow.
The morning dawns, #Phasma is near. #ForceFriday comes at midnight. Here's a little peek inside at the title page. pic.twitter.com/SkuirgZM3X

— Star Wars Books (@DelReyStarWars) August 31, 2017
Well, hello Cardinal. See the full cover jacket for #Phasma pic.twitter.com/D4ofU5v53z

— Star Wars Books (@DelReyStarWars) August 24, 2017
Force Friday is almost here. It's time for the toys dump. 🙂
These are just a selection of the all-new Star Wars: #TheLastJedi products available from Friday at 00:01AM #ForceFridayII pic.twitter.com/ZLsZO7aHyr

— Star Wars UK (@StarWarsUK) August 31, 2017
Which of these new #TheLastJedi toys, available from midnight, would you rather own? Join in with #ForceFridayII at https://t.co/muvW7o3QE1 pic.twitter.com/ktr1IjiLKW

— Star Wars UK (@StarWarsUK) August 31, 2017
LEGO has just unveiled their new mega Star Wars set, consisting of 7541 pieces – the UCS Millennium Falcon!!!
At 7,541 pieces, the new #LEGOStarWars UCS Millennium Falcon just might make the Kessel Run in less than 12 parsecs. 😯 @starwars pic.twitter.com/52kwQXWSIj

— LEGO (@LEGO_Group) August 31, 2017
You can read more about it at USA Today.
Although pretty much all of the new Hasbro figures for Force Friday II have leaked, here's an official look at all of them thanks to Entertainment Weekly. Click here.
Also io9 has an exclusive look at some new (some already leaked) Black Series figures by Hasbro. Check them out here.
And more "official" revelations of Hasbro toys by THR (click here). The most interesting piece here is the Black Series Admiral Ackbar from The Last Jedi (see photo above).
Also check out Tamashii Nashions awesome figures from The Last Jedi here.
Any Funko Pop fans?
Coming Soon: Star Wars – The Last Jedi! https://t.co/zXvKMA9OQw pic.twitter.com/sSlxPzQFLT

— Funko (@OriginalFunko) August 31, 2017
New video with the BB-8 Mega Playset reveals several lines from Supreme Leader Snoke that might find their way in The Last Jedi or remain in the merchandise world:
Here's a transcription via reddit member SPACEMONKEY_01:
"There's been an awakening."

"We will crush them once and for all."

"The resistance will soon be in our grasp."

Woosh sounds, Could be Force related??

"For you, all is lost."

"Your emotions have made you weak."

(Next to the throne platform with FL) "I have been expecting you."
It's curious that the Praetorian Guard didn't get any lines, just sounds.
The guys from the Instagram account NewsFromJakku shared another interesting image of Chewie with some porgs. The same art has also been spotted on some new The Last Jedi t-shirts.
And another cool promo image from The Last Jedi probably coming from some merchandise products:
First look at Benicio del Toro's character DJ from The Last Jedi in Funko Pop form:
According 2 users on May The Funko Be With You Facebook, he was spotted n a GameStop in Ireland #Funko #ForceFridayII #StarWars #TheLastJedi pic.twitter.com/BK8JGN6D82

— Funko Pop! Therapy (@FunkoPopTherapy) August 30, 2017
Sphero assembles their droid line for Star Wars, featuring the new First Order BB unit:
All the personality. 3 little droids. These are the droids you're looking for. https://t.co/g09Qicgczf #ForceFriday #SpheroDroids pic.twitter.com/Bv9BXFAl9j

— Sphero (@Sphero) August 31, 2017
More toys give us a much closer look at the outfits of the new A-Wing Resistance pilots and the Canto Bight Police Department officers:
New Shots of Canto Bight Officer and Resistance A-Wing Pilot from StarWarsLeaks
Not that we needed any more confirmation, but Rey's Black Series figure seems to confirm that Luke Skywalker is indeed the last Jedi in The Last Jedi. 🙂
At long last, Rey has found Luke Skywalker, the last Jedi Master in the galaxy. Hoping to find a hero of legend, she must unlearn what she has learned as Skywalker challenges her expectations.
Yakface has compiled yet another great unofficial toy checklist for this year's Force Friday II event. It must be pretty accurate so make sure to check it out:
Our Force Friday 2 Unofficial Product Checklist is now available for download https://t.co/Jol9okuGKw #hasbro #ForceFriday #FindTheForce pic.twitter.com/0NdW0lFC34

— Yakface (@yak_face) August 31, 2017
For all the fans of the game Star Wars: Galaxy of Heroes, EA announced a new feature called Territory Battles, which delivers dynamic challenges and rewards for your entire guild. Check out the new trailer:
Now that Star Wars: Rebels season 3 is officially released on Blu-ray and DVD, the official site shared some of the exclusive clips we've been seeing in the past few weeks on their YouTube page. You can check them out below in case you missed some of them.
The latest from Pablo Hidalgo:
@pablohidalgo and I, Guardians of the Whills for Untitled HS. photo credit: @RealRonHoward pic.twitter.com/z23xGWE4yt

— Jon Kasdan (@JonKasdan) August 25, 2017
Watching some #StarWarsRebels bonus material in the Season 3 Blu-ray. Plenty of Season 4 teases in it too.

— Pablo Hidalgo (@pablohidalgo) August 31, 2017
Here they are exploding into action! Beyond this… let's see what happens. pic.twitter.com/zyLj41dPLw

— Pablo Hidalgo (@pablohidalgo) August 31, 2017
Just drew the Gray Jedi logo while on hold for a call. pic.twitter.com/wO0YpFDHSr

— Pablo Hidalgo (@pablohidalgo) August 30, 2017
He doesn't claim to be a Jedi.

— Pablo Hidalgo (@pablohidalgo) August 30, 2017
Do you think Kanan agreed with Bendu's ethos by the end of Season 3?

— Pablo Hidalgo (@pablohidalgo) August 30, 2017
My preference is to keep Earth's galaxy far away and a long time from the Star Wars one.

— Pablo Hidalgo (@pablohidalgo) August 29, 2017
Not really. Both galaxies have humans, after all. They also both have these turd apes or whatever he is.

— Pablo Hidalgo (@pablohidalgo) August 30, 2017
Because they look cool. That's reason enough in Star Wars. 🙂

— Pablo Hidalgo (@pablohidalgo) August 29, 2017
Unknown, or so the story goes. They've been around for so long, no one's quite sure.

— Pablo Hidalgo (@pablohidalgo) August 29, 2017
Some books said yes. Others said no.

— Pablo Hidalgo (@pablohidalgo) August 30, 2017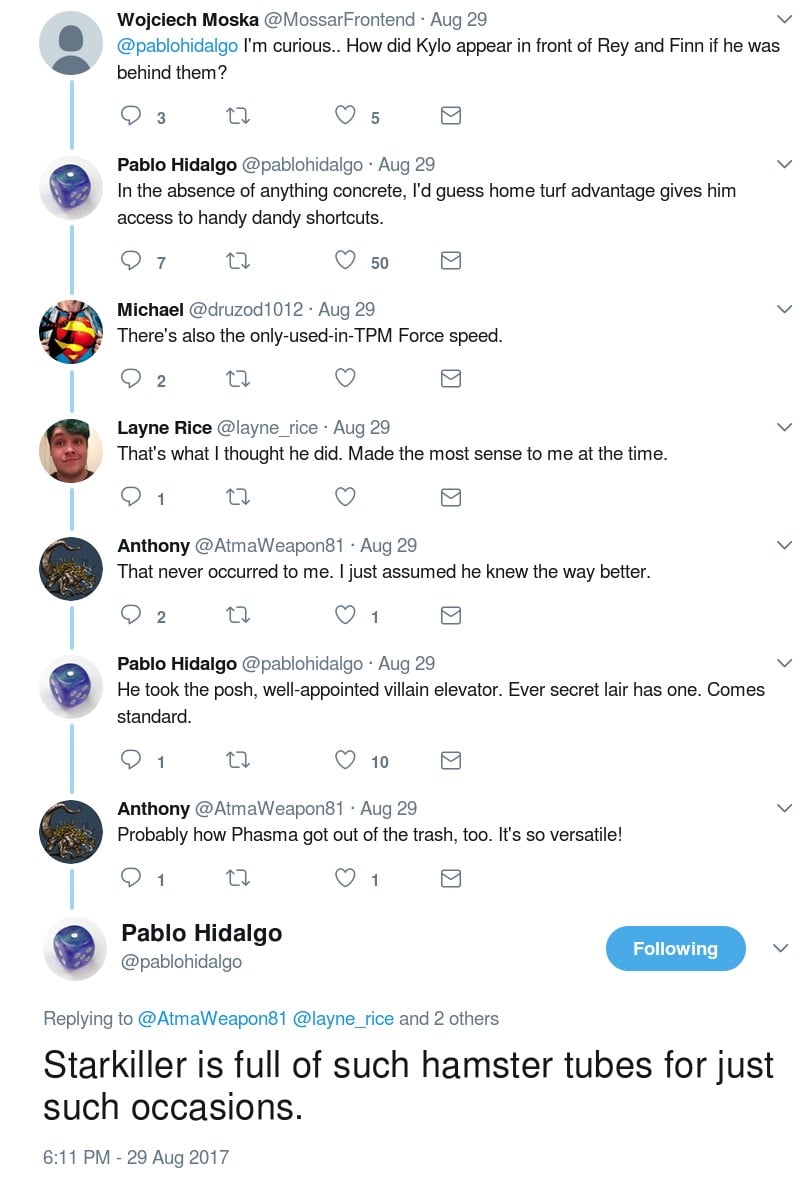 Nope. Poe's replacement droid wasn't a BB in The Force Awakens, for example.

— Pablo Hidalgo (@pablohidalgo) August 29, 2017
Interesting pick. All *except* Heir to the Jedi. It was a holdover title started in EU that at least got a line edit.

— Pablo Hidalgo (@pablohidalgo) August 28, 2017
Yep. pic.twitter.com/Y9wk6tlNWW

— Pablo Hidalgo (@pablohidalgo) August 27, 2017
Yep, but that scene ended up being cut and George changed his mind about such things when working on The Clone Wars.

— Pablo Hidalgo (@pablohidalgo) August 27, 2017
It's up to the authors to name their characters.

— Pablo Hidalgo (@pablohidalgo) August 26, 2017
The shied gate in Rogue One was originally a docking station for Star Destroyers. We all just called it the pizza.

— Pablo Hidalgo (@pablohidalgo) August 24, 2017
@pablohidalgo Have you ever followed @colintrevorrow on Twitter?

— KΞNobi (@KenobiHall) August 26, 2017
Unnecessary. I follow @pablohidalgo in real life. https://t.co/iK8bCd7D6r

— Colin Trevorrow (@colintrevorrow) August 27, 2017
And last but not least some cool bits from Rian Johnson:
Nah, unless seeing what characters & ships look like count, we were careful to make sure the toys & toy marketing don't spoil anything.

— Rian Johnson (@rianjohnson) August 31, 2017
Poll answer:
Empire – 42 wipe transitions!
A New Hope – 31
TFA had just 14 https://t.co/l87EVGnKYf

— Rian Johnson (@rianjohnson) August 25, 2017
The most wipe transitions in a SW movie was Ep 1, with 55.

To my eternal shame, The Last Jedi is bringing up the rear with a measly 12.

— Rian Johnson (@rianjohnson) August 25, 2017