Star Wars Battlefront II: Inferno Squad Audiobook Will Be Narrated By Janina Gavankar!
The cat's out of the bag – Christie Golden's Star Wars Battlefront II tie-in novel Inferno Squad will be narrated by Janina Gavankar, the actress who portrays protagonist Iden Versio in the game's campaign.
Word first got out on Jedi-Bibliothek that the actress would be handling the voice-over for the audiobook:
This is not a drill: @Janina Gavankar will be reading the audiobook for BATTLEFRONT II: INFERNO SQUAD!

— Florian (@germanjedi) June 10, 2017
Naturally, word spread quickly on the Star Wars blogosphere and this got the attention of Ms. Gavankar herself:
Secret is out? I can talk about this now?? Tis truuue!!!! 😁And Ms. @ChristieGolden has me so emotional with this backstory. https://t.co/FdyzVvV3b2

— janina gavankar (@Janina) June 11, 2017

Letting a previous voice actress reprise her role to narrate an audiobook is a pretty neat touch that Lucasfilm Licensing has dabbled in previously – after all, Ashley Eckstein did got to do the same for the Ahsoka novel. We look forward to hearing Gavankar get into her role for a second time (although, release-wise, this will be the first thing that she's done).
The Inferno Squad novel covers the immediate aftermath of the events of Rogue One and A New Hope – following the Rebellion's triumph against the Death Star, the Empire is out for blood and is targeting the last remnants of the Partisans in order to weaken the growing insurrection against the Empire. To do this, they enlist the newly-created task force known as Inferno Squad to take down the extremists. The audiobook will only be available as a digital download.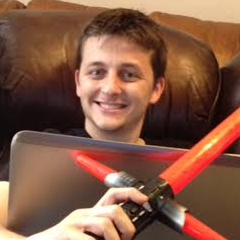 Grant has been a fan of Star Wars for as long as he can remember, having seen every movie on the big screen. When he's not hard at work with his college studies, he keeps himself busy by reporting on all kinds of Star Wars news for SWNN and general movie news on the sister site, Movie News Net. He served as a frequent commentator on SWNN's The Resistance Broadcast.