Vanity Fair: Five Things That Are Not in Star Wars: The Last Jedi!
Vanity Fair's latest report on The Last Jedi reveals 5 things that are in the movie and 5 things that are not. The things that are in the movie have already been discussed in the main coverage from yesterday, however the 5 things that are not in the movie give away some really interesting details and can probably give hard times to some fan theories.
From Vanity Fair:
Five things that are not in The Last Jedi

A big, central-to-the-plot romance. For all the fan-fiction fantasies of "Reylo" (an imagined union of Daisy Ridley's Rey and Adam Driver's Kylo Ren) or "Stormpilot" (the same, for John Boyega's ex-stormtrooper Finn and Oscar Isaac's pilot Poe Dameron), Johnson says that The Last Jedi offers "no one-to-one equivalent of the Han-to-Leia, burning, unrequited love. In our story, that's not a centerpiece."
A major creature character. Though, as mentioned above, The Last Jedi is rife with creatures, Johnson says there is no major non-human character akin to Maz Kanata in The Force Awakens or Yoda in The Empire Strikes Back. "Most of the creatures are peripheral characters, but they're throughout the entire film," he says.
New music from Lin-Manuel Miranda. The Force Awakens included the galactic-dub tour de force "Jabba Flow," co-written and performed by Abrams and Hamilton creator Lin-Manuel Miranda, but The Last Jedi's music was written entirely by John Williams, the franchise's composer since the beginning. Johnson had considered enlisting his cousin, Nathan Johnson, who composed the music for all three of Rian's prior films, to write some incidental cues. "But," he says, "I was delighted to learn that John was actually keen to do those."
Explicit political allegory. Though the vocabulary of Star Wars is threaded into our popular and political discourse—witness Steve Bannon saying "Darkness is good" and name-checking Darth Vader, and the popularity of "RESISTANCE" as a hashtag—Johnson isn't keen to draw parallels between his story and current events. "To me," he says, "the power is greatly diminished if suddenly you have a character stand up in front of the Imperial Senate who has orange hair and is saying, 'Let's make the galaxy great again.' It just cheapens it all and divides the audience. What actually matters, and what these films can actually speak to, are the fundamental building blocks of what makes people good, what makes people brave, what are the things we should be fighting for."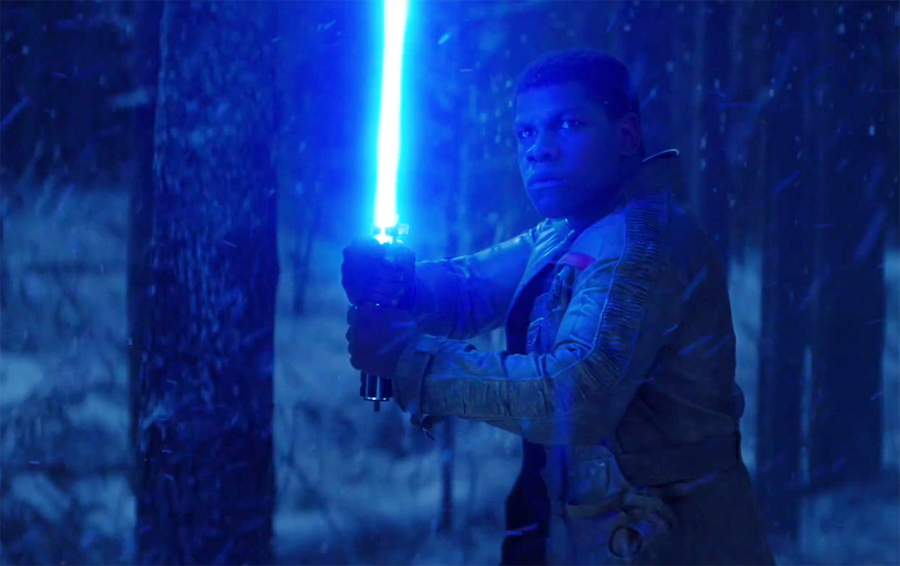 A revelation about Finn's potential Force sensitivity. Boyega is intrigued that Finn, a civilian, got to wield a lightsaber in The Force Awakens. "He kind of held his own for a bit against Kylo Ren, who's obviously kind of like a Sith," he says. "It's strange to know that Finn stood tall for that long." Boyega is fluent enough in Star Wars mythology to know that non-Sith and non-Jedi rarely get to use lightsabers, and that when Han Solo did, in The Empire Strikes Back, it was only to slash open the belly of his recently deceased tauntaun so that the freezing Luke could be revived by the animal's body heat.

In The Last Jedi, Boyega says, Finn's reasonable facility with the saber is not further explicated. "But you never know," he says. "I talk to Mark Hamill sometimes and he tells me stories about how he wasn't told about the 'Darth Vader is his father' situation until he got on set. I feel like there must be something going on, something that makes me go, 'Huh, why does he wield one, and what's that all about?' It'll be interesting to see if that's ever explored."
While we can't straight say that these debunk some of the fan theories, we at least know they won't be developed in the next movie.