Star Wars Weekly Buzz: Ian Kenny Confirmed for "Han Solo"; Alternate Ending for Revenge of the Sith Revealed and More
This week on our Star Wars Weekly Buzz: the original ending of Revenge of the Sith had a very different role for Padme; Actor Ian Kenny confirmed for the Han Solo spin-off film; We finally get the full "Animated Origins" panel from Celebration Orlando; A look at the Escape from Jakku sequence from TFA in its full IMAX glory; Hasbro reveals new NERF blaster; The latest from Pablo Hidalgo, and more!
The guys from JediNews found a confirmation in the latest issue of Star Wars Insider that actor Ian Kenny is indeed part of the cast of the untitled Han Solo spin-off film.
As you can see Kenny is just being mentioned and no further details are revealed.
In Revenge of the Sith, Padmé (Natalie Portman) travels to Mustafar to confront Anakin (Hayden Christensen) in a last ditch effort to save him from falling to the darkside. Well, it appears that that ending wasn't always a part of the plan.
Recently, Digital Spy has uncovered a previously unknown ending that has Padme doing something completely out of character. Instead of begging and pleading for Anakin to "come back" to the light, she actually attempts to kill him with a knife (as seen in the concept art above). Concept artist Iain McCaig, spoke about the sequence during an Academy of Art University event in 2016.
With her knife pressed against his neck, she realises she still loves him to much to do the deed.
In the lost interview, McCaig also revealed that originally Padmé played a much more important role in what would eventually become the Rebel Alliance. Good stuff!
You can read the complete article here.
The full Star Wars Celebration Dave Filoni and Pablo Hidalgo panel has been released online over @ StarWars.com. Finally you can view Filoni's clips, artwork and videos that weren't shown during its Live #SWCO broadcast.
Also, get the full look at the awesome Bane and Boba's showdown at HIGH NOON.
Pablo Hidalgo of the Lucasfilm Story Group recently sat down with StarWars.com to discuss the real-world and filmmaking influences behind the blockbuster smash hit Rogue One: A Star Wars Story. In the interview, Hidalgo spoke briefly about how they based some of Galen Erso's 'Rogue One' character on the 'father of the atomic bomb', J. Robert Oppenheimer.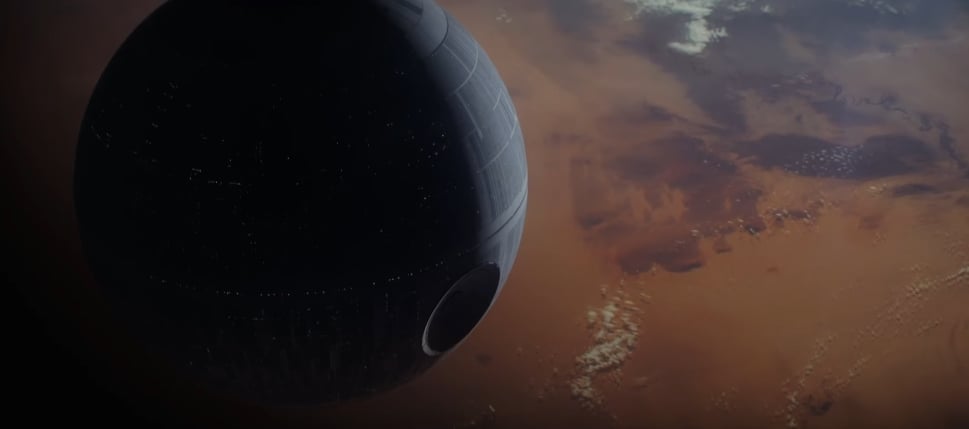 "You could understand what it might be like to be a sequestered scientist working on a piece of a doomsday weapon if you look to these non-Star Wars precedents," Hidalgo explains. The key to giving Rogue One an emotional center was the introduction of Galen Erso, the Oppenheimer-archetype. Like Galen's own discovery of a catalyst that would forever change the fate of the galaxy, the character itself proved critical to plotting the emotional core of the film. "We call it the Death Star," Galen says in his message to Jyn, "There is no better name," echoing the narration from Hiroshima, "For [Oppenheimer] it was a moment of terrible truth."
You can read the entire article here.
We finally get a chance to see the Escape from Jakku chase sequence that was shot using IMAX cameras (via reddit). If You Remember, J.J. Abrams only shot one scene in Star Wars: Episode VII in full 70mm IMAX. Here's your chance to watch Rey, Finn and BB-8 escape the boring planet of Jakku just like director J.J. Abrams intended.
Here's the clip!
Tested's prop master Adam Savage has created a cool Star Wars: The Empire Strikes Back costume that features Chewbacca carrying an animatronic C-3PO. In the video below, Adam uses his incredible knowledge and skills to turn two costumes into one that's wearable!
The New York Philharmoic has announced a series of concerts that will feature John Williams most memorable Star Wars music. Soon fans will be able to see and hear the legendary composers music performed by one of the world's finest assembly of musicians.
The performances will begin with the score for the original 1977 Star Wars film on September 15 and 16th, continue with spectacular The Empire Strikes Back on September 26-28th, return to a Galaxy Far, Far Away with Return of the Jedi on October 4-5th, and end with recent The Force Awakens on October 6-7th.
For more details on the concert series, visit their official site.
Star Wars Revisited Is Nearing Completion

Star Wars Revisited has been a ongoing fan edit project produced by a guy named Adywan. The project originally started back in 2004, when the long time fan found himself "most" displeased with the mess the Star Wars Special Editions had become. Over the years, Ady found himself tinkering, removing and replacing several Special Edition George Lucas inserted shots with the intention to restore the Original Trilogy to the way he remembered it. This week he was able to finally work on the final MODEL shot for his current The Empire Strikes Back restoration project.
On this day in 1980, The Empire Strikes back received it's World premiere……
On this day in 1968, i was born…….
And, on this day, the very final model created for ESB:R is being filmed. Just a few finishing touches to the miniature set, like straightening out the ceiling lights and getting the Falcon into the correct position, and it's ready to go. The miniature will be mixed in with the original set in post, which is why you can see certain uncompleted sections of the model.

We are so close to the end now. After this, all that is left are the Wampa shots. The mouth mechanism has been sorted, so filming the Wampa is back on. Fingers crossed that the completed version will hold up on camera and work in the final version.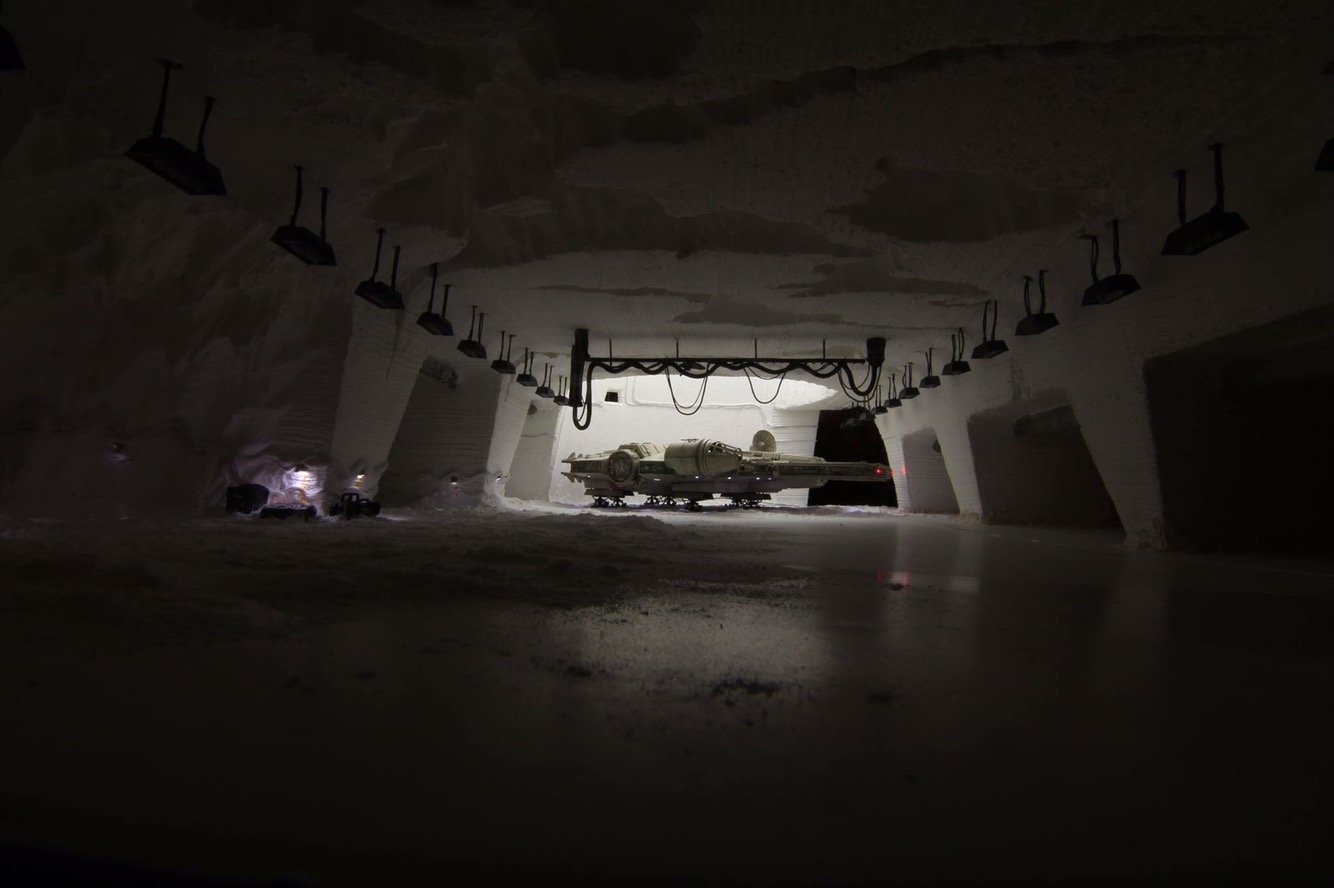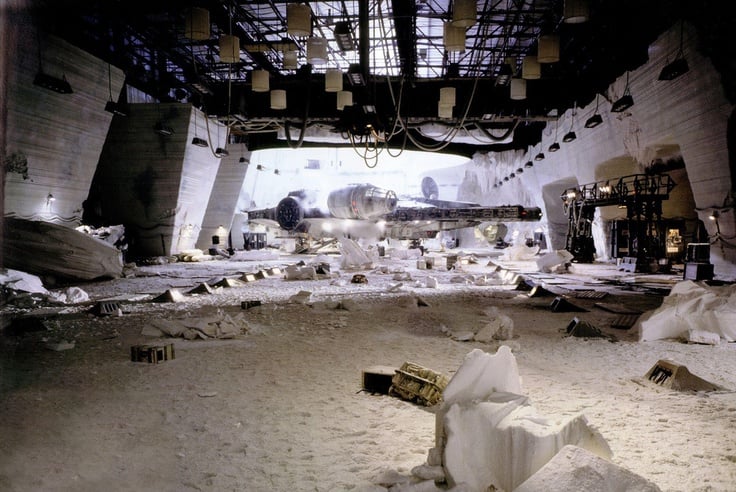 StarWarsNewNet wishes Ady good luck as he enters the final stages of his amazing fan edit project.
Follow Ady and his quest here.
Virtual Reality Could Help Future "Star Wars" Filmmakers Better Plan Their Movies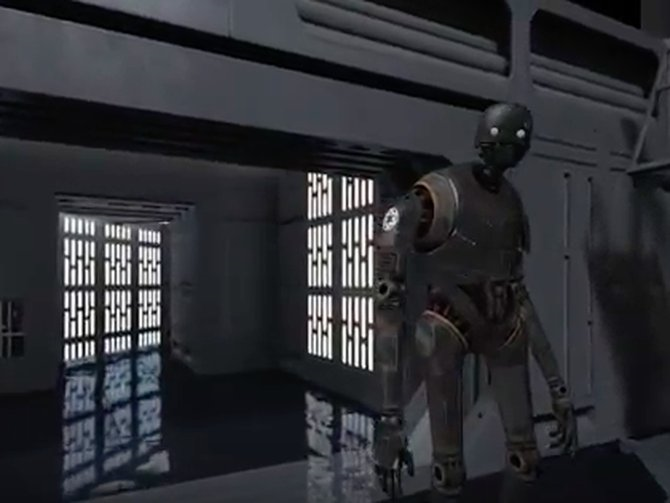 Google showed of an exciting new Virtual reality tool called Seurat at its recent Google I/O developer conference in Silicon Valley, California. Recently Google has been partnering with Lucasfilm's ILMxLab in an effort to focus on new technologies and better ways for filmmakers to plan their shoots.
Imagine a Star Wars director having the ability to look around a set before anything is actually built. Seurat could go a long way to help Star Wars director meet the demand of their deadline.
"When I see people in our demo looking at the floor on their hands and knees, down to inspect the curvature of every bend and twist, I really think we're onto something," said Lewey Geselowitz, a senior UX engineer at ILMxLabs in a video.

Seurat makes it possible to render high-fidelity scenes on a mobile GPU, enabling @ILMxLAB to bring the world of Star Wars to mobile VR. pic.twitter.com/rb8JoAJAJ1

— Google VR (@googlevr) May 18, 2017
You can read more about the tools progress here.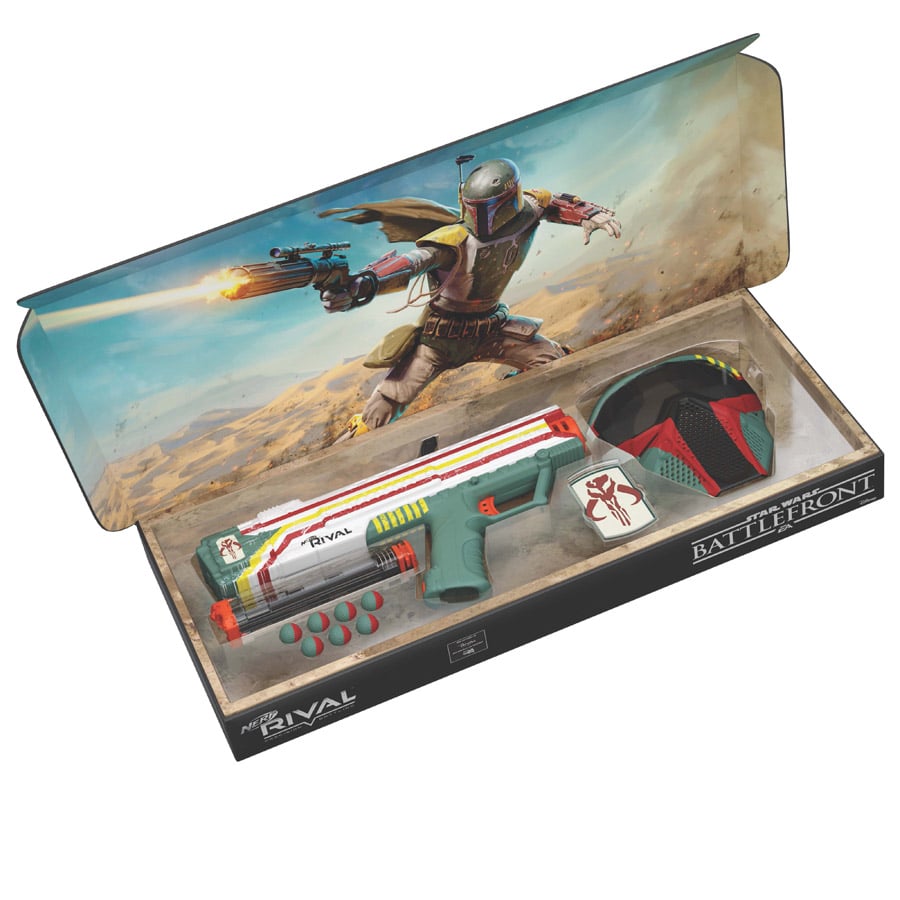 Hasbro reveals new NERF Rival Star Wars Battlefront blaster:
NERF RIVAL STAR WARS BATTLEFRONT APOLLO XV-700 Blaster and Face Mask set
(Ages 14 years & up/Approx. Retail Price: $89.99/Available: Spring 2017)
Gear up like a Mandalorian warrior with the NERF RIVAL STAR WARS BATTLEFRONT APOLLO XV-700 blaster and face mask set! This special edition blaster and mask set features distinct Mandalorian decoration and comes with a fabric Mandalorian insignia patch. Experience intense, head-to-head competition with the precision and power of the NERF RIVAL APOLLO XV-700 blaster, sending foam rounds soaring into the air at a velocity of 100 fps, and featuring easy re-load magazine. Mask boasts a breathable design and elastic band for adjustable fit. Mask is not a protective device. Set includes reusable display box, blaster, face mask, and 7 NERF RIVAL foam rounds. Available exclusively at Gamestop.
The Last Jedi trailer edited like The Return of the Jedi trailer from 1983:
Unearthed The Empire Strikes Back Special Edition TV Spot.
Twitter Land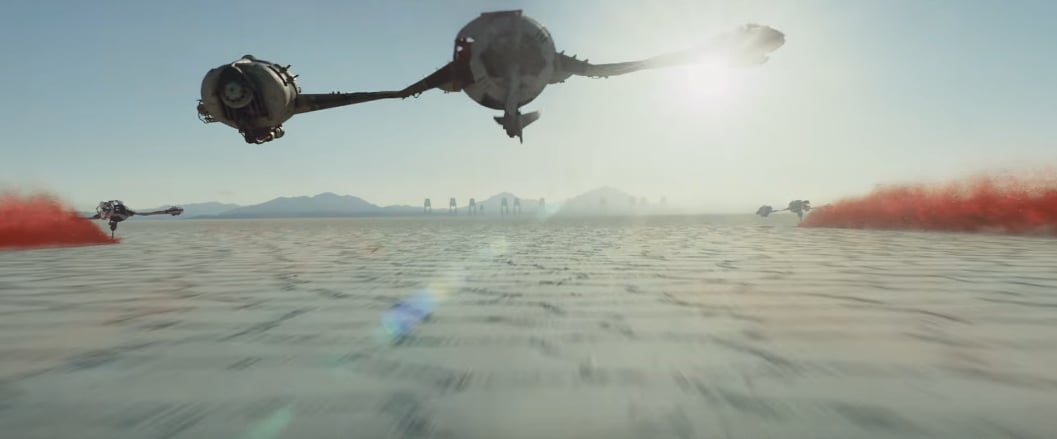 Anthony Daniels tease us about Crait (the planet above):
Extremely thrilling! Yesterday I flew to Crait. One day soon you will be able to fly there too because the adventures continue to continue.

— Anthony Daniels (@ADaniels3PO) May 19, 2017
It appears that Daniels is referring to filming a new Crait sequence for Disney World/Land's Star Tours ride, not TLJ. (thanks to mcsbro from the comments)
Reminder about the breathtaking behind the scenes photos from Return of the Jedi by Brian Griffin:
I'd never seen Brian Griffin's photos from #ReturnoftheJedi before and to me, this is one of the best photos of Leia ever taken. #starwars pic.twitter.com/xA7AZ0n2O4

— Jennifer Muro (@jennifermuro) May 15, 2017
Also from Brian Griffin photography, @HamillHimself doesn't look too shabby either. ❤️ #ReturnoftheJedi #StarWars pic.twitter.com/RIPu3TrbiZ

— Jennifer Muro (@jennifermuro) May 15, 2017
You can check out all the 9 photos at Griffin's site here.
Interesting fact:
Look out below. pic.twitter.com/gwCY4kwkuU

— Star Wars (@starwars) May 16, 2017
Felicity Jones is engaged to her film-director boyfriend Charles Guard!
Congratulations Jyn! 🙂
Star Wars' Felicity Jones engaged to Charles Guard https://t.co/JOAZFlchYC

— SWNN (@StarWarsNewsNet) May 18, 2017
And SWNN's award for the best Celebration costume goes to…
@Horror_Guy @starwars Mine too! I couldn't believe it when I found out how they did it! pic.twitter.com/bsXZdqLU5B

— gaminette (@gaminette) May 18, 2017
Not the first time we seen the title "The Last Jedi"
Star Wars comic #49–The Last Jedi via /r/StarWars https://t.co/pa8gn9khTG #starwars #tfa pic.twitter.com/phFyXTxRCW

— Star Wars Reddit (@StarWarsReddit) May 18, 2017
Not long Ago…
15 Years Ago 'Star Wars: Attack of the Clones' Hit The Big Screen on May 16, 2002. The film had scenes that I really enjoyed! Here are a few pic.twitter.com/Ht8zHCM2ux

— Chad Stevens (@ChadMStevens) May 16, 2017
Happy birthday!
Happy birthday to @tiyasircar, the voice of #StarWarsRebels' marvelous Mandalorian, Sabine Wren! pic.twitter.com/D0P3lXj3c6

— Star Wars (@starwars) May 16, 2017
Happy birthday to the man who makes Chewbacca mighty, @TheWookieeRoars! pic.twitter.com/9HhyJypMZG

— Star Wars (@starwars) May 19, 2017
Who is your favorite Rogue One character?
Poll: Who's Your Favorite #RogueOne Character?https://t.co/GWUf0iGzK6 pic.twitter.com/llg2U4QCJp

— Star Wars (@starwars) May 18, 2017
That's a big helmet to fill in:
Hayden Christensen had a big helmet to fill in the finale of Revenge Of The Sith pic.twitter.com/lzxwzBHZlz

— Star Wars UK (@StarWarsUK) May 13, 2017
Mark Hamill is the best!
Hey Jay Ryon-Hope you like this #TheLastJedi poster! Want to #SayHey2Jay? Write 2 him @ 31600 Camp Challenge Rd FL 32776 #FriendsOfJay #JsOK pic.twitter.com/VkFfhWvb4B

— Mark Hamill (@HamillHimself) May 13, 2017
Facing adversities w/courage & a smile-while still caring for others (@KidsBeatCancer)-#JediJay is a hero to us all. https://t.co/8cmhVMXcBx pic.twitter.com/uxCLZ4kSb8

— Mark Hamill (@HamillHimself) May 13, 2017
Check out the thread of the week from our forum The Cantina:
#TheCantinaForum's Thread of the Week: What rumored scenes in #StarWars #TheLastJedi are you looking forward to? https://t.co/ZR6J1DTSnj pic.twitter.com/w8IQfuhSie

— The Cantina Forum (@TheCantinaForum) May 15, 2017
The latest from Pablo Hidalgo.
First some wise words about the Japanese leaflet we posted a few days ago about:
@mvfs314 I don't know. Nor would I know!

— Pablo Hidalgo (@pablohidalgo) May 16, 2017
@pablohidalgo Quick #StarWars? I know shocker can you shed some light on the Japanese pamphlet teasing the biggest truth reveal ever? pic.twitter.com/qh1unnvH99

— Steve Stark (@TonyRogers2099) May 18, 2017
@TonyRogers2099 Beats me. I don't know what that pamphlet is, who made it, what they know, or what shocks them.

— Pablo Hidalgo (@pablohidalgo) May 18, 2017
@TonyRogers2099 No, but you don't know me or what I know so this answer has no value.

— Pablo Hidalgo (@pablohidalgo) May 18, 2017
@xtlc2003 Please try not to believe the internet and see for yourself.

— Pablo Hidalgo (@pablohidalgo) May 17, 2017
@Jayngfet The surprise is there is no surprise. <*mindblown*>

— Pablo Hidalgo (@pablohidalgo) May 17, 2017
@Jayngfet A flyer no one knows about translated into another language is unlikely a major cog in the hype machine.

— Pablo Hidalgo (@pablohidalgo) May 17, 2017
While it is indeed an interesting topic to talk about, it's definitely more likely to be just a normal promo trick to tease the Japanese fans, than a real info. And still, is there really anyone who thinks that TLJ won't offer any surprises? We were told several times the the mystery Rey's parentage will be revealed in TLJ. The level of shock on a certain surprise is very subjective though. So we really shouldn't put too much thought in all this.
More on Darth Vader's lightsaber from Return of the Jedi:
@NOO5Eofficial I'd bet that lightsaber is as real as the Last Jedi scripts that show up on eBay.

— Pablo Hidalgo (@pablohidalgo) May 16, 2017
@Ganon136 @missingwords Sertar sector, Outer Rim Territories, R-5 https://t.co/WU1daz8Zsi

— Pablo Hidalgo (@pablohidalgo) May 17, 2017
@Robimus_prime64 Ask me when the trilogy is over.

— Pablo Hidalgo (@pablohidalgo) May 17, 2017
@THEcjhogan Beats me. Bendu's no Jedi. He just wants to sleep.

— Pablo Hidalgo (@pablohidalgo) May 15, 2017
Stay tuned for more next week.